Sexy Female Animatronic Shocks and Revolts NY Art Crowds
A disturbing and racy robot could be deepening our connection with humanoids.
With over 1 million views since it was first posted on YouTube over a week ago, this video of a gyrating, female animatronic has been both terrifying and arousing the Internet.
The cutting-edge humanoid is part of an art installation created by Jordan Wolfson called (Female figure). Robot enthusiasts have a chance for an intimate audience with her at the David Zwirner Gallery in New York from March 6 to April 19.
From Wolfson's Press Release:
The woman can be encountered on a one-on-one basis in a mirrored room in the gallery, creating a different kind of viewing experience that intensifies the importance of the gaze found throughout Wolfson's work.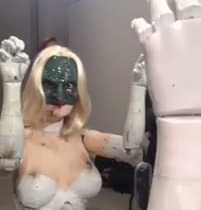 This "gaze" is exactly what so many people find unsettling. With facial recognition technology that  allows her to follow patrons around the space and look into their eyes, it's impossible to ignore the feeling of being watched.
Even though there are so many obvious artificial and even surreal components, there is something very life-like about this animated machine. That is what many people find so unsettling.
With words like "terrifying," "fascinating," "human," and "creepy" being used to describe (Female figure), she is unnervingly realistic and intriguing.  Her long blond hair, swinging curvaceous body, and over-the-knee PVC boots are certainly alluring. One cannot help but be reminded of an exotic dancer, especially with her provocative dance moves.
Her exaggerated feminine sexuality is made more obscene with the dirt marks and scrapes scattered across her body. It gives the impression that she has been carelessly used countless times or was rescued from a junk heap. But even the juxtaposition of her sensuality with physical wear and tear isn't what makes her so different from other animatronics.
What sets (Female figure) apart are the extremely fluid, life-like movements of her hands, arms, hips, legs, and head. As she gyrates to a warped, downtempo version of Robin Thicke's "Blurred Lines," she could be a real dancer practicing her moves in front of the mirror. That is, if you ignore her ball-jointed shoulders and elbows as well as the long metal pole sticking out of her chest that connects her to the mirror. And of course, the glistening green and wrinkled witch mask she wears, which is rather reminiscent of Meg Mucklebones from Legend.
Even with the exposed circuitry, once you see her make eye contact, you might still question if there really is an organic being hiding beneath the mask. There is some life in those eyes. The qualities that make (Female figure) not human seems to further enhance the qualities that do.
Instead of having an uncanny valley effect, her horror mask takes away the unsettling realism associated with most androids. It makes her seem more realistic since the attempt to have her appear human has been purposely concealed. Without the mask, the uncanny valley effect would be there, which would likely soften the strong reaction her appearance on YouTube has garnered.
Although it seems like (Female figure) is just another New York art piece, the technology used in this sculpture displays some of the most realistic qualities seen in any humanoid to date. Coupled with her obviously synthetic aspects, they show that perhaps robotic beings do not need to look completely human in order for people to connect with them, whether it's emotionally, sexually, or both. Maybe something as simple as locking eyes with a purposely grostesque humanoid is all it takes.
Image source: Liquid Silver