The Best Sex Game Apps for Couples for 2021
Don't believe the hype. Tech can heighten sexual chemistry if you're conscious of how you use it.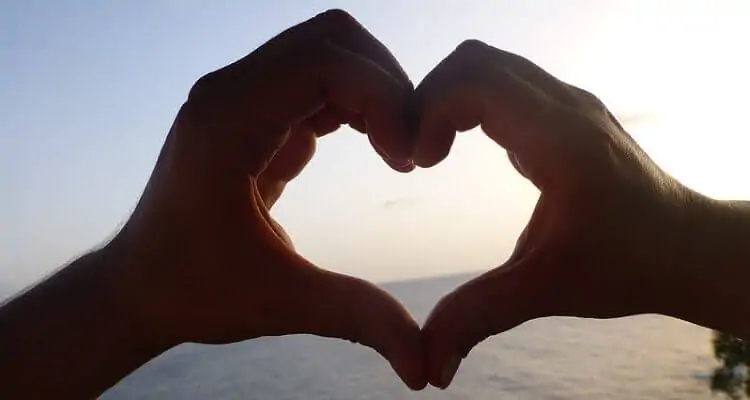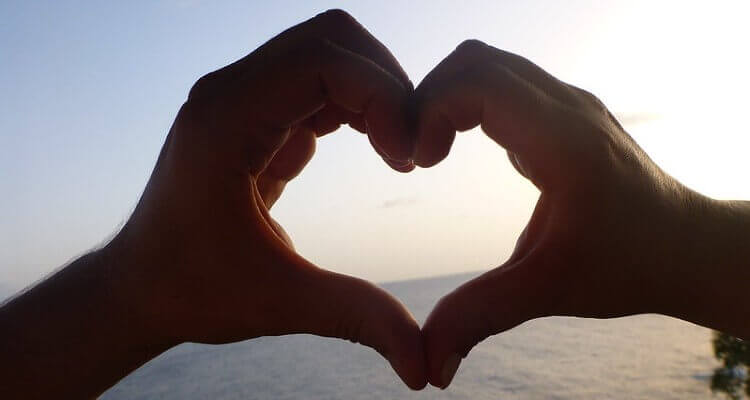 While often scapegoated for ruining intimacy, smartphones can actually help ramp up the romance and fuel sexual chemistry between couples. Thanks to app developers with an eye keenly focused on sex and erotic play, several smartphone games exist that were purely designed for these reasons.
So if you're looking for some ideas on how to spice up your sex life, take a gander at our steamy list featuring the best sex game apps for couples.
Interactive Sex Games for Couples
Whether you are in a long-distance relationship or just want some fun tech to heat up your sex life, app-connected sex toys are a super sexy option. You can use them in the same room as your partner—be it a private bedroom or a public restaurant—or thousands of miles apart. There are plenty of sex toy company's and apps to choose from, and we've listed our favorite ones below.
Lovense Remote app
One of the most popular names in long-distance sex toys is Lovense. No matter the distance between your partner (granted you have Internet), you can connect and control your partner's phone using the Lovense Remote app. And vice versa. Lovense has a wide range of interactive sex toys to choose from, including wands, plugs, vibrators, and strokers.
FeelConnect app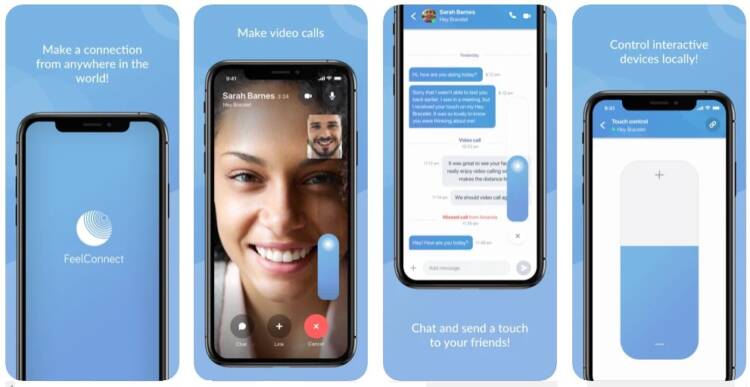 Do you want to connect with your lover from anywhere in the world? The Feel Connect app, available on iOS and Android mobile devices, can pair many different digital devices via Bluetooth, from Fitbits to high-end sex toys. It supports well-known sex tech brands such as Kiiroo, We-Vibe, and Vstroker.
Vibease app
If you or your partner love oral erotica, the Vibease app is one you need to try out. There you can download sexy and romantic audiobooks that pair to Vibease's wearable panty vibe of the same name as well as its Esthesia rabbit vibrator.
For couples, one of you can record your own erotic story and decide when different levels of intensity will be sent to your partner's sex toy. Registered users can see their partners' expressions while they control their sex toys with in-app video calling.
We-Connect app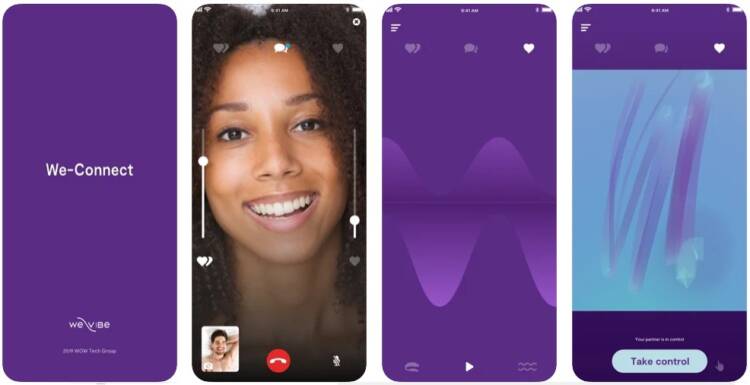 The popular couple's sex toy brand We-Vibe offers a line of app-enabled sex toys that pair to the We-Connect app.. Through the app, you and your partner can see each other and also take control of each other's sex toys for amazing virtual sex. We-Vibe's arguably most popular couples' sex toy is called the We-Vibe Chorus.
OhMiBod Remote App
A longtime favorite couple's app for sex games is OhMiBod's Remote App. Its trademarked CLUB VIBE features lets the music control the vibration of your sex toys as it synchs to the beat. OhMiBod's BlueMotion, Lovelife krush, Esca, Fuse, and Freestyle line of massagers connect to your smartphone or tablet. Fun times when you or your partner are on a business trip and want to stay connected intimately.
MysteryVibe App
For couples, the MysteryVibe app is a steamy option if you want to control your partner's vibrator. It's Bluetooth only, so you need to be in the same room to take advantage of the vibration options and playlists. This brand offers vibrators for both vulvas and penises. So take your pick of the bendable Crescendo or the smart penis vibrator called Tenuto. The MysteryVibe app is available on Android and iOS allows. It allows users to remote control Crescendo and Tenuto, download new vibrations, and create their own custom vibes.
RELATED READ: The 15 Best Sex Toys for Couples in Long-Distance Relationships
Sex Games for Couples on App Store
Dirty Sex Game for Couples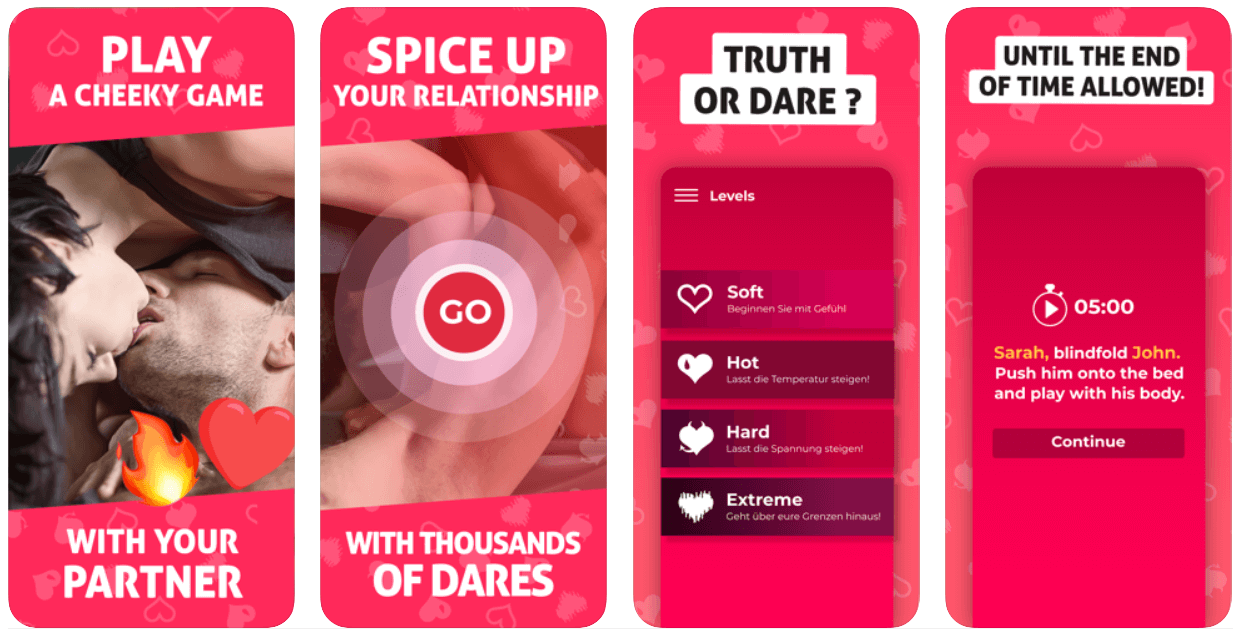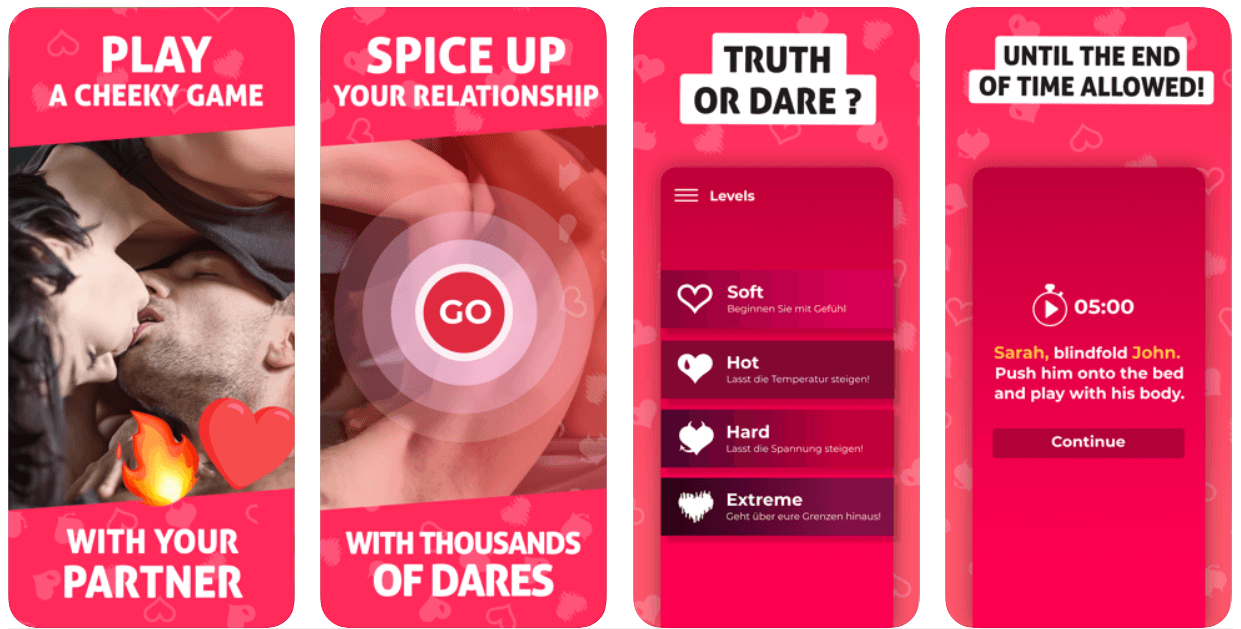 A new sex game app that's showed up on our erotic radar is Dirty Sex Game for Couples. Available on both iOS and Android devices, it's a great new take on using sexy dares to get the fun times rolling.
Yep, if you've ever played erotic dice, where each roll determines who does what to whom, then you've got a pretty good idea of what this game is about.
This time, however, the developer has added in some nifty new features. They include offering four degrees of "difficulty" such as Soft, which is mostly about foreplay; Hot, where it gets into Truth Or Dare territory; and Xxtreme, which is pretty much anything goes.
Kindu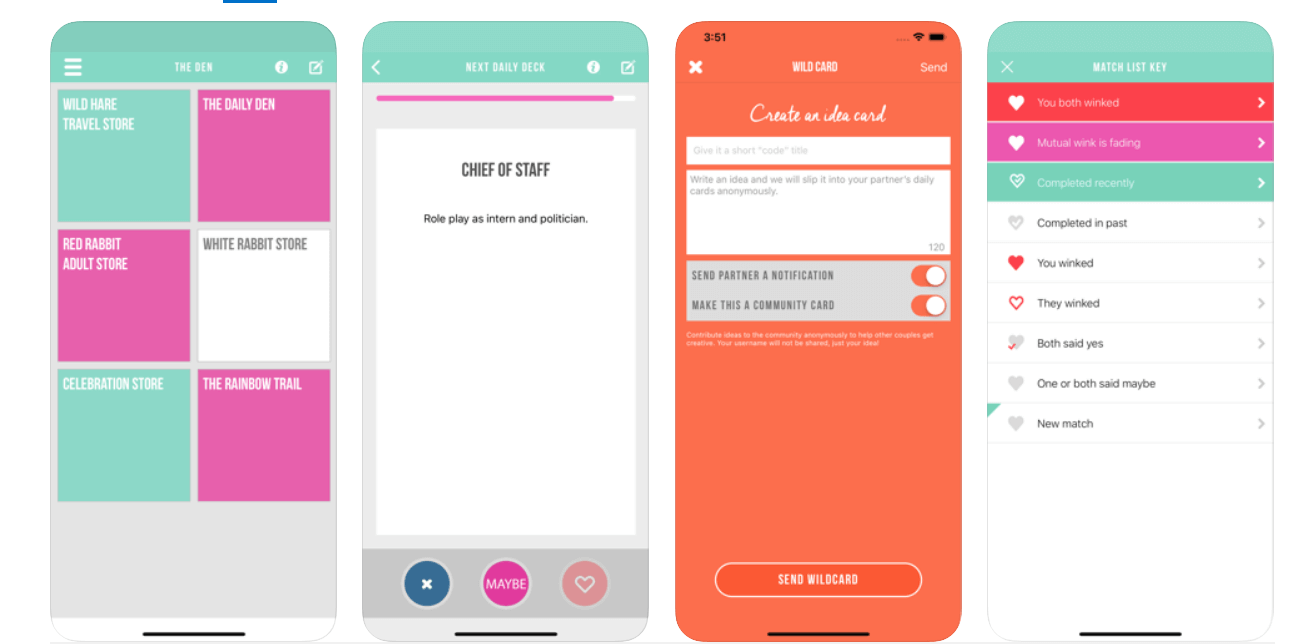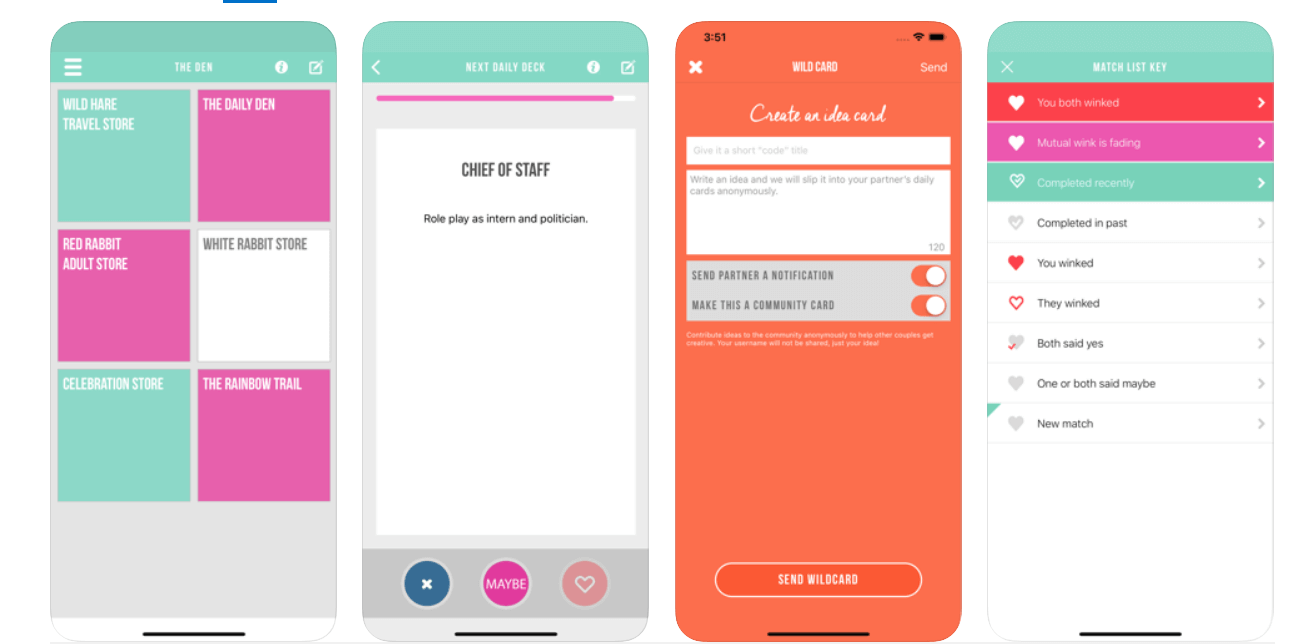 Another app that allows couples to get to know each other better is Kindu. Like with Honi, it can be enjoyed by two people in the same room or long-distance lovers who are half a world away from one another.
Here, though, the focus is on not just on a sharing what turns you but through offering a complete erotic package, including being able to create your own "wildcards" that can then be added to your partner's questions: which is a perfect way to open a dialogue on something that you might otherwise find awkward to bring up.
On top of this, Kindu even offers sponsored products, making the app an erotic one-stop-shop for just about everything you need for you and your partner to have a good time.
Sex Roulette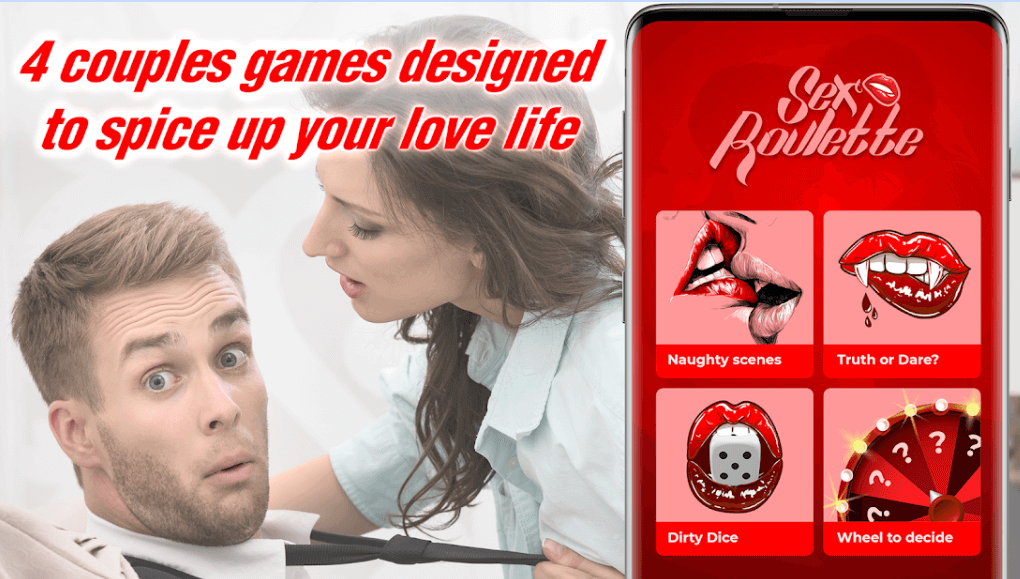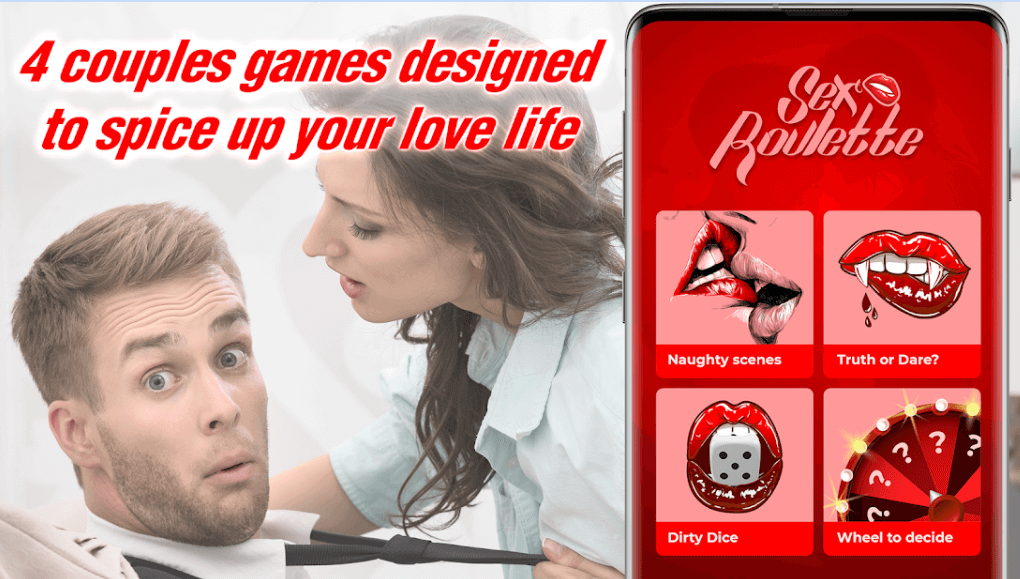 Who doesn't like to mix sex and games? No one, which is why Sex Roulette is such a blast! Offered on Android as well as iOS products, this playful app has a lot going for it, such as modes like the foreplay-based "Get me going," the much steamier "Unleash," and then the one designed to get you and your partner talking about your fantasies: "Fantasy to reality."
Sex Roulette gets major Brownie points for also being designed from the ground up to be inclusive. So if you're gay, bi, or straight this app has all your erotic bases covered.
iPassion Sex Games for Couples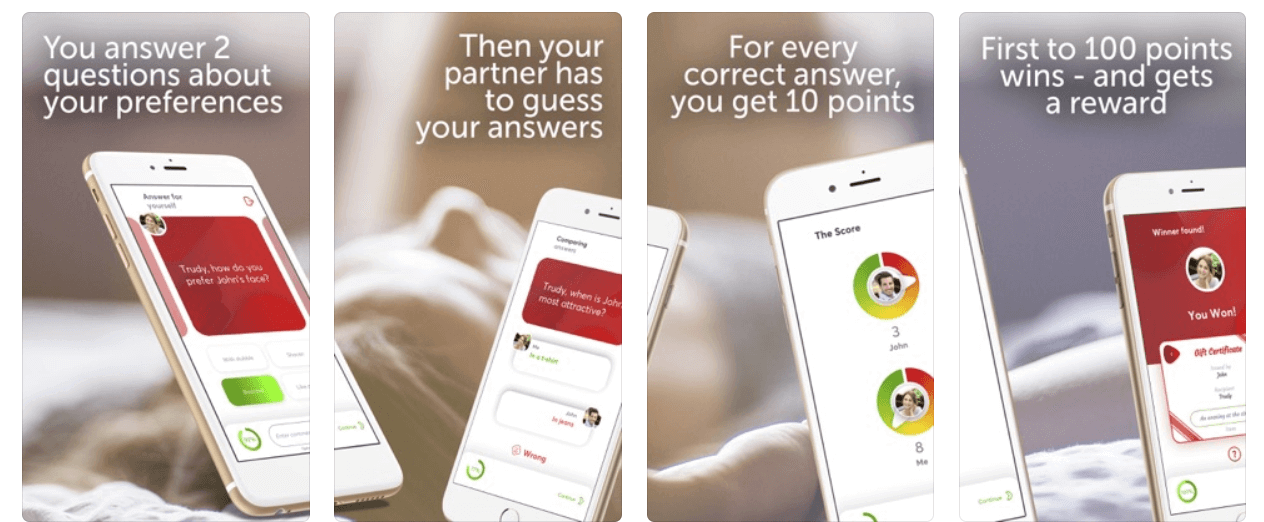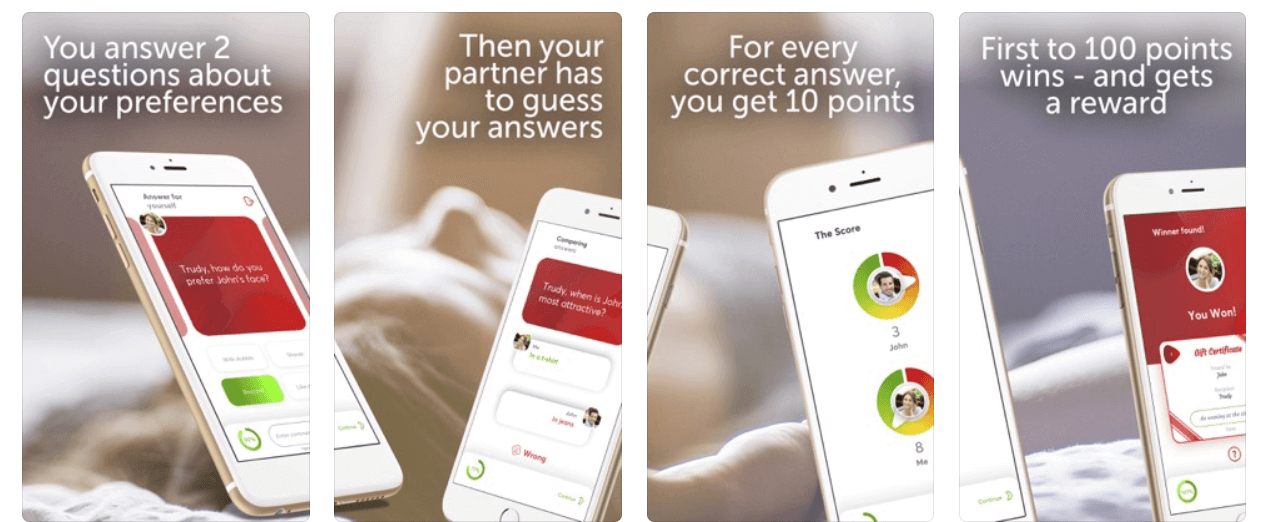 Here's a delightful iPhone exclusive game for our Best Sex Game Apps for Couples list. We say delightful because iPassion Sex Games for Couples does something very few sex games do: emphasize communication.
Another win: it's available on both iOS and Android, making it a great addition to the best sex game apps for couples.
It works like this: first one partner privately answers a pair of questions about their sexual interests. Then the other partner must guess the answers, gaining points for each time they correctly predicted how their lover's responses. The whole idea is to give each person an icebreaker to talk about sex and what turns them on. Bravo!
Desire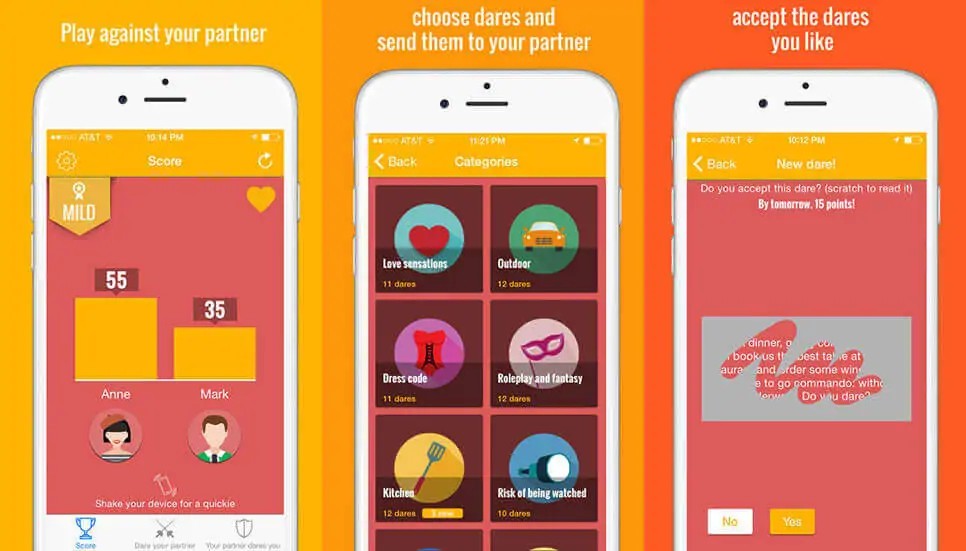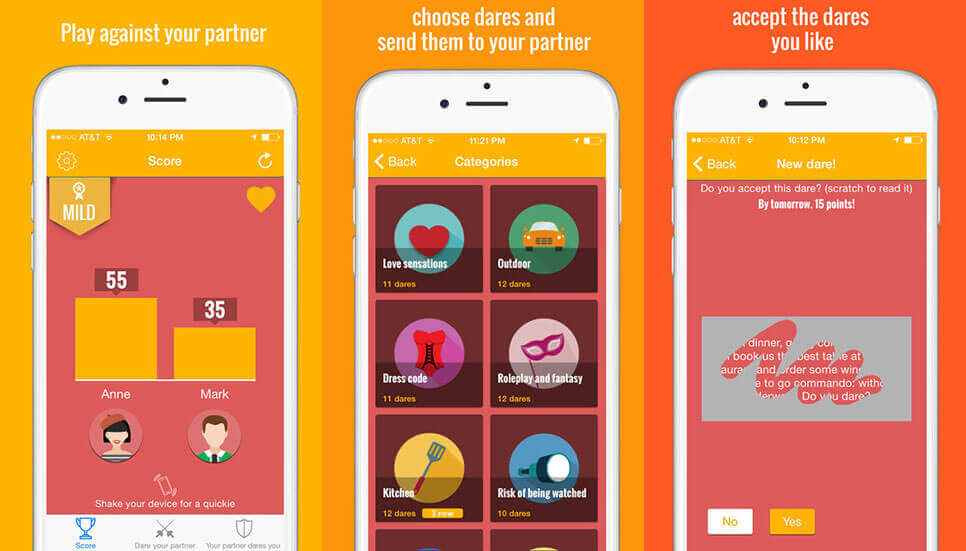 Another daring sex app that's bound to bring sizzle into your relationship is Desire. It is available on both iOS and Android. It has great user reviews and the fact that it is free made us decide to include it on our list.
In this sex game, you compete against your lover by sending them sexual dares. You can choose from hundreds in different categories like "Roleplay and Fantasy" and "Dress Code." Or you can come up with your own. Each dare is worth a certain number of points. If you complete a dare your lover send you, you get the points. But if it isn't something you are into, you can decline and they get the points.
It's a fun way to test each other's limits and kinks in a seriously sexy way.
Sex Keeper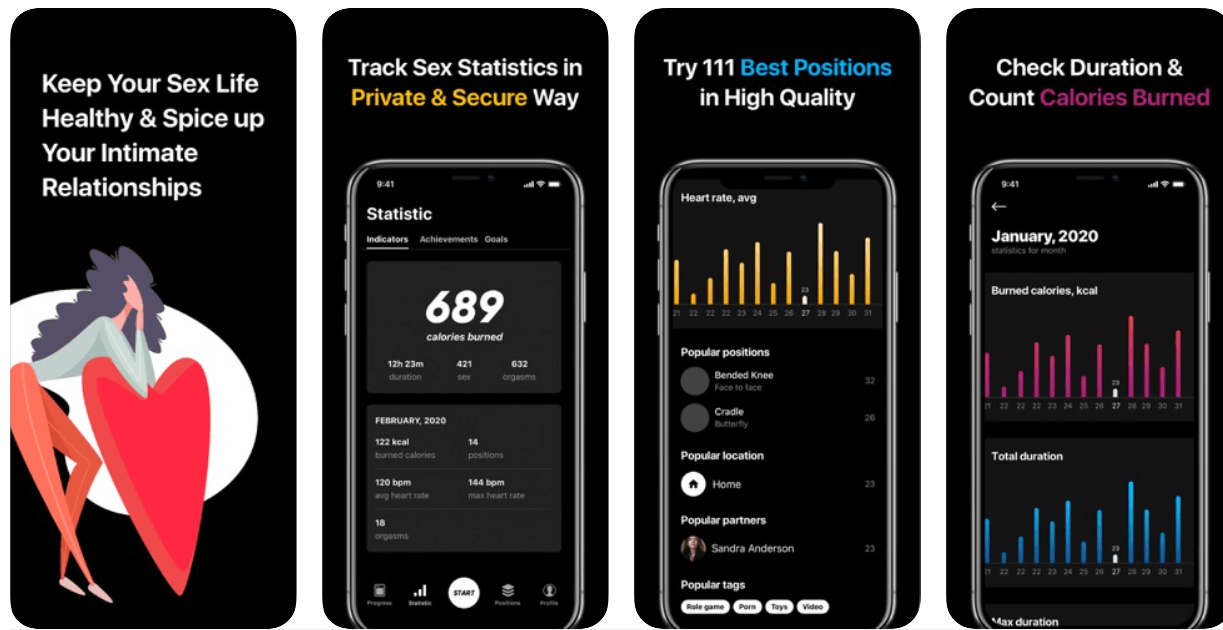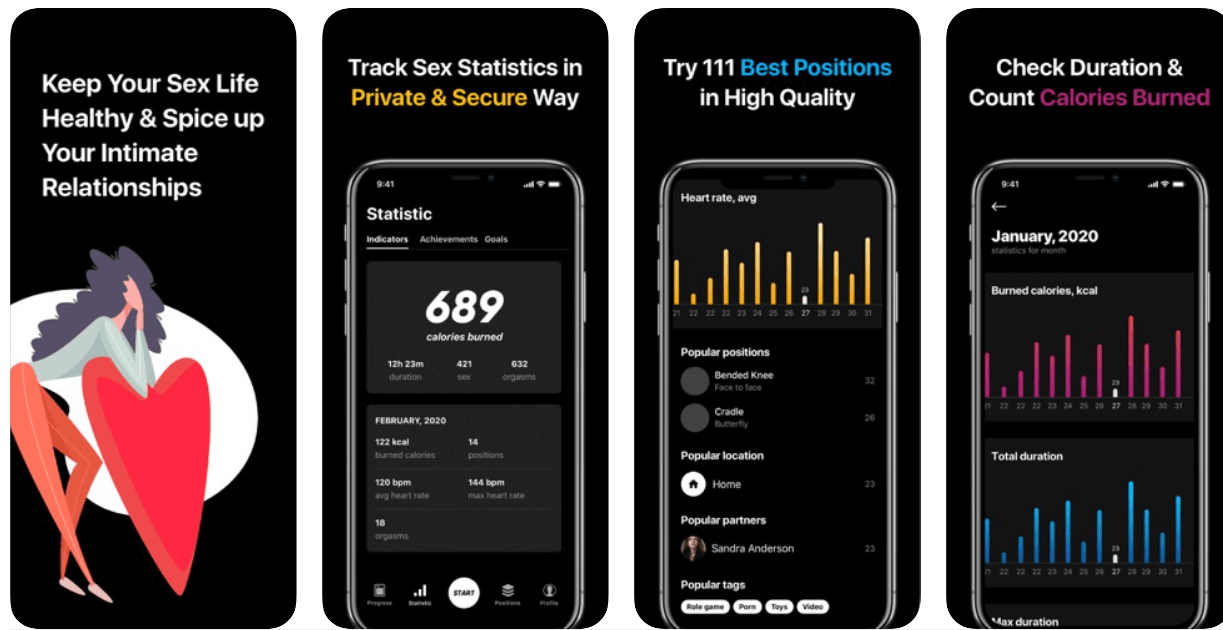 The Sex Keeper app helps you track your sex life. So if numbers and stats get you hot, or you are at least curious about how many calories you burn during sex, then you'll want to download this sexual activity tracker app.
It's available on both iOS and Android, though you may need to search "SKeeper" to find it in the respective app stores.
While Sex Keeper isn't necessarily a sex game app for couples, you can surely make it one. Let it tally various sex stats and positions you've tried so you can make new records and experiment with a larger repertoire of poses.
Sex Positions 3D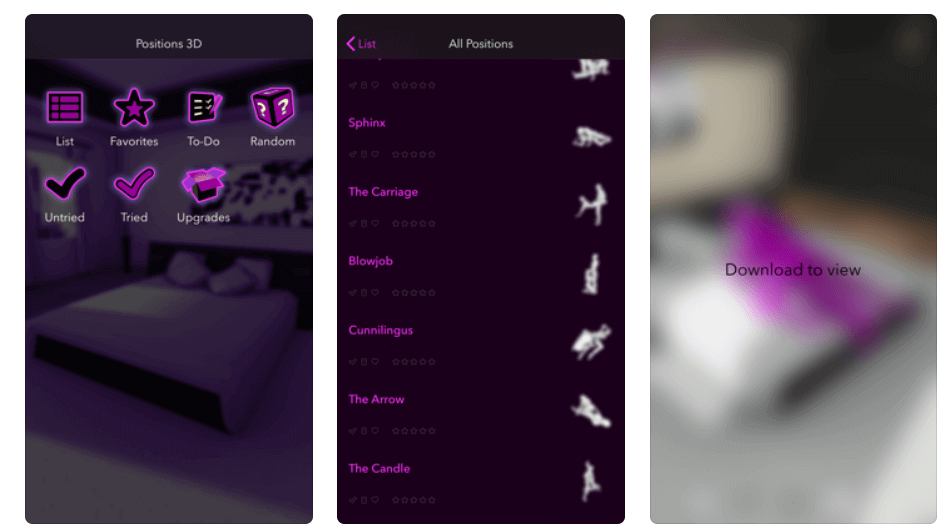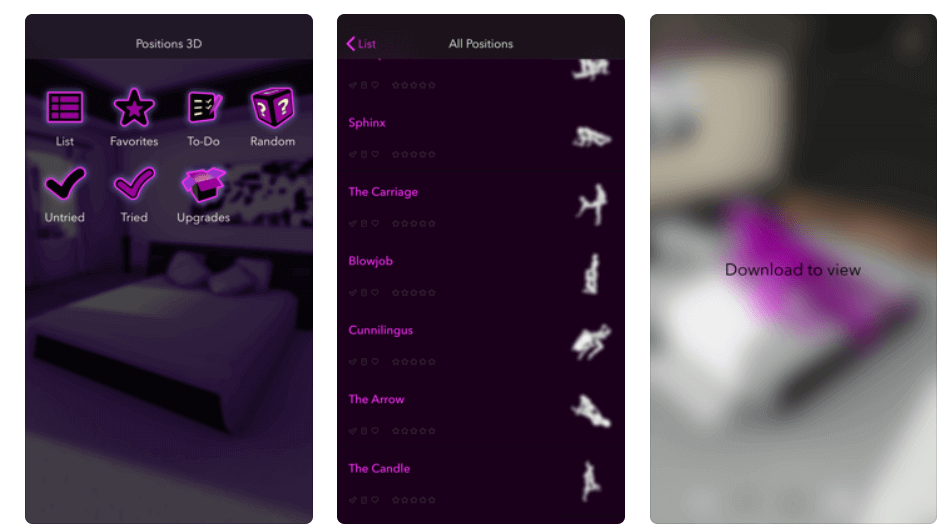 If you're an Apple user and want an enjoyable and very stimulating guide to new sexual positions, then you can't go wrong with Sex Positions 3D. This excellently designed app not only features a range of positions for you and your partner to try out. It also does so with its own super-informative and very realistic 3D illustrations.
So if you go like to try new things in the bedroom, definitely give Sex Positions 3D a try. We honestly think you won't be disappointed. However, you'll need to download the app before you can view the 3D sex positions; the App Store has blurred out these images on the app's listing page.
Kamasutra Sex Positions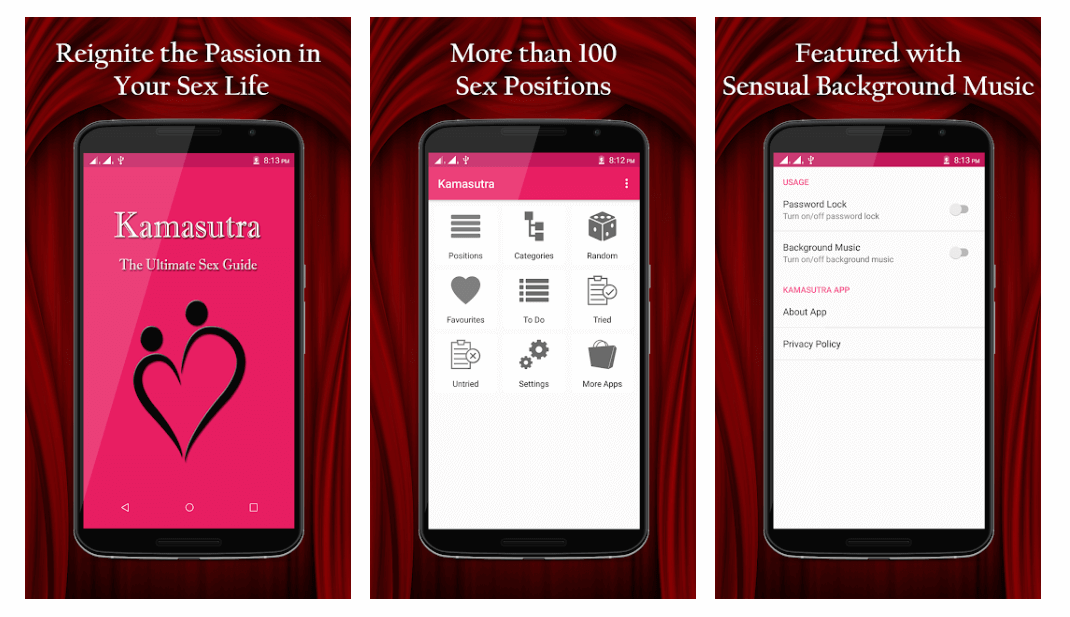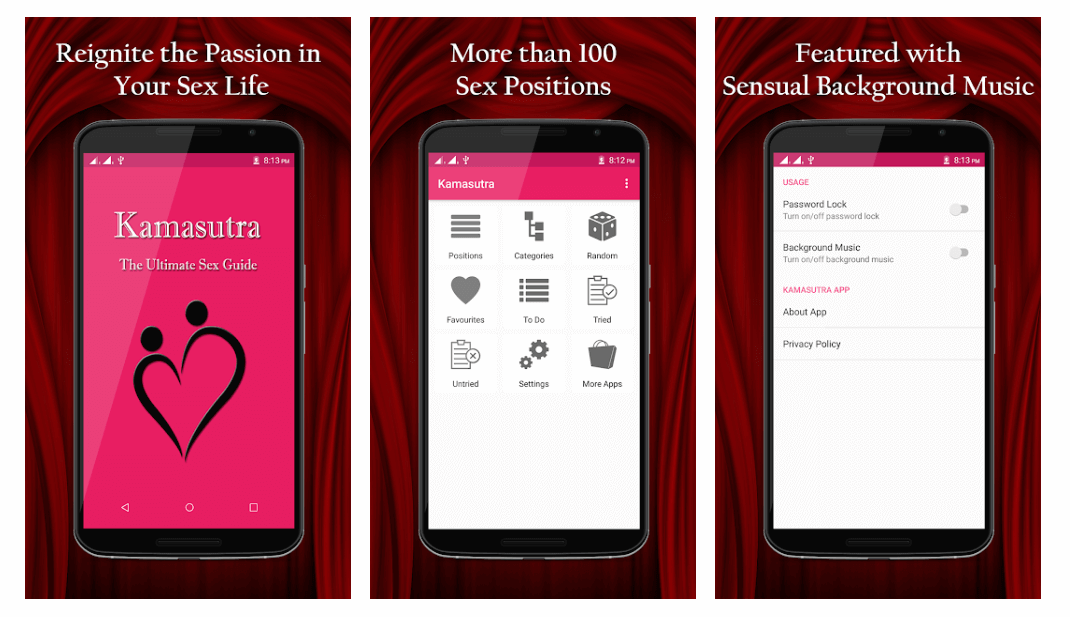 As our previous entry was an Apple-only sex positions app, the least we can do is offer an alternative for Android users—and Kamasutra Sex Positions certainly doesn't disappoint.
While it doesn't have 3D graphics there are still features we recommend. For instance, it doesn't just have a huge catalog of positions to try but lists them under different categories. This is ideal for people who are just beginning to explore the Kamasutra and expand their sexual repertoire.
The sex position app even has pleasant background music: another nice bonus feature to help you and your partner get into an erotically playful mood.
Dirty Dares/Hot Sex Game for Couples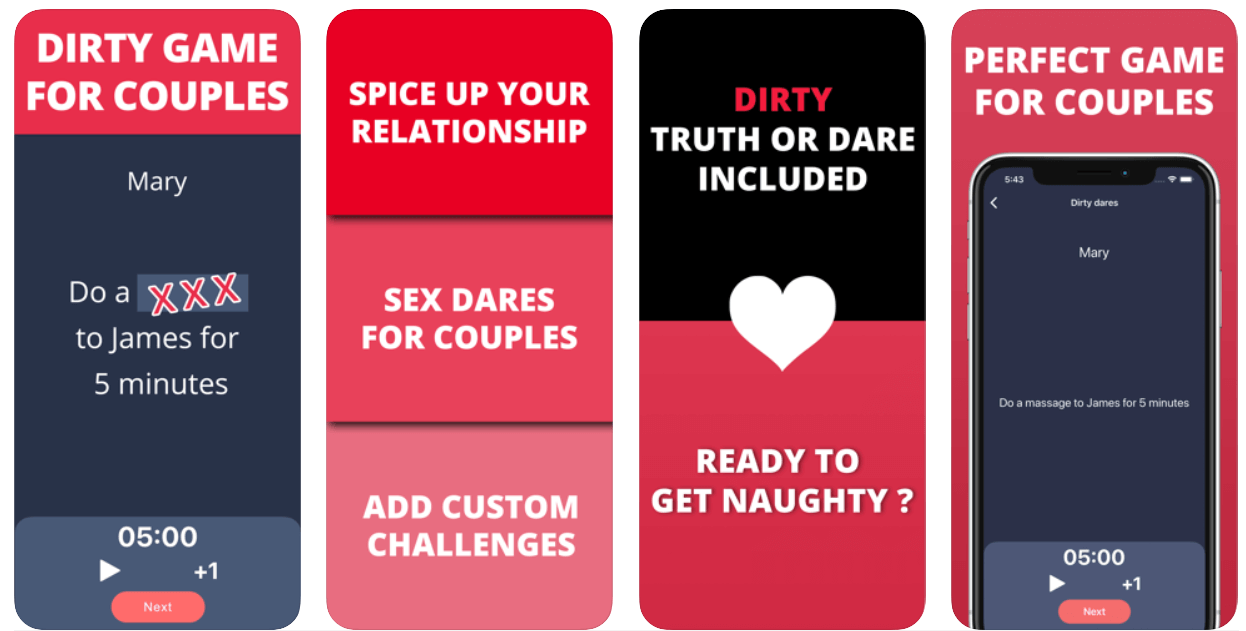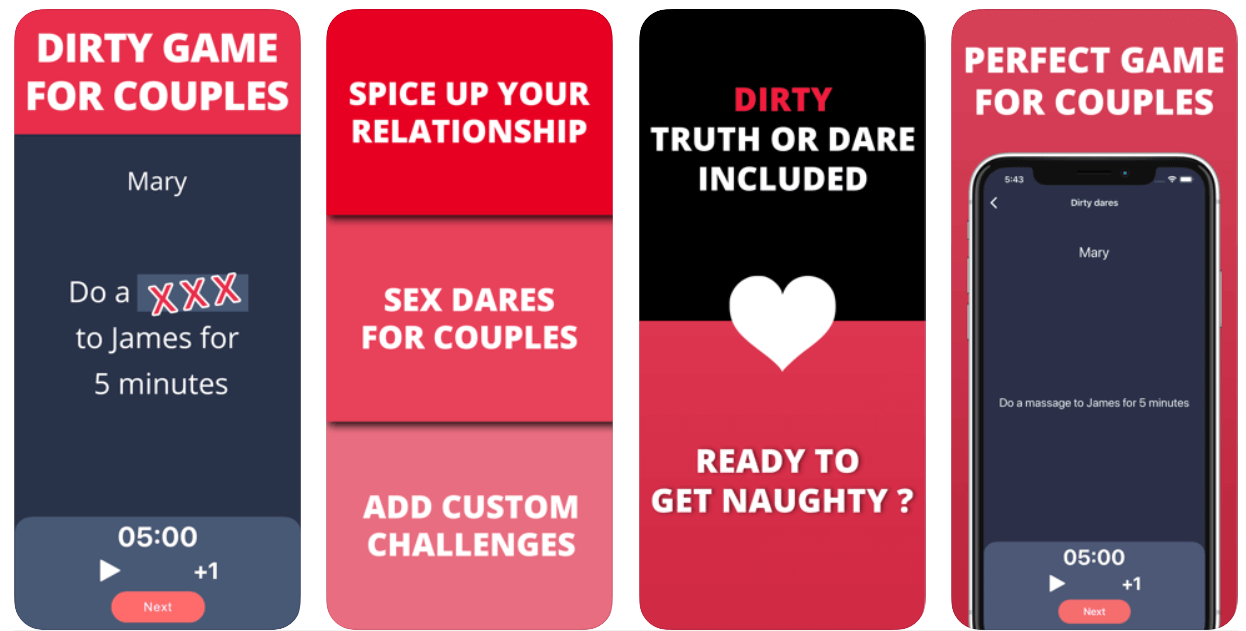 Here's another sex game app for couples that's definitely worth mentioning, so much so we featured it in its own full-write up back in October.
And why did we do that? Well, because Dirty Dares is one truly awesome sex game app. Packed full all kinds of erotic challenges, which you and your partner can also customize all to your liking, it really can be the perfect way to set the stage for some hot and steamy bedtime antics.
Like all great apps, Dirty Dares is yours for the enjoying on Android as well as iOS.
69 Places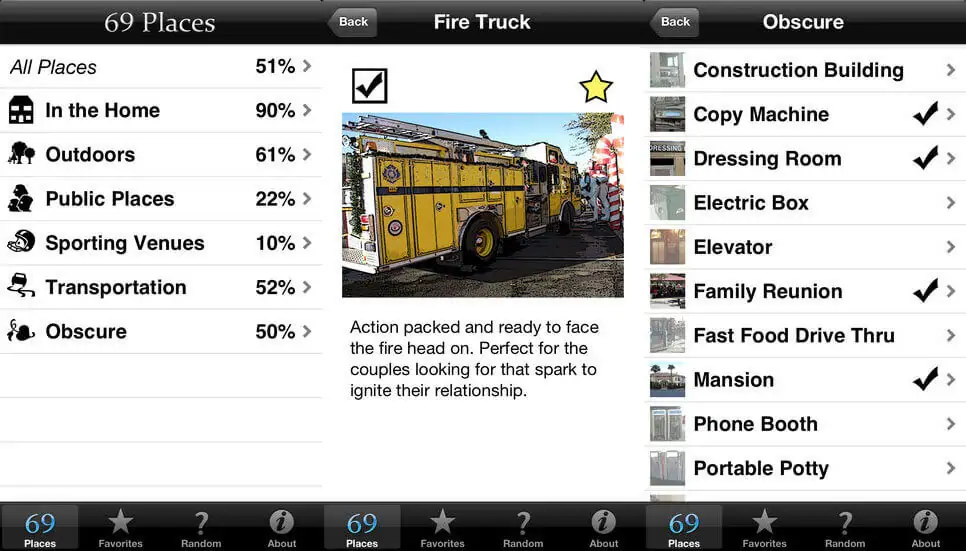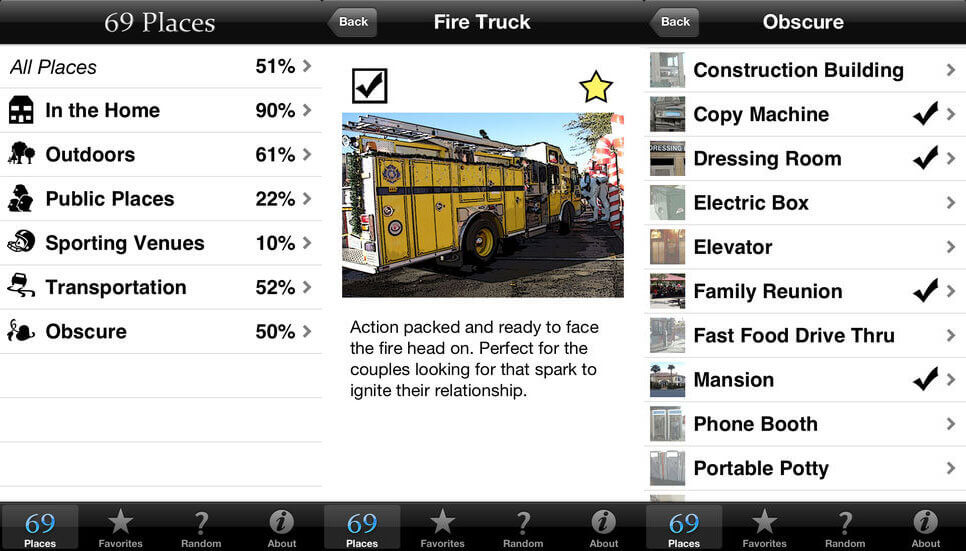 Like to have sex in all kinds of interesting and exotic places—or just fantasize about it? Well, here's an iPhone-exclusive sex app for you!
69 Places is a playful way to list where you've had sex—from family reunions to under a bridge—and also get your sexual imagination running with other possibilities.
Tongue firmly in cheek (so to speak), 69 Places is less a thoughtful approach to human sexuality and more an exercise in erotic silliness. But that doesn't mean it's not tons of fun.
If we could offer any suggestion to its developer it would be that this sex app should come with a warning: users should be advised of the risks of getting caught in public!
Bliss – The Game for Lovers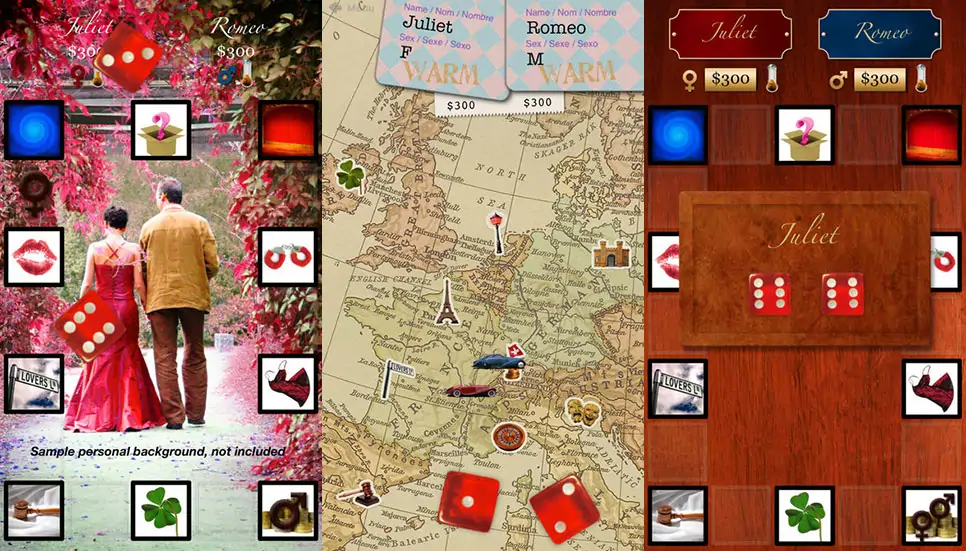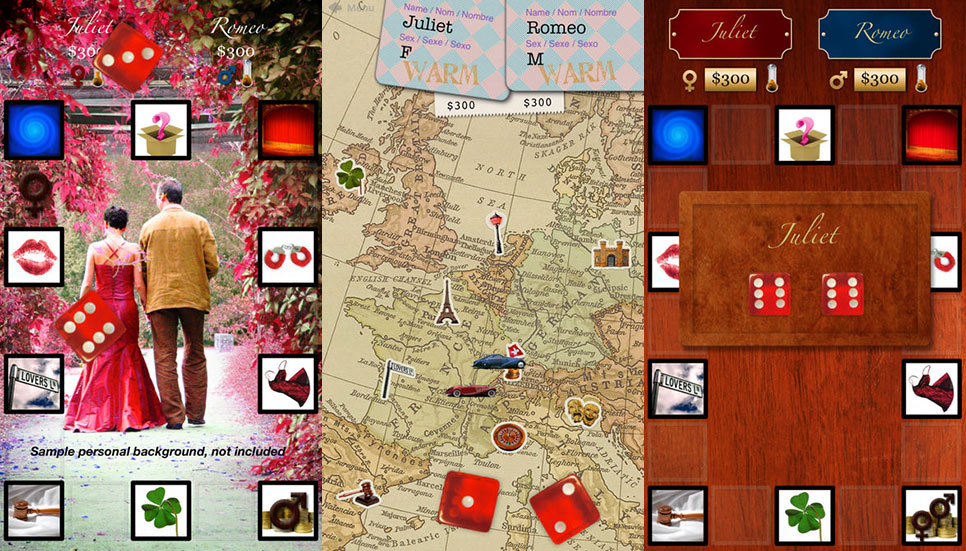 Here's a steamy sex app that, instead of focusing on getting immediately down-and-dirty, focuses more romance and intimacy.
Available for both Android and iOS, Bliss, like The Incredible Sex Game above, uses a dice roll mechanism to move players around a board, the result of which offers a wide range of racy suggestions.
That's on the surface. Bliss goes deeper by using the personal information you add into it—like the sex toys you have available, the clothing you're wearing, and your favorite music—into the gameplay.
Dirty Game – Hot Truth or Dare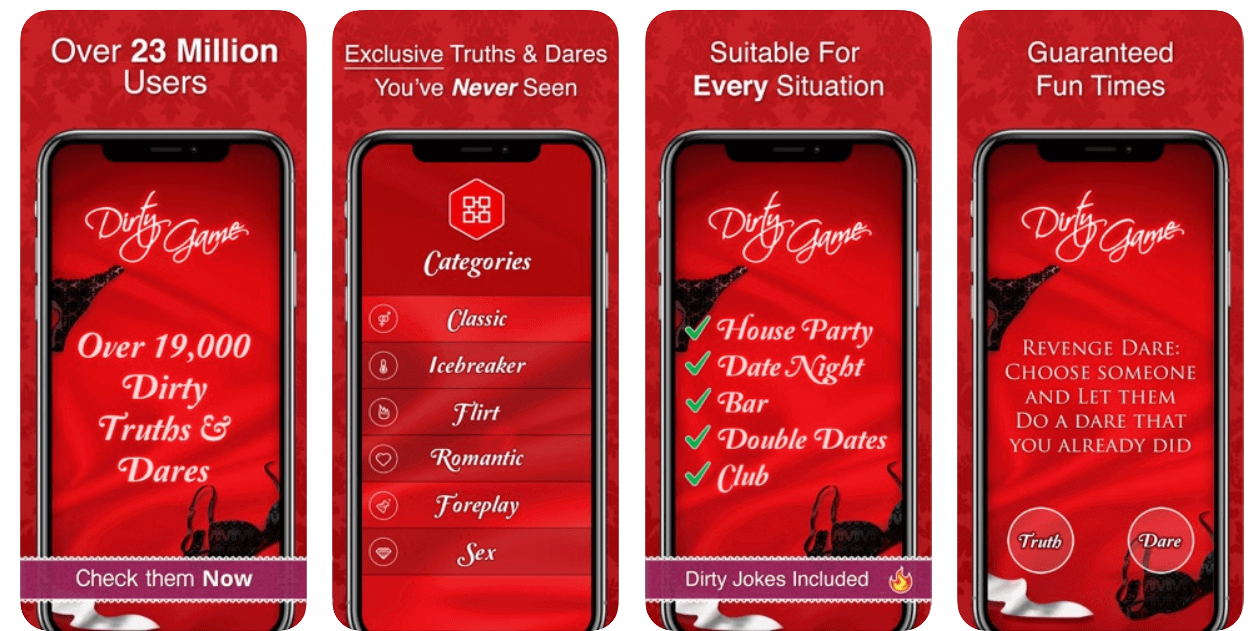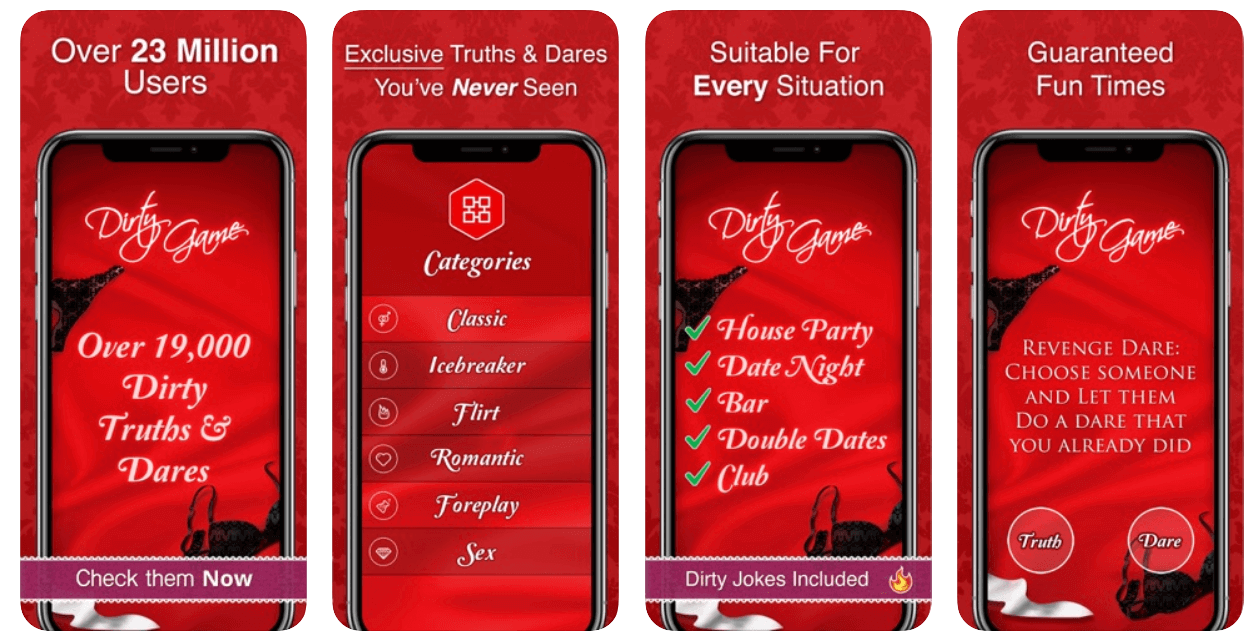 Dirty Game – Hot Truth or Dare is a free iPhone sex app that offers an interesting take on the classic flirty game of—you guessed it—truth or dare.
What's special about this game is its flexibility. Rather than defaulting to one level of intensity, or limiting itself to couples only, Dirty Game allows users to change the dares and questions from "classic" to specifically "sex"—and from just two players to "group mode."
Dirty Game also offers an expansive variety of dares and truths. So it would be unlikely, at least at first, to encounter the same ones over and over again.
Honi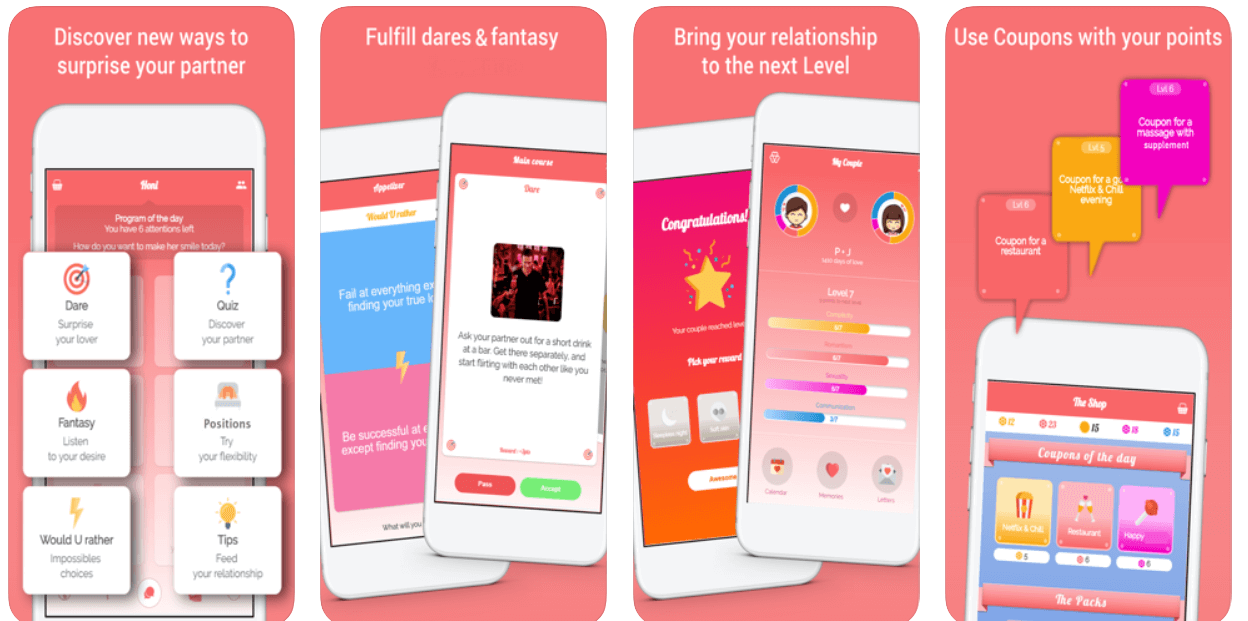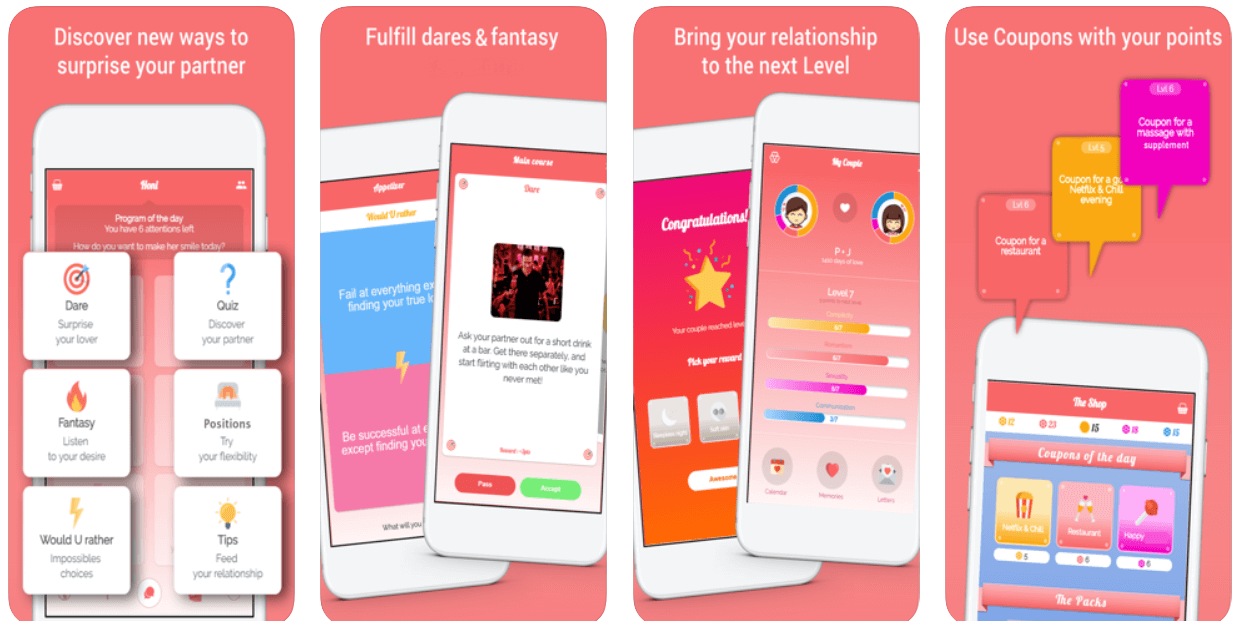 Now here's a fun challenge-based game that can be a real blast for couples. Honi, which is available on Android as well as iOS, is all about breaking the ice, including offering great avenues to share sexual fantasies, as well as new positions to try out. All in all, the couples' sex app provides fun ways for lovers to get to know one another better.
What's extra-fun about this app is the way you and your partner access it. All you need to do is sign up using each of your phones and then link the accounts, allowing all these juicy info and tips to be shared equally. This also means you don't have to be in the same room together—a huge bonus for lovers in long-distance relationships.
Honorable mention: Pillow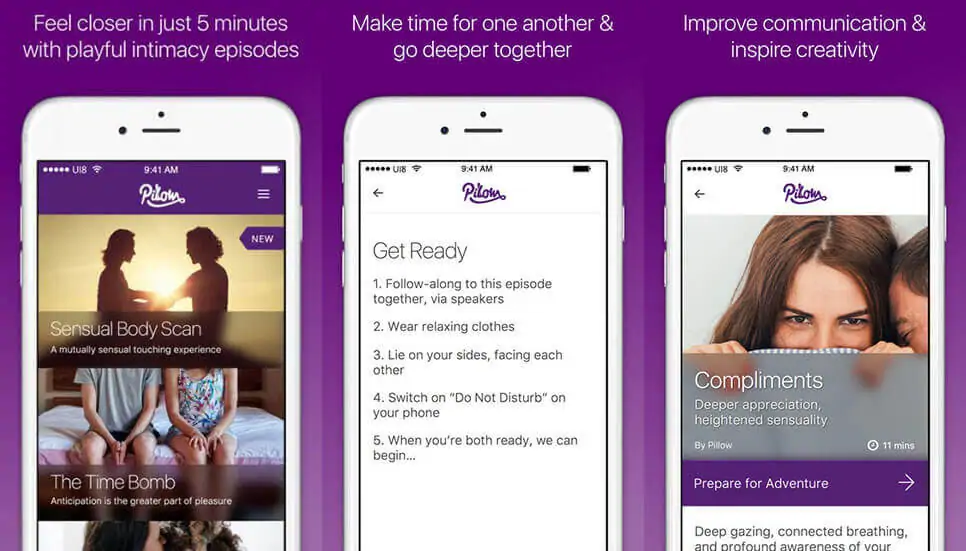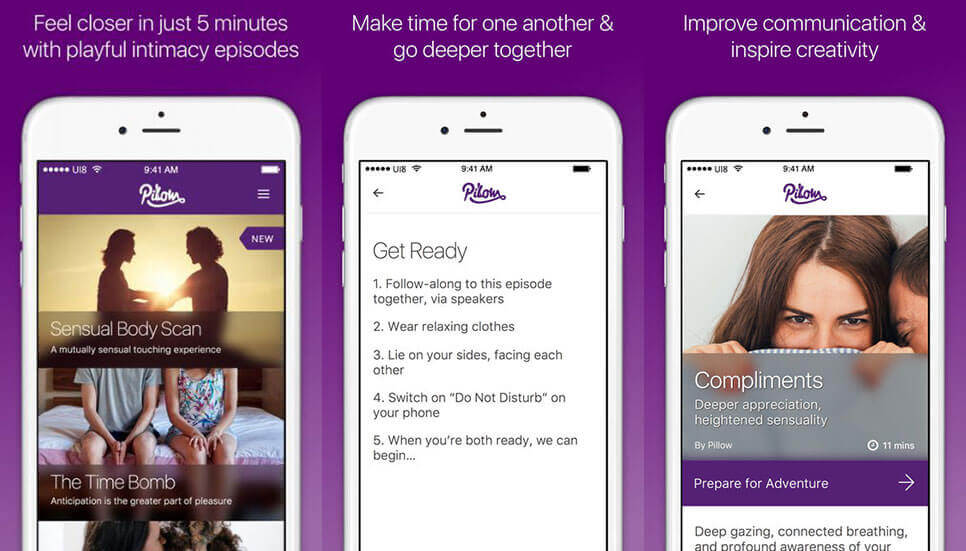 From those looking to "strengthen your relationship" to "reconnect post baby," Pillow offers all kinds of interactive ideas for partners to breathe, relax, and get in sync with each other.
It was formerly designed as a sex game app for couples. But is now available a set of audio files available for digital download for $47. Pillow is for couples who want a re-energizing blast of sexual inspiration.
Like Bliss, the program is more about sensuality than hardcore sexuality, but that doesn't mean it should be passed by. For instance, Pillow offers a section called Time Bomb, reminding us all that "anticipating is the greater part of pleasure."
Pillow also grabbed our attention due to high praise from relationship guru Esther Perel, who specializes in helping couples bring back that old spark.
Playing together
It's exciting, in all kinds of ways, to see developers and smartphone manufacturers embracing sex and sensuality, especially for helping couples achieve new levels of both playfulness and intimacy.
We can only hope that in the years ahead they'll become even more open to the potential for sex apps. They aren't just good business but can give people access to quality sexual information and experiences.
Do you have a favorite sex app for partner play? Disagree with our list of the best sex game apps for couples? Please feel free to share your top picks with us in the comments below!
RIP
Now let's pour one out in memory of previous favorites in the couples' sex game app category, that are, alas, no more.
iKamasutra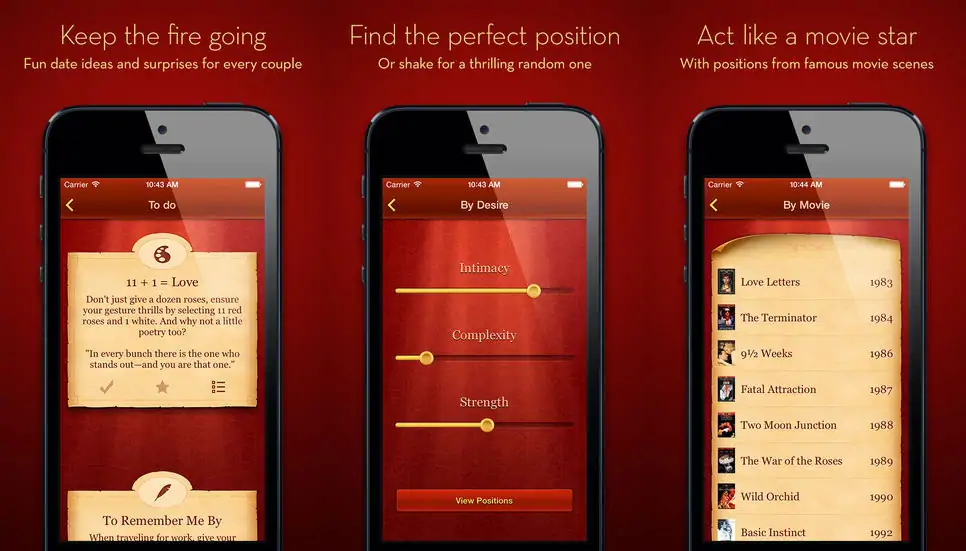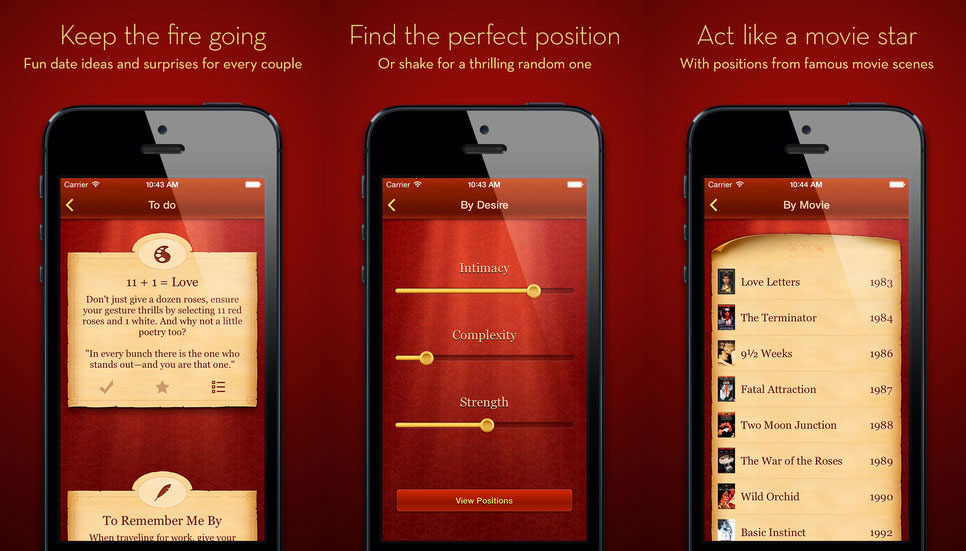 Created by SutraTaps, iKamasutra is an interactive guide to the legendary and ancient text of the Kama Sutra. This game isn't erotic, per se, but offered more of a way to turn sex into a game.
Formerly available on both Android and iOS, this sex game app for couples gave illustrated lessons on more than 100 sexual positions and some playful tips to, "keep the fires going."
This app received major points for its approach to the Kama Sutra, making it an interactive endeavor.
Yes, there were positions and romantic suggestions, but users were also able to monitor how often they practiced what the guide preaches. It was a fun way to keep track of the positions you've experimented with and to let others know which ones are the best with user ratings.
All in all, iKamasutra was both a handy sexual reference as well as a cool way to encourage erotic experimentation. Rest in peace, iKamasutra.
The Incredible Sex Game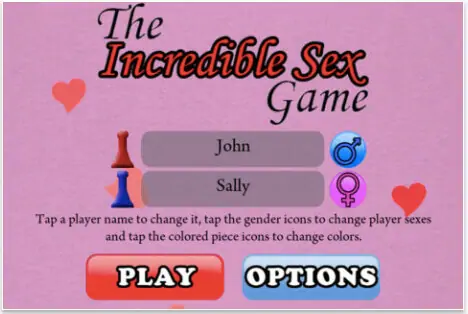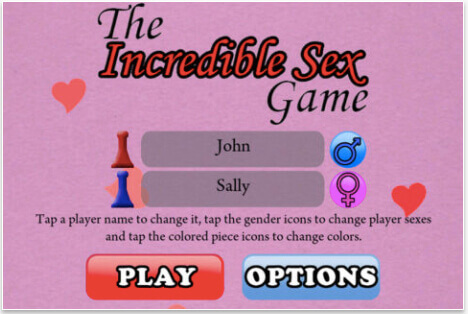 If you look beyond its straight focus, The Incredible Sex Game had a lot of potential for all kinds of sexytime fun. Basically, it was a digital version of a sexplay board game. The sex app lets couples try a variety of sensual and romantic activities, leading the pieces, and the player, to reach the finishing line. In this case, it was the bedroom.
While it was not as polished as some other titles, which is likely why it isn't around today, The Incredible Sex Game had a playful attitude, yet not enough potential to stay alive and remain on our list of best sex game apps for couples.
Image sources: jchapiewsky, iKamasutra, 69 Places, Incredible Sex Game, Bliss, Pillow, Dirty Game, Desire, Dirty Sex Game, iPassion, Dirty Game, Honi, Kindu, Sex Roulette, Dirty Dares, Sex Positions 3D, Kamasutra Sex Positions, Sex Keeper