Sex Tech Mixers, Hackathons & Conferences [UPDATED]
An ongoing list of upcoming sex technology conventions, adult entertainment conferences, sex tech hackathons, sex robot conferences, and virtual hangouts.
Many adult industry and sex tech industry events are offered as virtual gatherings. Stay tuned as we expect to add more in-person listings in the near future.
Feature image source: Pornfilmfestival Berlin
October 2022
DIY Gynecology Tools + Open Source Workshop – Oct. 4
Virtual event on Tuesday, Oct. 4 from 18-19:30 CET. Sign up on Eventbrite to receive the Zoom link.
"This workshop will be led by Klau Kinky, a founding member of the informal Barcelona-based collective GynePunk. The workshop will introduce GynePunk's open-source gynaecological kit for self-diagnosis. The kit was conceived in resistance to experiences of humiliation, discrimination and judgement in public gynaecology clinics.
"GynePunk is a collaboration between people of different backgrounds, from nurses to engineers and transfeminists. Their activism promotes self-knowledge and learning about our own bodies. They explore patient-led diagnosis and treatment through their mobile lab."
"The talk will occur primarily in Spanish with live captions in English provided by a professional interpreter. The interpreter will help during the Q and A session for folks who want to ask questions and do not speak Spanish." (via Eventbrite)
2022 HUMP! Film Festival – Oct. 4-5 (and streaming through Oct. 16)
The 2022 HUMP! Film Festival will be coming to Los Angeles, CA, USA on Oct. 4-5 and streaming online through Oct. 16.
"HUMP! is a lovingly curated festival of short erotic films made by real people for real people. The filmmakers and stars show us hot and sexy, creative and kinky, ultimate turn-ons and craziest fantasies.
"Our program is a cornucopia of body types, shapes, ages, colors, sexualities, genders, kinks, and fetishes—all united by a shared spirit of sex-positivity. HUMP! will shock you. HUMP! will make you laugh. HUMP! will turn you on.
"HUMP! has been successfully disrupting the way America sees, makes, and shares porn since 2005." (via the HUMP! website)
Sex Tech Mixer @ New York Tech Week – Oct. 11
Date and time: October 11, 2022 at 5:30 p.m. EDT
Location: Chelsea, Manhattan, NYC
RSVP: Register on luma
"Come join me and meet the NYC Sex Tech Community I co-host the NYC Sex Tech Mixer during NYC Tech Week. Romance, sexual wellness, dating, intimacy, privacy, communication, safety – all of it is being innovated across our $100B+ industry ($108 billion actually, but who's counting?)
"Join us at a sexy new Chelsea cocktail spot to network with the founders, funders, operators, creators, and consumers (yes, we mean you!) at the intersection of pleasure and tech."
"This event is a part of NYC Tech Week – a week of events hosted by VCs and startups to celebrate the New York ecosystem!" (via Meetup)
Satyrs and Maenads: The Athens PornFilmFestival – Oct. 13-16
Tickets and full program details are available online. All festival information is in Greek.
"The third edition of the Athens porn film festival… will finally take place in a physical space in October.
"Romance will be our home for 4 days where you can watch over 90 short and feature films organized in 12 screenings. There will also be exhibitions, events and panel discussions." (translated from Greek – via Viva)
Pornfilmfestival Berlin – Oct. 25-30
Tickets and full program details are available online in both English and German.
"The Pornfilmfestival Berlin returns for its 17th edition to Kino Moviemento and Babylon Kreuzberg October 25-30.
"The Pornfilmfestival Berlin is truly back! For the first time since the beginning of the pandemic, the world's premiere festival for films about sexuality returns at capacity with a full program with 150 films, its grand party, four prizes for the best films in various categories, workshops and everything else that makes the festival Berlin's most beloved.
"On top of the that we're proud to be presenting our first ever Industry Days, a conference and networking event happening October 27-28 exclusively for members of the adult film industry." (via the PFF Berlin website)
SxTech EU 2022 – Oct. 27
Date: October 27, 2022
NEW LOCATION: MONOPOL, Berlin, Germany
Tickets: In-person & hybrid ticket options available for purchase
"Sx Tech Eu, the world's fastest-growing sexual technology conference, is back for our 4th edition in Berlin, Germany on October 27th. Sxtech Eu is the world's only event that promotes and showcases the future of technology and pleasure – #sextech.
"Since 2019, we have worked with over 85 global sextech and wellness brands, hosted over 90 international speakers from over 25 countries with 80% of our professionals identifying as female or femme. We launched the first-ever German Sextech Hackathon with 150 applicants with over 200 VC and Angels investors.
"We experienced milestone success in 2021 with the first-ever inclusion at the largest tech conference in the CEE – Wolves Summit. The partnership introduced sexual technology companies, products, and startups to investors who has never heard of #sextech sector before. And after sex tech company Please Play dominated the Wolves Summit's startup pitch competition and took home first place, these investors are eager to get in on the action.
"After 4 years of operating and cooperating with various partners, our reach and visibility at the 2021 Wolves Summit conference were 23,811 attendees, 6,051 startups and 2,939 investors. The writing is on the wall – sex is here to stay, so let's embrace the technology together on October 27th, 2022 at MONOPOL BERLIN in Berlin, Germany." (via Eventbrite)
November 2022
Annual Congress Love and Sex with Robots – Nov. 18-20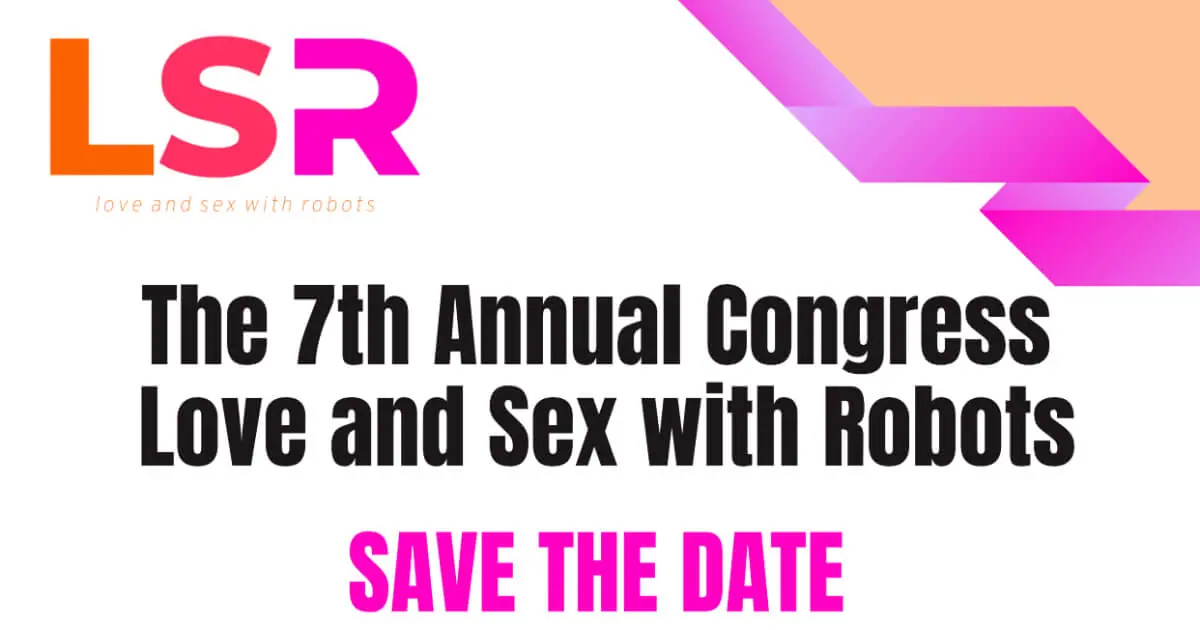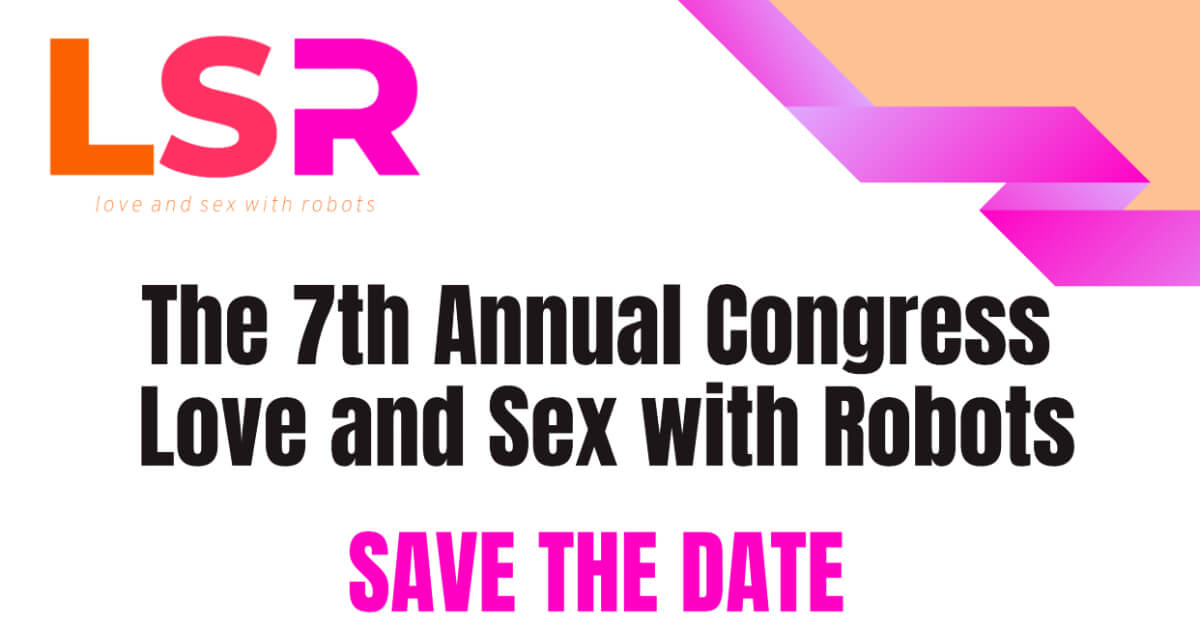 The 7th annual academic conference will take place from November 18 to 20, 2022, according to a save-the-date email sent to LSR newsletter subscribers. Once again, the event will be virtual.
Keynote speakers include academics Kate Devlin, Justin Lehmiller, and Jessica Szczuka, as well as iDollator Regulo Guzman Jr., aka Reggie. (via FutureofSex.net)
Regular sex tech gatherings and virtual reality events
SexTalkTuesday by Sssh.com – Tuesdays
A bimonthly Tuesday Twitter chat on sex and sex-positive topics hosted by Sssh.com.
Follow @SexTalkTuesday or #SexTalkTuesday to participate. More details are also available on the SexTalkTuesday website.
MetaMingle by Raspberry Dream Land – Wednesdays
"First time at RD Land? Not sure where to start? Join our weekly METAMINGLES to learn more about the platform and meet the community!
"Every Wednesday we are meeting and hanging out at the Central Plaza with our dear community. We want to spend more time with every single one of you and get you to know each other. Nothing too fancy, just swing by and say 'Hi' to the brains behinds the platform and your fellow dreamers. World hopping and tour around the platform available to newcomers." (via rdland.io)
UNSENSORED Chats by Raspberry Dream Land – bi-weekly Thursdays
"Have you ever fallen in love online or in VR? Do you think it's possible to develop and engage in a virtual relationship without ever meeting in person? What is the future of human relationships? Would you give cyber love a try?
"UNSENSORED chats are bi-weekly sharing circles hosted by Angelina Aleksandrovich for people to get together and talk, share, listen and learn from each other about all aspects of what makes us human – identity, gender, sexuality, sensuality, desires, fears, good / bad experiences, orgasms, lack of orgasms, fetishes, kinks, communication, consent, stories, pain, pleasure – anything goes!.. Expressing your feelings, experiences and hearing from others is an important step to having a vivid and healthy lifestyle. UNSENSORED chats are facilitating this discourse to disrupt the existing taboos and stigma not only in physical but also in virtual reality!" (via rdland.io)
Risque Biz Talx, Sandy Amphitheatre – Fridays
Risque Biz Talx with Primal Lust Industries
What is Branding?
03.12, Friday
12pm PST / 3pm EST
Sandy Amphitheatre
"So WTF is "Branding" anyway?
"Join us for this open-to-the-public discussion about how crucial it is to brand yourself in a way that fits you and the crowd you want to attract. Learn how streamlining your brand can influence the success of your adult business.
"This is #9 of our wonderful free networking and learning opportunity for those in the adult industry. Further mentorship available for those that wish to take advantage of it." (via rdland.io)