ModelX — This WordPress Theme Lets You Easily Start Your Own Adult Website
Becoming an independent adult content creator is easier than ever.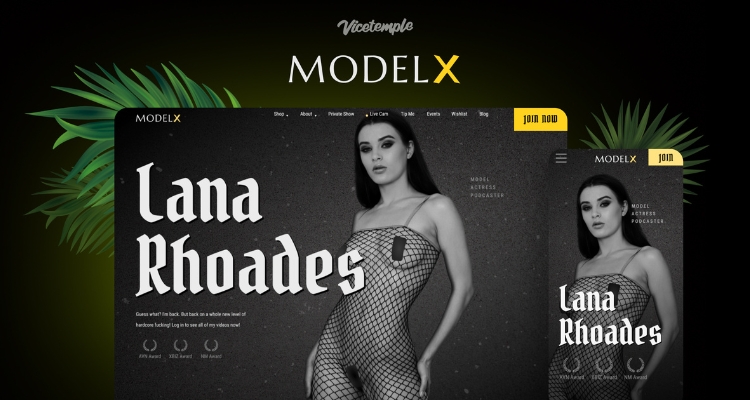 It's the twenty-first century, and sex is everywhere. To be fair, sex was always everywhere, just not out in the open. Despite how much everyone enjoyed them, bedroom activities used to be a rare topic. And if you made a living in the adult industry, well, let's say that you wouldn't go around telling your friends about it.
Mainly thanks to the internet, that sorry state of affairs has changed, and we couldn't be happier about it. These days, it's not uncommon for someone to spontaneously mention what turns them on, even if it would have been considered unconventional just a decade ago. After all, we are sexual beings. Why would we be ashamed of that?
This change in how we perceive sex has also altered our stance on using it to make money. Camming platforms are huge, OnlyFans has become part of mainstream culture, and big-name adult content creators are earning greater numbers than many executives.
OnlyFans isn't all sunshine and rainbows, though. Smaller creators often find it hard to gain traction, as the site doesn't promote them at all. It's sink or swim, and OnlyFans won't really help you swim. They'll still gladly take a percentage of your earnings, though.
That is why a growing number of models are considering alternatives. If you're one of them or are merely looking for an additional revenue stream, you may click with the idea of starting your own website.
Why you may want your own website
Your results may vary, but the main appeal of being on a large platform is its audience. Given that OnlyFans expects you to bring yours, you may as well go solo and keep 100% of your earnings. Years ago, that approach was locked behind a thick entry barrier. You would have had to pay for web development, design, and spend time on technical manuals instead of on yourself.
Well, that glass ceiling is no more, and website themes let anyone create a website in very little time.
What's a website theme?
In essence, a website theme is an instant website. Add a bit of creativity, give it a little shake, and it'll be ready for rollout. Quality themes have flexible designs, letting you give them a full makeover, changing colors, page layouts, and more. Most support a wide range of plugins. That way, you can add or remove features based on the end result you require.
For sure, not all themes are the same, but they're universally cheaper than hiring experts or learning HTML. If you pick the right one for what you need, you'll get identical results at a fraction of the cost.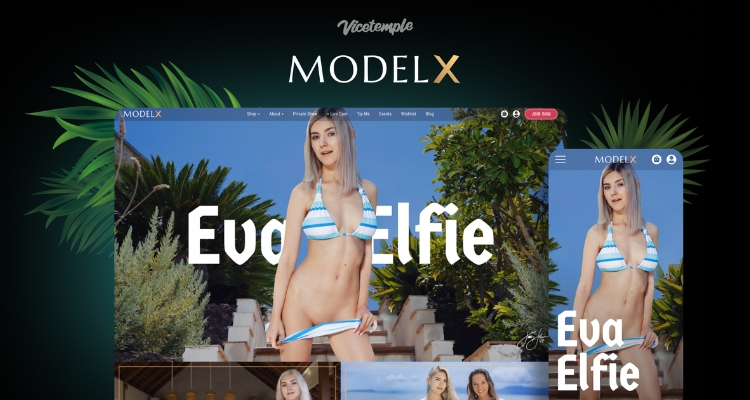 How ModelX is different
Made by Vicetemple [NSFW], ModelX [NSFW] is the first website theme made specifically for adult models, content creators, and cam performers. This latest addition to Vicetemple's WordPress theme [NSFW] offering is built around the open-source CMS, and it comes with functionality that anyone making (or wishing to make) a living in the adult industry will appreciate.
Aside from the aforementioned visual customization and ease of use, that includes a wide range of features. For instance, the theme has a built-in store, subscription models, and tipping — all of which you can fine-tune, enable, or disable. That means that you will have full control over how users can access your products.
If you're a cam performer, you'll love the live cam integration feature. It's simple to set up, and it lets you embed live cam streams anywhere on your website. ModelX supports all the major camming platforms, from Chaturbate to LiveJasmin, with regular updates to maintain that compatibility.
The theme is fully optimized for both desktop and mobile so that your work will be picture perfect on all devices. You can also integrate your social media profiles and have the relevant links visible on the site's pages. Speaking of integration, ModelX works with all major payment processors, making it easy for you to get paid for your hard (yet pleasurable) work.
Also, the listed features aren't everything that ModelX can do. Vicetemple's designers and developers have worked in the industry for years — over a decade in some cases. If you happen to require any additional functionality, you can make a custom request, and they can code it for you. Granted, such services will come with additional fees, but it'll be a lot cheaper than building a whole site.
Conclusion
The adult industry is about taking charge of your sexuality, owning it, and making the most of what gets you going. Launching your own website is no longer just for the biggest content creators out there. Anyone who enjoys monetizing their bedroom adventures would benefit from having their own not-so-private little corner of the internet.
With website themes, that is no longer a luxury. And with ModelX, you'll have everything you'll need to fly solo for years to come.
Image Sources: Vicetemple