Infographic: The Evolution and State of Teledildonics
Comparison of the market leaders in remote sex technology
Computer-controlled sex technology, or teledildonics, has blossomed over the past decade. A new infographic compares the growth and features of the two most popular men's teledildonics: The semi-automated VStroker [NSFW] and the fully-automated Real Touch. The comparison reflects not only how much intimacy technology has grown, but which ways it may be developing, too.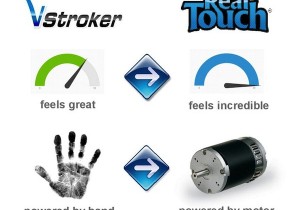 Organized by the Sex Games Report and The Virtual Sex Review, the infographic compares several points including setup time, the number of supported videos, and monthly official website visitors.
The key difference between the two products is the level of automation. The Real Touch is a full-automated, hands-free device, while the VStroker is operated by hand with automated motions inside it. Both devices respond to triggers embedded in videos or games.
They are both tech-based products, but we can see the beginning of a philosophical debate: Can one pleasure oneself with technological assistance rather than completely by a machine? We don't know, but as pleasure robots gain popularity, we imagine we'll find out soon enough.