Heavy-Duty Loving: Introducing Lovense's New Sex Machine
A powerful and cam model-friendly addition to their popular line of sex toys.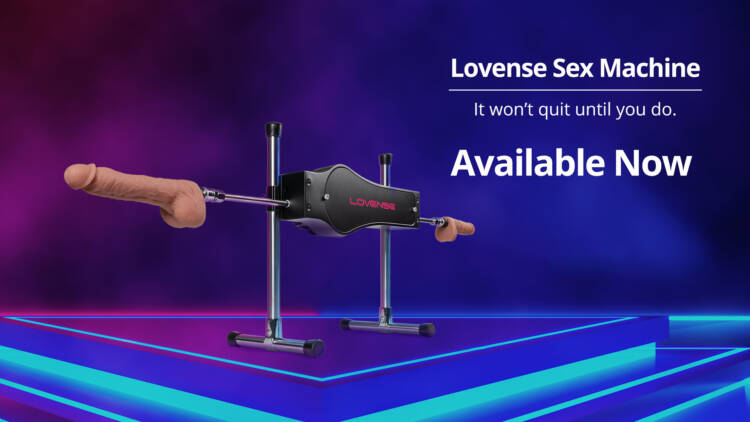 With the release of their latest product, Lovense has taken an especially bold and decidedly brawny step into the world of sex machines.
Opposed to their other sex toys, Sex Machine isn't hand-held and is considerably more vigorous, boasting a top speed of 300 strokes per minute, and is enjoyable for use by one or two people at the same time.
What their Sex Machine does have in common with their products is seamless sextech integration with Lovense Remote: allowing it to be remote-controlled, used in interactive adult videos and games, or when linked to similarly equipped Lovense toys for share-and-share alike teledildonic play, as well as other fun features available through their app.
Flexibility and power combined
For all its mechanical vigor, Lovense's Sex Machine is also remarkably adjustable.
For example, its stroke length, height, and tilt can be changed whenever and however a user wants.
Not only that but as both ends of its main shaft are fitted with Vac-U-Lock attachment points, its pair of dildoes can be exchanged for any likewise-compatible accessory.
And for those who prefer a less-than-smart sex toy, the Sex Machine comes with a wired controller to regulate its stroking speed and power it on or off.
Practically made for camming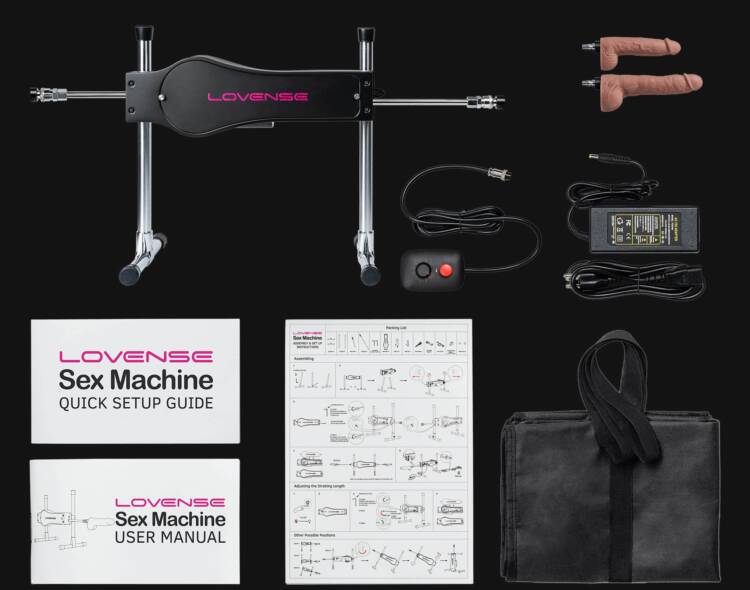 Together with their reputation for providing us all sorts of extremely pleasurable sex toys and how their Remote App—whether it's the smartphone or computer version, is a pinnacle of sex tech software design—Lovense is unabashedly sex work supportive.
It's even right up there at the top of their website: a link that'll take anyone interested to guides, how-tos, and troubleshooting tips for using their products for cam shows.
Their Sex Machine is no exception. It is far from difficult to set it up to respond whenever a performer gets a tip or a host of other customer-engagement options.
Options like Give Control, offering paying customers an opportunity to operate a performer's sex toy, or Vibe with Me, where they can join in the fun with their own Lovense smart product.
As Lovense's CEO, Dan Liu, puts it: "With incredibly wide functionality and possibilities, including two-person use, as well as support for all Lovense camming solutions, the Lovense Sex Machine is the first choice for cam models and toy enthusiasts everywhere."
Storage and portability
Thankfully, Lovense understands there'll be times when someone doesn't necessarily want to have their Sex Machine out for all to see. With this in mind, they designed it to be effortless to disassemble and reassemble: its supports, power supply, controller, main body, pair of dildoes, and so forth all fit nicely into its provided storage bag.
Due to its heavy-duty motor, the Sex Machine requires slightly more care and maintenance than your average sex toy. However, it's mostly reserved for lubricating its sliding rails and greasing the main body's inner workings every couple of months.
Big, bold, and pleasurable
Though I've been a Lovense fan-person ever since I first got my hands on one of their products because it's such a departure from their other products, I initially couldn't get their Sex Machine.
I mean, it's unabashedly industrial, fragrantly high-powered, obviously lacks any sign of their usually so-thoughtful ergonomic design aesthetic, yet works extremely well with the Lovense Remote app.
I came around after reminding myself it's from Lovense, after all. If anyone's taking sex machines to a whole new level, it's got to be them.
Dan Liu summed it up perfectly, saying, "We have been working on a sex machine for a long time, tried different designs and options, and are finally ready to release the best sex machine on the market."
And, without a doubt, they most certainly have.
Image sources: Lovense