Sexual Telepresence: More Than the Sum of Our Parts
How total-body interactivity might lead to limitless erotic possibilities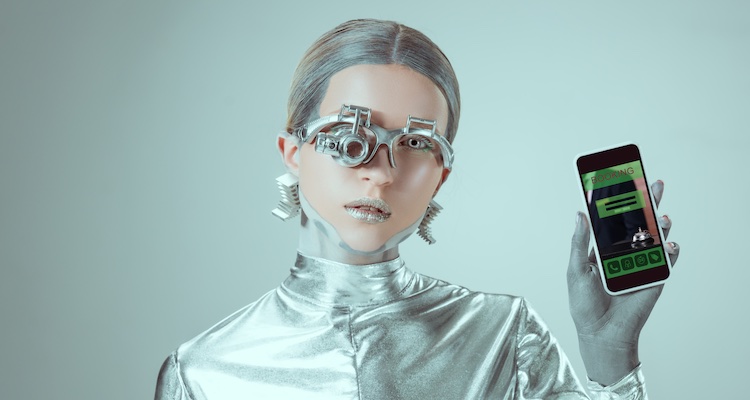 When? Sooner than you think.
What? A sensor-lined bodysuit, a hi-rez video headset, or maybe a circuitry-lined patch affixed to the back of your neck to link your mind to a sexually-customized artificial body–
Where? –which could be anywhere from a few feet to thousands of miles away from your real body.
How? Flip a switch or tap a virtual icon, and no matter where your physical self is, you'll instantly and completely feel like you and your artificial body are one and the same.
Explaining telepresence
While Marvin Minsky first coiled the word "telepresence" in a 1980 paper, he makes a point of citing Robert A. Heinlein's 1948 science fiction short story, "Waldo," for the idea of remotely operated technology so advanced the person using it would lose all sense of distance.
What was once a speculative concept is now an everyday reality, with telepresence devices currently used for everything from handling radioactive waste to performing delicate microsurgery.
But, as the old saying goes, the best is yet to come, specifically how, in only a few short years, telepresence might completely transform human sexuality like nothing before or since.
Putting the pieces together
What's especially exciting about fully immersive telepresence is how much of it is pretty much already here, with the rest perhaps right around the corner.
To be clear, I'm not talking about merely seeing or manipulating distant objects feeling you're inhabiting, not your biological body but an artificial one which may or may not be specifically constructed for sexual pleasure: enhanced senses, modifiable genitalia, greater flexibility, you name it.
Scoff all you want, but the first part of the advanced telepresence equation — as in projecting your sense of awareness beyond your immediate location — is practically here, as in virtual reality, particularly when coupled with haptic, taste, and aromatic simulators like those we've covered previously,
Surprisingly, even fabricating an artificial, sexually-customizable humanoid body for your consciousness to inhabit may not be that far off.
For instance, tomorrow's autonomous artificial companions would make perfect surrogate bodies, and systems like Apple's Vision Pro's multi-spectrum cameras and lidar scanners could be ideally suited for giving them, and the wearer, a sense of being there — wherever there might be.
Surrogates, the 2009, at best, mediocre science fiction thriller starring Bruce Willis, shows what total-body telepresence could be like. Just don't pay too much attention to its doomsaying, anti-technology message.
Recent telepresence breakthrough
October of last year, South Korean researchers at Duksung Women's University and Hanyang University broke new ground by developing a new approach to immersive telepresence.
Employing a motion capture rig and a virtual reality headset linked to a stereoscopic camera mounted to the head of a small, semi-ambulatory robot, the researchers discovered the person operating it felt as though they and the robot weren't man and machine but a single being.
Scale that up a bit, and you can see why teleprescent sexuality could be one of those rare not if but when world-changing technological innovations.
What happens once we put all these different pieces together? Well, starters, take a moment to consider who you are.
Your synthetic body, your actual self
No, not the body you may have been born into, but your real self. Using telepresence, you could occupy any number of synthetic bodies as easily as you change your clothes — and, in the process, perhaps discover and live as the person you always knew you were.
Or maybe you're merely curious to see, feel, and live as someone else? Fire up your telepresence rig, whether it's a bodysuit, a pair of VR goggles, or by plugging in your cortical jack, and you'll be able to try out an infinite number of different body types, sizes or genders as well as mix, match, or create brand new ones.
Some of those new bodies could even make you feel — no, be more than human.
Want to dive into an active volcano, drop to the bottom of the Mariana Trench, or skydive from orbit? You could do it all while not burning, getting crushed, or smashing into the earth — all while your physical body is safe at home.
There's also no reason we couldn't construct animalistic or wildly abstract new physical forms to inhabit, bodies allowing us to experience life not as someone but as something new.
Being anyone and everyone
Though it might be easy, or at least tempting, to think of sexual telepresence as another sign of a looming technological apocalypse, there's an equally good chance it'll end up being less what humanity's always wanted and more what we've always needed. Now more than ever.
Imagine being able to walk in someone else's shoes but taken to an entirely new level: by granting everyone the opportunity to experience life, love, and sex as another person, telepresence could be our ticket to understanding those around us and, in the process, ourselves like never before.Image
Sources: Depositphotos