Sex Tech Hackers Will Get 'Touchy-Feely' at Virtual Event This Weekend
Follow creators from across the world as they explore intimacy in the digital age.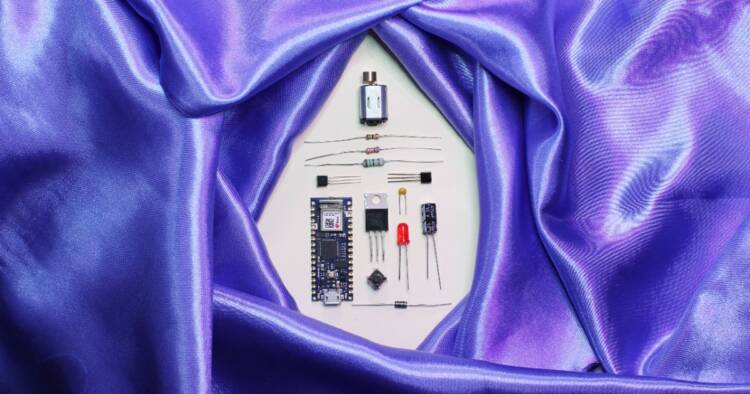 Artists, academics, and technologists from around the world will gather online on January 23 and 24 for the Rainbows End: Sex Tech Hackathon, organized by Creative Coding Utrecht, Touchy-Feely Tech, HERVISIONS, and Creative Coding Amsterdam. 
Limited to 30 participants, this virtual event offers a safe space to inquire about intimacy in the digital age, remoteness, modern approaches to sex education, and more.
"Talking about sex toys and how they are designed is a great example of how (digital) technologies are not neutral. They come with implications and designed assumptions that affect the user," says co-organizer Fabian van Sluijs.
van Sluijs is also the creative director of Creative Coding Utrecht and co-curator of the Rainbows End exhibition, the hackathon's parent event. The exhibition was postponed due to COVID restrictions, but the hackathon is continuing as planned.
"We organize our activities to show the possibilities of creative technology and how art and design can help us to have more agency over the technologies we use daily," he adds.
2 full days exploring intimacy, intersectionality, and remoteness
Inspired by Hacksmith's Sex Tech Hackathon, this weekend's event will spread across two days.
Saturday will be dedicated to the actual hacking—with expert talks sprinkled between focused working time. On Sunday afternoon, participants will present their solutions to the proposed challenges in front of a judging panel.
Given the virtual format and the varying experience levels of participants, many interpretations of the challenges will be accepted. Some example solutions given include drawings, collages, no-code websites or apps, and prototypes using electronics or clay.
Registrations are closed, but you can still follow this weekend's event through their Facebook page.
Fostering collaboration from afar through provided kits
With participants joining from Thailand, Australia, and all over Europe, encouraging connection and joint exploration is a high priority for the organizing team.
Along with an event-wide Discord server, one way they're countering the physical distance is by sending prepacked kits directly to participants' homes.
Because no specific technical experience was required for registering, the provided kits are designed for beginners to learn and play with the basics. The kits mostly consist of electronic components, such as custom printed circuit boards, vibration motors, resistors, and wire connectors.
Prototyping tools and materials—ranging from no-code collaborative builders to moldable polymer clay—are also available.
Creating spaces for underrepresented perspectives
Something else that sets this hackathon apart is the demographics of its participants. Of those registered, only 20% identify as male. This is unusual, particularly as hackathons tend to be male-dominated.
Having the hackathon be a space for underrepresented creators aligns well with the purpose of the Rainbows End exhibition overall.
"[Rainbows End] explores how underrepresented makers (femme, POC, LGBTQ+) use games, 3D worlds, and virtual realities as safe spaces to experiment with surreal beauty, gender identity and investigate new forms of sex, tech, and play," explains van Sluijs.
Image sources: Touchy-Feely Tech