Sex Tech at CES 2023: 6 Brands Exhibited, Including an Anonymous Sexting App
More brands than in 2022, but a continued focus on products for penises.
The Consumer Electronic Show (CES) is the tech conference known for unveiling the best and brightest advancements, but its impact goes far beyond just a trade show. CES is where culture, consumer needs, and innovation all come together to showcase the technology that will inevitably inform our lives, including the future of sexual health and pleasure.
While the number of exhibiting sex tech brands dropped significantly in 2022, 2023 saw a slight increase in attendance, with one more brand exhibiting than the previous edition. The small turnout is likely due to a mix of the pandemic and the electronics trade show's contentious history with the sex tech industry.
Men's sexual health was the spotlight of sex tech innovation at CES for 2023. We noticed the continuing trend of products designed for penis pleasure and premature ejaculation prevention. Four of the six exhibiting brands focus primarily on these categories, and a fifth exhibitor promoting products for penises, though not exclusive to that category. However androcentric the exhibiting brands might be doesn't detract from their technological advancements toward sexual health and wellness—an industry constantly fighting the uphill battle of stigma, censorship, and shame.
We've rounded up the sex tech brands from CES 2023 (alphabetically) and included reactions from the press and social media.
Blyynd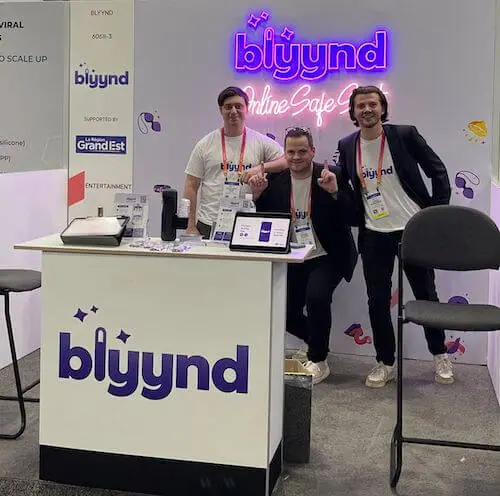 Founded in 2022, Blyynd is an app designed for sexting and 'anonymous' virtual dating. This was the French company's first appearance at CES and served as their launch into the international market.
Given CES' emphasis on hardware, it was surprising to see a mobile app on the exhibitor list. But in a press release, Blyynd said the goal is to "become the first virtual sex platform allowing its users to connect their sex toys and soon be able to interact in the metaverse" So, it sounds like a whole virtual sexting and dating ecosystem might be in development.
RELATED READ: Blyynd Brings on Investors to Build Anonymous Sexting App
FirmTech
Making its CES debut, FirmTech develops ring-shaped hardware designed to wrap around the base of the penis. The device records data and reports it to a mobile app to "give you a deeper understanding of your body so you can maintain erectile fitness and track your vascular health."
The company's social media posts about CES 2023 were overwhelmingly positive, mentioning that they were "grateful for the warm reception" and "honored to have been considered" for the Omdia Innovation Award. FirmTech was the runner-up in the 'Fitness, Health & Wellbeing' category.
We wouldn't be surprised if we see them again in 2024.
MYHIXEL
After their massively successful crowdfunding campaign, MYHIXEL presented their MYHIXEL control technology in-person at CES 2023.
MYHIXEL Control is the latest release from the Spanish startup, combining their stimulation devices with an anonymized, gamified app. All MYHIXEL devices are designed to help teach people to control ejaculation.
This was the sex tech brand's third visit to the electronics fair, with previous appearances at the 2020 and 2022 editions. The company concluded a recent tweet with, "Hopefully we will be back next year!"
MysteryVibe
Arguably the most mainstream brand on the list, MysteryVibe returned to CES after bypassing the 2022 event. The sex tech company showcased its range of app-controlled sex toys, including the latest releases: Crescendo 2 and Tenuto 2.
Notable media coverage included MysteryVibe co-founder Dr. Soum Rakshit explaining how the products work on the "Interesting New Technology Products Featured at CES 2023" segment of the Mike Bates Show.
Sweet Tech AS
Norwegian startup Sweet Tech was back for the second time as an exhibitor, fulfilling now-COO Juwita Remvik's promise that CES 2022 was "not the last" for the sex tech brand. Like last year, the 2023 booth centered around the Handy, an interactive penis stroker.
The Handy generated the most press coverage and social media responses of any exhibiting sex tech brand, with people enjoying the aptly named product. On top of several tweets and YouTube videos posted (including one from Interest Engineering), the Handy even got a standalone byline in Gizmodo Australia.
Virility Medical Inc.
Also back for a second round, Israeli consumer healthcare company Virility Medical returned to CES to premiere its in2 patch.
This CE-marked wearable skin patch is designed to delay ejaculation based on muscle stimulation.
Less than one week after Virility Medical's CES appearance, the Journal of Sexual Medicine (JSM) published the results of the patch's clinical trial. In an announcement post on LinkedIn, the company wrote:
"The countdown is on and our revolutionary patch will soon become available for all couples wishing to prolong intercourse and make pleasure last longer!"
Image sources: Tanguy Fallard (Blyynd), Virility Medical Inc.