Blyynd Brings on Investors to Build Anonymous Sexting App
The company hopes to bring anonymous sexting into the metaverse.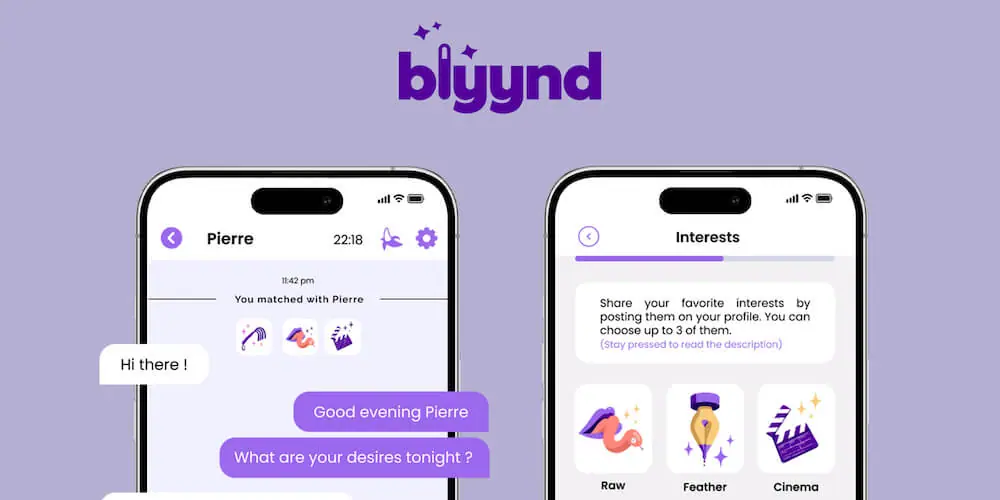 Blyynd is a new mobile app designed for sexting and 'anonymous' virtual dating, and this French startup is ambitious about anonymity. After a promising test phase and international launch, Blyynd plans to raise €600,000 in seed funding to build their team.
According to their CES 2023 press release: "The ambition… is to become the first virtual sex platform allowing its users to connect their sex toys and soon be able to interact in the metaverse."
Anonymity and sexual desires at the forefront
Founded in 2022, Blyynd enables you to connect and sext anonymously with others based on your sexual desires.
After using your phone number to confirm your account, you choose a nickname and write a short bio. You indicate your gender identity (Male, Female, Others), who you want to talk to (Men, Women, Everybody), and what languages (French, English, Spanish, German).
Finally, you select up to three "Interests" that correspond to your sexual desires. Options range from "Vanilla" and "Raw" to "Worship" and "Back Office." From there, you can browse and interact with other anonymous profiles.
Co-founder and CEO Cyrille Heimburger told Future of Sex: "Blyynd is committed to a fulfilling and responsible sexuality by highlighting the importance of communication and consent in sexual relationships, via an erotic exchange mobile app."
Available for both iOS and Android, the app emphasizes that security is a top priority. Some highlighted features from the press release include: "encrypted conversations… screenshots impossible on the whole app, moderation of media thanks to artificial intelligence… even the possibility of blocking dick pics."
Launching to the international market at CES 2023
After an encouraging test phase at the end of 2022, the Blyynd team made their CES debut in January to officially present the app's concept. The appearance at the electronics trade show served as their launch into the international market.
"Our presence at the CES 2023 has given us a very strong media coverage in French and international media," says Heimburger. "These publications allow us to count more than 8,000 registered users on Blyynd."
He adds that Blyynd has been accepted into Batch 3 of STATION F's FemTech Program, an in-house program designed for startups in the women's health industry, noting that: "This new framework will allow us to build our future team in a sustainable way."
According to a LinkedIn post by co-founder and CMO Tanguy Fallard, Blyynd previously participated in Incubateur Manufactory at the Centre d'Entrepreneuriat Lyon Saint-Etienne.
Next steps for Blyynd
"We are currently raising a seed of €600,000 from business angels. We plan to close this round by end of March 2023," Heimburger explains.
"The objective of this seed round is to recruit talent for the development of Blyynd, to create traction, and to obtain relevant metrics to seek a Series A round within 12 to 18 months."
Blyynd is actively recruiting for technical and marketing roles.
Want to invest in the anonymous sexting app?
Heimburger says they are "always interested in meeting new investors" for their early-stage sexting startup.
Potential investors interested in Blyynd should contact Heimburger directly at cyrille.heimburger [at] blyynd [dot] com.
Image sources: Blyynd