Cindy Gallop: Investors Must Forget Fears of Booming Sex Tech Industry
Venture capitalists should take their hands from their pockets and invest in the future.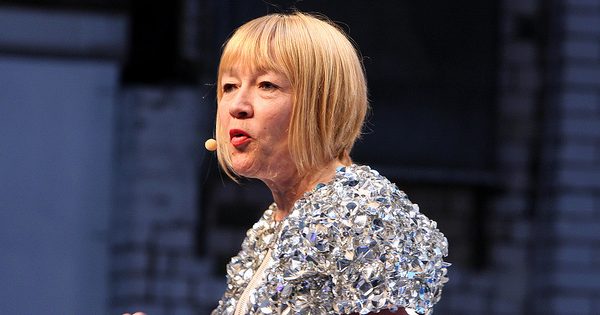 In part one of our interview with MakeLoveNotPorn founder Cindy Gallop, we discussed how the future and proliferation of sex tech lies in destroying the boundaries and taboos hindering its progress.
Seeking and securing investment may be the biggest obstacle faced by sex tech. It isn't just venture capitalists (VCs) who keep adult services at arm's length. Banks refuse to open business accounts, credit card companies won't process payments through fear of chargebacks, and a great deal of web hosts still refuse to host "adult"content.
When it comes to companies like PayPal leaving you out in the cold for operating a legal, ethical, and honest business, you'd forgive those on the receiving end of such hostility to wonder if the game is rigged. There's a common link for this financial shutdown: the collusion against adult services.
What is it that causes investment to be such a thorn in the side of sex tech? Furthermore, who are the people who are responsible for making such decisions?
Knowing the system
"The biggest enemy of sex tech is simply the fear of what other people think," says Gallop. "It informs every single barrier. The enormous irony is fear of what other people think is the most paralyzing dynamic of business and in life."
Its effects on a sex tech start up's life span can stir up great damage and unrest.
"Fear of what other people think rules out two of the usual three tech startup funding routes for sex tech founders," says Gallop.
Who's who and why not?
VCs have the interests of any number of stakeholders to consider at once, and decisions will be made for the benefit of "the greater good." They're managing too much of too many people's money to be making such divisive decisions, and so they go for the safer, more traditional options.
According to Gallop, VCs have told her and other sex tech entrepreneurs that they themselves love their ideas, but it's the people whose money they're managing who want distance. So VCs are out, unless any have the vision and courage enter into this niche.
"I've spoken to other VCs who've said 'I think you've really got something here, I totally see the potential but if I took it to my partners they would say, 'What are you on?''" says Gallop.
The wisdom of crowds
The stance of "thou shalt not be discussed" posed by a large number of potential investors affects sex tech's chances of securing investment through another popular method: crowdfunding.
The sense of exclusion is systemic. Kickstarter does not allow any "pornographic material" and even removed the Vibease campaign from its website. Although Indiegogo does allow sex toys, it doesn't help those offering sex as content or visuals. Tony Been, a company representative, said in February 2014 that "we have some restrictions—we don't allow fundraising for pornography or violence".
Successful crowdfunding also requires a large number of people willing to publicly rally around something and attract more people to do the same. Gallop posits that people will very willingly rally around a piece of hardware or video game, but they will not around anything to do with sex.
While it may be true, sex tech hardware has still managed to thrive on crowdfunding platforms. These major successes shouldn't be overlooked. Dame Products's hands-free vibrator, Eva, smashed its initial goal by receiving $525,000; ten times more than its target. .
MysteryVibe—whose Chief Technology Officer we spoke to about the plusses and pitfalls of seeking investment—also achieved its crowdfunding aims and gained the momentum setting the company up for a positive year.
There are enough success stories for crowdfunded sex tech hardware for good vibes to weave through the industry, but, for endeavours like MakeLoveNotPorn and their ilk, the problem is less quantifiable and more ingrained in people. Perhaps divine inspiration is needed.
Angel investors may give you wings
Angel investors represent a sex tech entrepreneurs best chance to secure funding. Though that doesn't guarantee anything.
It was the route that got MakeLoveNotPorn started with Gallop and her team securing $500,000 in seed capital, a figure regarded as low for a tech startup.
They may from time to time conjure up an image of an adventurous type with money to burn, looking to get in on the ground with the next best thing. Inevitably, the reality is different and there's a simple reason: "Nobody is currently putting their hand up and saying 'bring me sex tech'" laments Gallop.
While an Angel's investment portfolio may look sympathetic to sex tech, their personal mores, interests, and other such concerns come into play. It is sex we are dealing with after all, and it's never easy.
Strumming the purse strings
In an ideal world the answer would involve some people thinking about things a little more logically. Sex sells after all, and so does sex tech. It could do a whole lot more if the leashes were loosened, but it's something more fundamental that needs to shift, not just the sense of of a few deals here and there.
"So if people realized that's what's actually holding them back and they were able to do what they wanted they would see extraordinary results. The same is true in terms of sex tech; supporting it and funding it," says Gallop.
Sex tech is a very nascent community. There are still deep reserves of potential waiting to be extracted. Gallop speaks highly of the "terrific solidarity and community spirit" permeating the industry, but the spirit of the trenches has yet to be shared by the majority of investors. Things have to change.
For Gallop, the message is simple: refuse to accept things the way they are and actively create the conditions for your own success. "If we all take that on board you could see a significant difference to sex tech 12 months from now" she says.
The future of sex depends on it.
Image sources: NEXTConf, Sue Waters, pixle