Lovense Releases Heating Stroker 'Calor', Partners with SexLikeReal
4 smart sex toys now sync to large interactive VR porn library.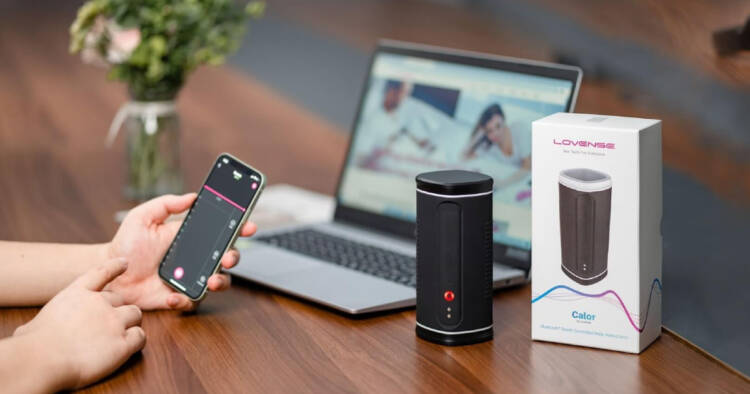 High-tech sex toy brand Lovense and virtual reality porn platform SexLikeReal [NSFW] have teamed up to deliver interactive and immersive sexual experiences.
Announced in late January, the collaboration enables owners of select Lovense devices to connect directly with SexLikeReal's expansive adult video collection.
Over the past two years, SexLikeReal has developed similar partnerships with other remote sex toy brands, like Kiiroo and Hot Octopuss, to provide these virtual experiences.
"Interest in interactive VR porn has been growing at a lightning speed in recent years, and the [SexLikeReal] team is working tirelessly to make this experience as smooth and exciting as possible for our fans," said SexLikeReal CEO Alex Novak in the partnership announcement.
"We are incredibly excited to partner with Lovense to offer sensual and immersive VR experiences to an even greater audience."
How it works
On the SexLikeReal [NSFW] platform, there is a library of over 650 immersive videos called "interactive scripts." Each of these videos have a built-in script that connects with a selection of interactive sex toys.
This script enables the toys to react in sync with what's happening on the screen. For example, if the actress in the video is shown thrusting on a penis and you're using a stroker—the sensations will travel up and down your shaft in rhythm with the actress's movements.
These interactive scripts are filmed from the perspective of a penis-haver, as if the camera is sitting on their chest with the penis in view at the bottom of the screen. There are some 'lesbian' or 'threesome' videos that feature sapphic sex, but it's from a voyeur perspective rather than directly interactive.
Four connectable Lovense products 
The SexLikeReal integration is compatible with four Lovense products: Max 2, Gush, Nora, and the recently launched warming stroker, Calor. 
Max 2 and Gush are both strokers for people with penises, whereas Nora is a rabbit vibe. According to the Lovense press release, Nora is "the first female sex toy integrated with VR porn."
Calor is also a stroker and the latest addition to the Lovense collection. It's equipped with a heating feature and depth-control sensors—so the deeper you're inserted, the more intense the vibrations.
All four sex toys are LDR devices, meaning they can control or be controlled from a distance and sync with multimedia content through the Lovense Remote App. The SexLikeReal integration works with Lovense through the Haptic Connect app, which is available on both Google Play and the App Store.
In that same press release, Lovense CEO Dan Liu said: "Partnering with the amazing SexLikeReal team… is our next step towards greater interactivity and expanding the variety of services Lovense offers."
Requires an SLR subscription, but look out for giveaways
To use Lovense products with the SexLikeReal integration, you'll need an SLR Premium + Scripts subscription. 
This grants you unlimited access to SexLikeReal's collection of nearly 18,000 videos and over 650 interactive scripts for the duration of your subscription. There are monthly, annual, and lifetime options available—or you can try it out for 30 days for a one-time payment of $49.99 USD.

At the time of publication, SexLikeReal doesn't have any demo videos with free interactive scripts available. However, the Lovense Community Team has been posting giveaways and promo codes on the Lovense subreddit and Twitter account.