Dressing for Tomorrow: How Designers Are Mixing Technology, Eroticism and Fashion
Humans have always dressed for safety and success… but mostly for sex.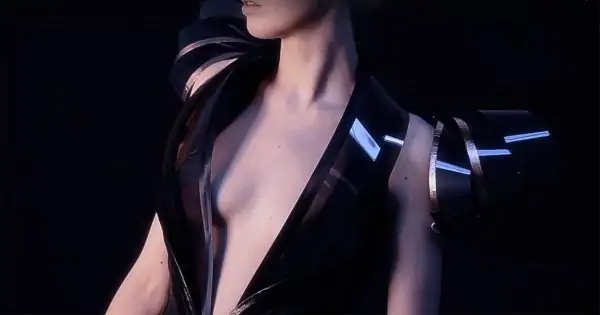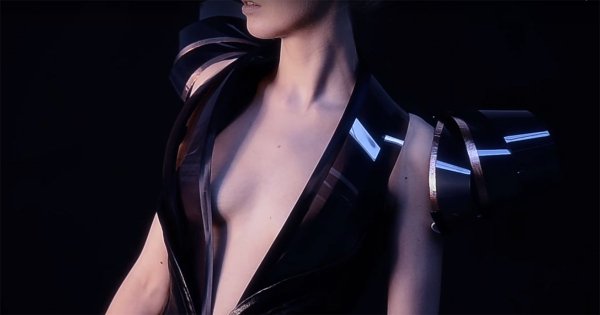 When not protecting the wearer against the weather—or in some cases other humans—clothing has always been about sex.
While materials came and went, the basic idea of fashion has stuck around. From power ties to high heels, corsets to tuxedos, jockeys to hot pants, we've forever been trying to accentuate, or downplay, certain parts of our anatomy.
But now it looks like things will really be changing. Frequently using what is called intelligent clothing or e-textiles, a few innovative designers are exploring wild new territories—and perhaps giving us a glimpse of the erotic fashions for the next century.
Anouk Wipprecht
To put it overly simple, technology plus fashion, plus sensuality, equals Dutch designer Anouk Wipprecht.
One of her designs called the ParticleDress, embraces the open-source movement: where all kinds of technologies are being made available for anyone to tweak or play with.
Basically, she created a 3D printed framework/garment that supports a standardized hexagonal 'module'—then she reached out to creative people all over the world, inviting them to design their very own modules to be attached to the dress. The final selection of these submissions then made it into the final design, unveiled at the San Francisco Maker Faire in May of this year.
This idea has all kinds of sexy possibilities. Want to make the dress react to body temperature—thus indicating arousal? Want it to show where you want to be touched? Want to show your sexual preference? Want to be connected to your Bluetooth enabled sex toy—and really push your button?
All you need to do is design your own module and attach it to something like Wipprecht's dress.
Playful, daring, and even interactive, one of Wipprecht's other designs, called The Spider Dress, reacts to the wearer's unconscious biosignals (like rate of breathing) using sophisticated sensors. In response, it triggers a microcontroller-operated defensive posture. In other words, it senses if the wearer is threatened or anxious and raises its plastic arms in warning.
Assembled using one of the brightest new manufacturing methods, 3D printing, The Spider Dress is a perfect melding of fashion, cutting-edge engineering, and social interactivity.
Daan Roosegaarde
The Intimacy 2.0 dress, created by another Dutch designer, Daan Roosegaarde, is much more directly erotic. In fact, this is a garment that will not just indicate that the wearer is turned on but will literally show it.
Fabricated again using state-of-the-art printing tech, the dress has sensors that detect body heat, and, when it reaches a certain special level, e-foil panels turn transparent.
If you're feeling the touch of sexism in these designs, rest assured that Roosegaarde is currently working on garments designed for more than just the female form—though what part of the wearer's garment will turn transparent hasn't been shown yet.
Behnaz Farahi
Another take on the idea of a garment that reveals arousal comes from Los Angeles-based Behnaz Farahi. While Roosegaarde's Intimacy 2.0 used electro-transparency, Farahi takes an equally elegant, though more physical approach.
Another difference between these two is that Farahi's Caress of the Gaze dress uses eye-tracking technology to measure the interest, not of the wearer, but those looking at the garment or the person donning it.
Once the dress measures the viewer's desire, a mesh of trigger muscle wires (Nitinol) then move 3D-printed feathers—revealing with their motion the (ahem) appreciation of anyone looking.
Do It Yourself
Going back to Wipprecht's open-source project, one of the most intriguing aspects of this movement of combining tech, style, and sex is that there are a wide array of simple tools available—and many more on the way—allowing anyone to homebrew their own erotically stylish smart outfits.
The LilyPad from Arduino, for instance, is a range of miniature, attachable devices that can be joined to each other and to a garment using conductive thread.
Temperature, light, movement, proximity… you name it, you can buy a device that will react to it and then generate sound, light, text messages, or anything else you want to transmit. Turned on? Let your homemade smart suit do the talking and flash a signal to your object of affection.
And there are plenty others. Fabrickit and Flora,and it's even-smaller kin, Gemma, offer all kinds of possibilities.
And, to get your signal out there, there are many manufacturers of electroluminescent panels and wires that will brightly glow at the touch of a switch or action of a sensor. There are even companies creating flexible LCD displays, which means with a little work anyone could create an erotic display to wear to a wild occasion—or make an event of their own.
#
Perfectly summing up both her Intimacy 2.0 design, and this movement of combining technology, fashion, and eroticism, Farahi says: "Technology will enhance our bodily function and give us a power that our body doesn't have."
And, as always with us human beings, we know that power will become a beautifully sexual one.
Image source: studioroosegaarde