'Spotify for Porn' Trend Gets Hotter As Quivr Synchs Audio to Sex Toys
Erotic audio platform immerses users into fantasies voiced by actors.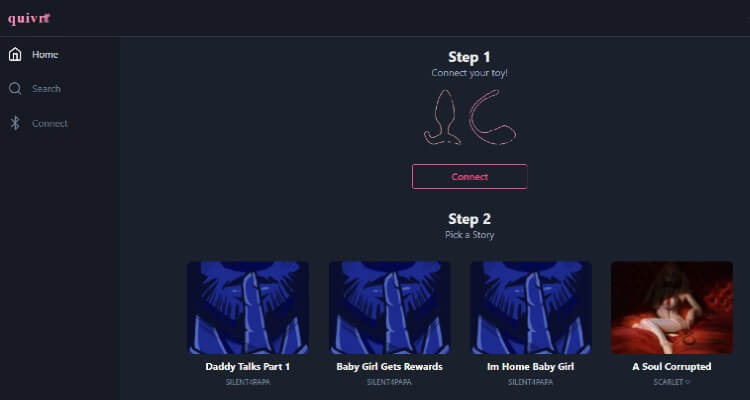 Discover Quivr, the audio-erotica website that goes the extra mile by synchronizing with your sex tech.
Quivr arrives during an increase in the popularity of audio erotica, with websites like Quinn and apps such as Dipsea and Ferly, bringing people in their droves to try what's been called "Spotify for porn".
However, Quivr stands out in how it is run on open-source software called buttplug.io that controls sex toys.
Interested in syncing erotica audio stories with sex toys? Check out @tryquivr! Using @buttplugio to sync with sexy audio stories! https://t.co/0WHhIGXBaZ pic.twitter.com/YG4rkDmMzG

— buttplug.io 🍑🔌 – Open Source Sex Tech (@buttplugio) July 8, 2020
Quivr currently has a small selection of audio to enjoy, all lasting approximately 15 minutes, and has plans to expand the collection by opening up the invitation to audio creators who can provide content that their fans can really feel.
The first audio clips on the site are expertly provided by adult voice actors Michael from Virtual Dreams Entertainment and Scarlet Love.
The audio is designed for you to imagine yourself being spoken to—the actor addresses you directly—which is guaranteed to make listeners feel more engaged and connected to what they are hearing.
Quivr provides a truly immersive experience
The audio is made more immersive with the ability to connect Bluetooth sex toys to Quivr, providing greater intimacy and more interactive experience.
Quivr states that the clips will work with technology from Kiiroo, Lovense, Fleshlight, WeVibe, and any other remote control toys, with the technology reacting to the audio.
The experience is a far cry from the quick-fix nature of video pornography and focuses instead on the journey towards sexual gratification.
Using voice actors to encourage the slow-building of pleasure, listeners can hand over control to a gravelly-voiced "Daddy" who takes control of their orgasm allowing them to get lost in the fantasy.
Alternatively, listeners may be more inclined towards the soft, seductive tones from Scarlet Love on "A Soul Corrupted", all while experiencing the vibrations from their synchronized technology.
Is audio erotica the future?
With Quivr joining a host of great audio erotica alternatives, the future of audio erotica looks bright.
By providing sex toy-synchronization, Quivr steps above its competitors to make the erotic experiences more immersive and pulls listeners into the fantasy with quality voice actors.
The potential impact of Quivr and other audio erotica alternatives, is that erotic content becomes much more widely accessible to visually impaired or blind people, those looking for ethical pornography alternatives, as well as anyone just looking to try something new.
Image source: tryquivr