Forget Zoom, Sex Tech Panel Heads to AltspaceVR for Virtual Reality Conference
No VR goggles? No problem. PC users can also participate in 2D Mode.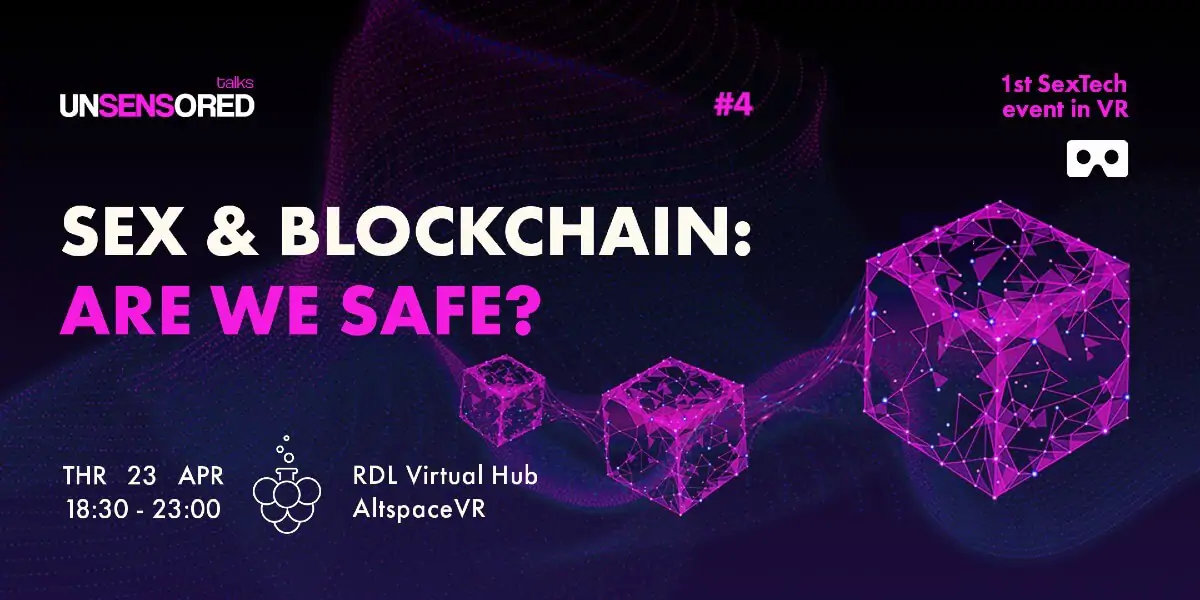 Due to COVID-19 lockdowns, Raspberry Dream Labs is set to host its first sex tech panel "Sex & Blockchain: Are We Safe?" in virtual reality on Thursday, April 23.
Starting at 6:30 pm (GMT+1) (10.30 am PT/1.30pm ET), the day-long event will take place on the VR meeting platform AltspaceVR.
There you can engage with a panel of experts as they debate and discuss blockchain technology as it relates to the adult and sex tech industries
Blockchain is commonly defined as "an open, distributed ledger that can record transactions between two parties efficiently and in a verifiable and permanent way."
Raspberry Dream Labs hopes the panel discussions will offer coverage of diverse topics from multiple points of view. This includes the potential of blockchain technologies to record consent, report sexual harassment, and as a payment option for sex workers.
Spokesperson and event host Angelina Aleksandrovich said:
Blockchain technology is very powerful, but quite often misunderstood. It can certainly provide benefits in many areas of our existence, but most importantly it can also cause a threat especially when it comes to intimacy and issues of consent. By no means is blockchain a solution to all of our problems.
Answering the big blockchain questions
Raspberry Dream Labs will pose questions like how does blockchain impact cybersex intercourse?
According to the press release, other questions will include "How anonymous is our sex history on the blockchain? Are we protected as we think we are? Does anonymity matter, given the less we hide the less we fear?"
Featuring a panel of experts who will discuss the good, the bad and everything in between when it comes to the way blockchain has and will continue to revolutionize the sex tech industry, topics will include:
Cryptocurrency and sex work
Communication platforms
Issues of consent and smart contracts
Privacy on blockchain
The security of peer-to-peer verification
The effect on intimate relationships and self-identity
Sex tech and cybersecurity
The future of blockchain
Attendees can virtually experience the event using HTC Vive, Oculus Rift, Go, and Quest, Samsung GearVR, Windows Mixed Reality. If VR is not an option, viewers can watch the panel using 2D mode on PC. Tickets are less than $15, and you can purchase tickets online at Eventbrite.
Meet the experts
Joining host Angelina Aleksandrovich of Raspberry Dream Labs are four experts in their respective fields:
Alison Falk
Alison is the founder of SEXTECHSPACE+, the founder and CEO of WIT PGH (Women In Tech Pittsburgh) as well as the president of Women of Sex Tech. She is a previous software developer with experience in startup and corporate environments.
SX Noir
SX Noir is the host of "Thot Leader Pod," a podcast that explores sex health with a mission to provide sex-positive resources to millennials. Topics include sex, relationships, health, sex technology, and culture.
Batuhan Bintas
Batuhan founded a UK-based multidisciplinary immersive mixed-reality media studio, Cyber Rabbit Imagination, which encourages audiences to fall into the cyber hole to explore the role of technology in the evolution of consciousness.
Dr. Lori Beth Bisbey
A sex and intimacy coach and registered psychologist, Dr. Lori Beth's mission is to bring conversations about sexuality, intimacy, relationship dynamics, trauma, and alternative lifestyles out of the shadows and into the light.
Taking the world online
This event is a part of Raspberry Dream Labs' UNSENSORED series, which is described as "a project unraveling how multi-sensory technologies are re-defining and revolutionizing sexual experiences, engaging people in the sensory exploration, increasing and improving sexual wellbeing through the series of talks, workshops, and parties."
The organization has shifted to the online and VR format for all upcoming panels and events in the wake of the coronavirus social distancing measures, but the change in plans hasn't been unwelcome, Aleksandrovich said.
"COVID-19 had quite a big impact on our plans for this year. We were in the development of an experience that was location-based and relied on human interactions, so we had to step back and rethink our actions. What felt like a disaster at the beginning is now opening doors to new and fresh possibilities, about which I'm very excited!"
And she revealed the newest upcoming addition to the UNSENSORED series will be UNSENSORED chats, "very casual and free meetups in VR where we are going to talk about all aspects of physical and virtual sex. In this format, we're not going to invite any experts to present. Instead, the audience will share with each other their deepest thoughts, memories, hopes, fears, and desires."
Image sources: Raspberry Dream Labs