5 Ways Audio Porn Is Revolutionizing the Adult Entertainment Industry
Reasons to explore this booming erotic content in this adult sector.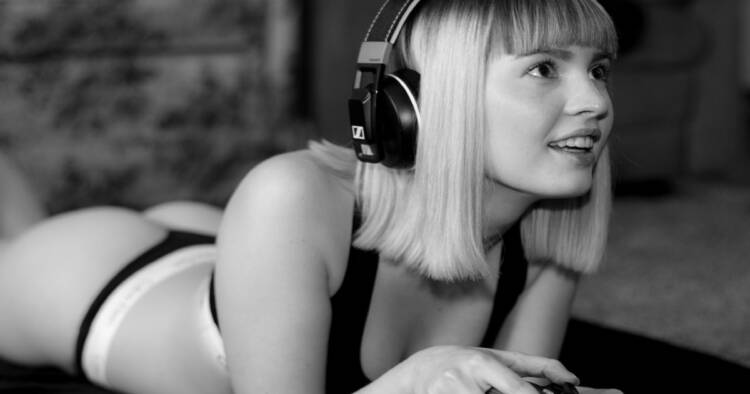 Pornography has been around for centuries. What started as suggestive artwork and sculptures quickly advanced to photographs and motion pictures.
In today's society, Internet pornography rules the virtual world, with 35% of all Internet downloads related to pornography and 40 million adults regularly visiting sexually explicit websites.
So, what is it that makes adult content so appealing?
The answer is different for everyone but the most common reason includes sexual arousal (duh!), followed by stress relief and boredom.
But not everyone likes pornographic videos or even photographs. If you enjoy some sexually explicit foreplay but have an aversion to PornHub and Playboy, audio porn may be the perfect solution.
A revolutionary new way to engage in some erotic playtime, audio porn is less intimidating and a lot more intimate! Curious to learn more? Keep reading to uncover 5 amazing ways that audio erotic sex stories are revolutionizing the worlds of erotica and explicit adult entertainment.
1. Audio Porn Sets Your Imagination Free
Watching pornographic videos and films doesn't really take a lot of imagination. Every sound, movement, and climax is laid out in graphic detail. While there's something appealing about a no-brainer orgasm, most adult films are grossly inaccurate and unrealistic. While multiple over-the-top orgasms are a thrilling idea, it's not always a reality. Pornographic videos create unrealistic expectations for sex and, ultimately, disappointment.
They also stunt your creativity and discredit that naughty imagination of yours. Similar to erotica literature, audio porn stories require users to tap into their imaginations and create vivid images and scenarios in their minds. The best part is, these fantasies are often very specific to your individual preferences and lifestyle. When you close your eyes and listen to a captivating erotica story read aloud, your imagination can take you anywhere you let it. Fantasizing has never been so satisfying!
2. Exposure to New and Exciting Sexual Scenarios
Do you sometimes feel like your sex life is stuck in a rut? After a while, the same sex positions, techniques, and environments can get pretty boring. Are you caught between missionary sex in your bed and sex on the hood of your car? Erotic audio sex stories can help you settle on a happy medium.
Let's face it, adult stars aren't paid for their acting skills. Most pornographic videos and films focus on sex, not the storyline. But some people enjoy the build-up, backstory, and character development that erotica stories offer. It adds emotion into the mix which can enhance the experience and your orgasm. The narrators who read audio porn stories out loud are skilled in bringing the story to life. Think of it like a sexy partner whispering dirty talk in your ear. The descriptions, emotions, and voices of the characters add another level of pleasure to the experience.
3. Use It Alone or with a Partner
Watching pornography is a pretty private experience. Most people who engage in viewing adult videos and masturbating do it alone. That's not to say that plenty of other couples don't watch pornography together, because they do! But not everyone is comfortable with this arrangement.
The beauty of audio porn is that it's less intimidating than pornographic videos but more interactive than just reading an erotica story or looking at photographs. It also eliminates the need to compare yourself to the actors or visual images. Not everyone has the body or appendages of an adult star. The last thing you need during sex is to feel bad about your own body. Audio porn eliminates the visual component from the equation, letting you focus completely on your pleasure. The best part is, you can listen alone or with your significant other. Most people are much less intimidated by sharing a sexy audio story with their lover rather than a graphic or raunchy hardcore adult film.
4. Audio Porn Stimulates ALL of Your Senses
We have five glorious senses to explore and stimulate during sex — sight, sound, smell, taste, and touch. For most of us, sight and touch top the list. Men are especially aroused by visual triggers and, let's face it, once you're geared up and ready to go, all you want to do is TOUCH! While your auditory senses are stimulated by all the sounds of adult videos, your other senses are sometimes neglected. More importantly, the mere act of taking away a single sense heightens all your other senses for a unique and arousing experience.
For example, if you've ever been blindfolded during sex you know that your sense of smell, taste, touch, and sound are all on high alert. Now that you're unable to see, your body instinctively uses all of its other senses to explore its surroundings. Audio porn delivers this same intoxicating experience by taking away your ability to see what's being described. Now, you're listening to every word and whisper a little more carefully and every touch to your body somehow feels more intense. Take things up a notch and incorporate food or flavored lubes into your sex play or light a candle. Erotic audio sex stories give you a unique opportunity to explore your sensuality and senses in new and different ways.
5. Audio Porn Helps You Connect on a Deeper Level
Audio porn offers a unique opportunity for couples to connect on a deeper, more intimate level. Again, it's less intimidating and vulgar than pornographic videos but more arousing than literature or photographs.
There are a few ways to connect with your lover during an audio porn story. Try lying beside one another without touching. Play the story out loud and watch how your partner reacts. Which parts of the story seem to turn them on most? These small clues and signs of body language can give you a peek inside what gets your significant other's motor running! You can also choose a story together from a wide range of categories like romantic sex and threesomes to bondage and group sex. The story your lover chooses can tell you a lot about their naughtiest hidden fantasies.
You can also share audio porn as a form of long-distance foreplay. In addition to sexting during the day, try sending the link to an erotic audio story that turned you on. Point out exactly which parts you liked most or name specific things the characters did that you'd like to try. You'd be amazed at how much more honest and vulnerable your partner is when they can communicate their desires to you using these sexy stories.
Add Audio Porn to Your Sexual Collection
Whether you have a stash of adult movies or magazines or a subscription to an online pornography website, it's time to expand your sexual horizons! Erotic audio sex stories are beautifully written and read by narrators with seductive and captivating voices. As the story unfolds, you can explore your naughty imagination and your body. Share these arousing stories with a partner or keep them as your own naughty secret. Either way, it's about time you pressed "play" and explored the world of audio porn.
Image source: Taylor Harding