The Science of Sex in Space: Overcoming Erotic Obstacles in Zero Gravity
Combatting weak blood flow, low testosterone, and cosmic radiation.
Sex in space could soon become a hot topic, with adult entertainment website PornHub planning to film an astronautical sex scene in 2016.
Despite this move to put adult performers in zero gravity, space agencies claim their astronauts do not have sex in outer space. Reports once circulated that NASA conducted secret research into the challenges of sex in space, but these rumours were disproved years ago.
Nevertheless, sex in space could become more than a marketing gimmick. It could be crucial during interplanetary exploration and for long-term human survival.
There are some erotic obstacles for interstellar lovers, as I'll discuss below, and you can also learn about them in this video by sex educator Laci Green from January 2013.
But how can we overcome these challenges to make sex away from Earth possible? Let's dig deeper into the science and explore the measures that may be necessary to have out-of-this-world sex!
Weak blood flow
Gravity helps blood circulate through the body, meaning it's challenging for blood to build up anywhere below the waist in zero gravity.
Men would struggle to develop and maintain erections. For women, the experience could be painful because their vaginal walls would not expand as usual.
Space travellers currently control weak blood pressure with medications like midodrine to combat side effects such as dizziness, nausea, and fainting. Similar drugs could also be used to aid sexual performance.
Low testosterone
A 1998 study concluded that astronauts suffered from lower testosterone levels in space than on Earth. This could be an issue if sex were necessary for reproduction and human survival off our planet.
However, a 2012 study disputed the theory of lower testosterone, arguing that testosterone only decreased around takeoff and landing due to the sudden shift in gravity and returned to normal levels during long-term space travel.
Even if the problem is serious, remedies might exist. For example, scientists have used testosterone supplements to prevent bone degeneration in rats, with plans to use it on human astronauts.
Supplements remain the obvious method of fixing low testosterone, and, in fact, astronauts already use hormone supplements to fight off insomnia and muscle degeneration.
Uncontrolled body fluids
Space travel requires a highly controlled environment, so free-floating semen, blood, sweat, or vaginal fluids could threaten a whole mission.
Safe sex tools such as condoms might not work to quarantine body fluids when there's no gravity.
The risk of loose material explains why American astronauts didn't want to use pencils in space. According to a popular myth, NASA spent millions researching "space pens" rather than a few dollars buying pencils.
In fact, pencils were too dangerous because the graphite tips might have flaked and broken off, putting lives at risk.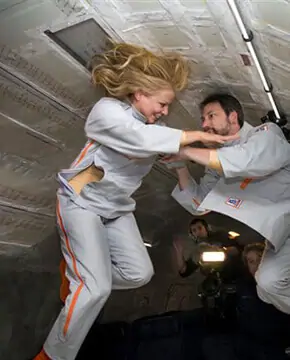 Standard sex positions require standard gravity
The basic physics behind many sex positions wouldn't work in zero gravity, although writer and inventor Vanna Bonta developed a way to help.
She invented the 2suit to facilitate sex in space. The suit opens at the front to allow access to genitals. The open end of the flap can be connected to another suit with Velcro to hold lovers intimately close.
Low fertilization rates
Reproduction away from Earth could be the crucial step that allows humans to colonize other planets and moons.
Unfortunately, research shows low gravity accelerates the aging of cells, particularly those in female reproductive systems.
In one study, rats that had sex in zero gravity produced far fewer children than usual.
Just last week, scientists with the International Space Station (ISS) announced plans to explore artificial insemination methods that might solve these problems.
Radiation can cause infertility
Radiation poses another threat to fertilization, with testes more sensitive to cosmic radiation than any other body part.
The second-most sensitive body part is the eye, and many astronauts require glasses after spending time in space due to radiation damage.
To test the effects of radiation, ISS plans to keep freeze-dried sperm in space for several months.
If the sperm cells survive, researchers want to attempt pregnancies with them to check whether they still function properly.
Psychosocial issues compound physical challenges
The practical issues about sex in space assume participants are emotionally up for it.
The Biosphere 2 experiment from the early 1990s revealed that months stuck in a spaceship could lead to depression, mood swings, anger issues, and strained relationships.
Feelings of isolation could make space travellers less likely to be "in the mood." The clinical, controlled measures necessary to make sex physically possible wouldn't help either.
The Inspiration Mars Foundation wants a single married couple for its one-way mission, primarily for emotional support, but also to reduce romantic complications.
Sex and relationships can be difficult enough on Earth, let alone in the isolated and hostile environment of space.
Image sources: Steve Boxall