Sustainable Sextech in the Face of Climate Change, Data Scandals
Opportunities lie ahead although challenges test pleasure tech brands.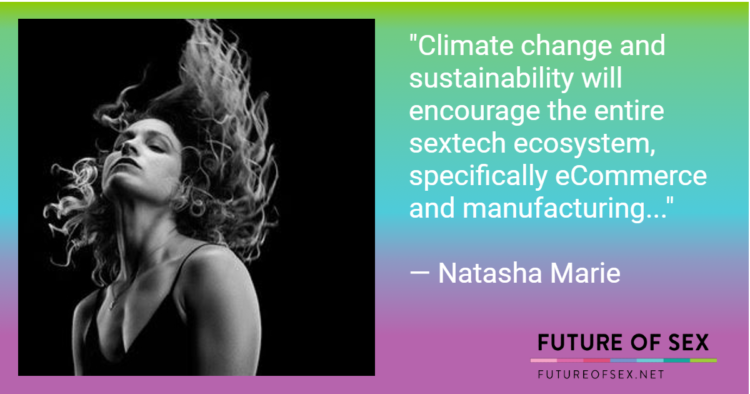 As part of our ongoing Future of Sex Expert series, Natasha Marie, Head of Content at MysteryVibe, shares what to expect from the industry in 2022.
Since the pandemic, the sexual health and wellness conversation has garnered a lot of (much needed) attention and galvanized movement from investors, consumers, and companies alike. The importance of data privacy and security gained steady traction in 2021 and will continue to into 2022.
Intimate data and assistive tech
The Cambridge Analytica scandal, among others, has bred massive consumer distrust towards corporations and companies. With the application of wirelessly technology in sex toys and advancements in teledildonics and haptic technology, sextech companies will be under scrutiny and will have to prove to their consumer base that their data privacy practices are ethical, especially since the data is of a sensitive and intimate nature.
Sextech as assistive technology, providing accessibility to people with disabilities, suffering from terminal illness, older populations, and the transgender community, will increase in popularity and be the arena to secure the most progress as it's more palatable, and the immediate applications more tangible, for investors to support financially. The conversation will steer debate and movement towards assistive technology covered by healthcare companies and providers.
Sustainable sextech and artificial intelligence
Climate change and sustainability will encourage the entire sextech ecosystem, specifically eCommerce and manufacturing, to adopt more environmentally friendly practices, from materials to packaging and disposal. We will see better quality materials with more versatility and recyclability and see one-time-use products phased out.
2022 will see a new frontier in applying Artificial Intelligence (AI) toward elevating overall health and wellness will be explored. For instance, people seeking mental health help might be more comfortable talking to AI than a human being. Currently, AI cannot replace a professional; however, if programmed with the proper parameters, AI can become more intuitive and resourceful in terms of problem-solving.
AI will become the first line of defense in getting people counsel and directing them to the appropriate human channels. Either way, there are many opportunities for AI. to streamline the process of connecting people to professional help.
More blockchain and celebrities
We will see the adoption of blockchain and NFT in erotica art and erotica literature become widely used. Audio porn is already mainstream, but we will undoubtedly see more iterations of auralism in our pockets.
From Cara Delevingne to Lily Allen to Dakota Johnson and most recently, Cardi B becoming creative director at Playboy and Demi Lovato creating her sex toy product line with Bellesa, we will see more celebrity endorsement campaigns and partnerships with sextech companies.