The Ongoing Pursuit of Pleasure and Social Change in Sextech
Creating new sexual cultures and possibilities with technology.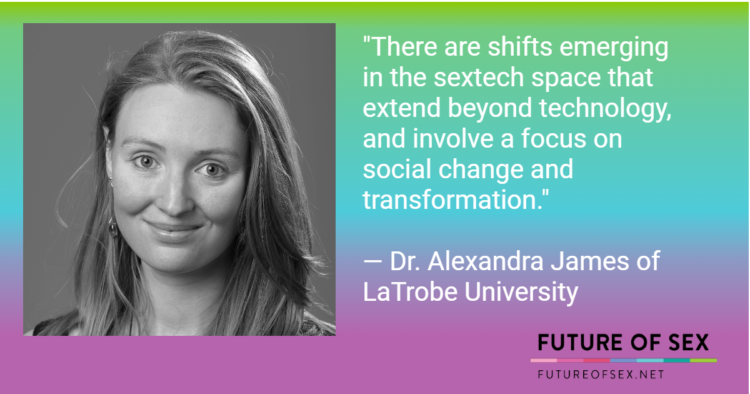 As part of our ongoing Future of Sex Expert series, Dr. Alexandra James, sociologist and Research Officer at the Australian Research Centre in Sex, Health and Society (ARCSHS), La Trobe University, shares her predictions for the sex tech industry in 2022.
We know that as new technologies emerge, it follows that these will be adopted in the pursuit of sexual pleasure.
Historically, this involved repurposing the VCR and handheld camera for enjoyment in the bedroom and creation of amateur porn. But today, and into the future, this may involve the incorporation of artificial intelligence and personalised, algorithmically driven options, into existing sex toys.
However, there are shifts emerging in the sextech space that extend beyond technology, and involve a focus on social change and transformation. Sextech emerges in a confluence of both social and technological conditions and, in talking about the future, we cannot neglect the social aspects of sextech.
Consumer demand
For example, reflecting consumer demand more broadly, there are increasing moves to more sustainable, ethical, and high-quality sex toys. This involves attention to the safety of materials and components in everything from condoms to remote-controlled vibrators. With the introduction of the ISO safety requirements for sex toys that this issue, and awareness of material safety will become an increasingly important aspect of sextech moving forward.
Sex education
In addition, more sextech organisations are incorporating sex education into their brands and products with the view to helping to overcome misinformation associated with sexual pleasure and toys. Social stigma remains a significant barrier in the adoption of sex toys. Tackling these issues will be an important step in moving the industry, and social acceptance, forward.
Diversity and inclusion
And while it can be difficult to predict trends, there is an increasing demand for a focus on diversity in sex products to ensure people with a disability, and those that have typically been overlooked in the market, have access to inclusive toys and devices. This presents opportunities to enable more people to access sexual experiences and pleasure in ways that may have been previously difficult, or not possible.
Finally, as COVID-19 rages on, creative approaches to connecting remotely, remain high on the agenda.
As always, sextech is what people make it, and the innovative ways people adopt and repurpose technologies will continue producing new sexual cultures and possibilities.