Wisp: Wearable sex tech designed for women's pleasure
Jewelry that mimics the feel of a lover's kiss, caress, and even breath.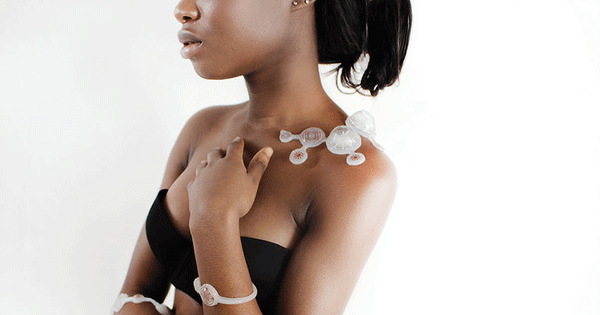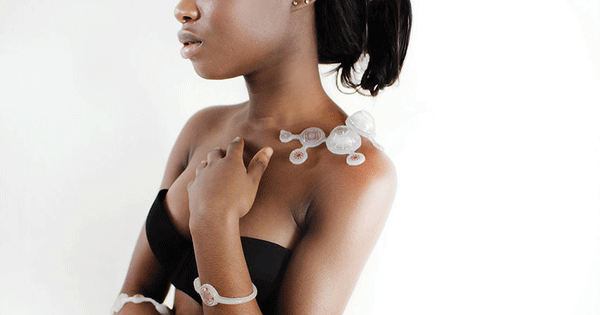 Wan Ting Tseng, a graduate from Dyson School of Design Engineering in London, has designed a line of sex tech jewelry for women called Wisp. It emulates intimate sensations such as the hot breath of a partner or fingertips caressing your skin. The jewelry line focuses more on creating a sensation similar to foreplay than an orgasm.
Wisp's wearables can be applied to more parts of the body than regular jewelry. Its special adhesive cream enables women to apply the jewelry to their legs, chests, arms, and more.
Collection of erotic wearables
Wisp includes a collection of four pieces: Air, Pulse, Whisper, and Touch.
Air is a necklace built with modular elements, which recreate the sensation of airy kisses on the back of the user's neck. The settings can be adjusted to suit the user's mood or preferences. Other features include a personalized perfume scent and auditory stimulator to excite the user.
Pulse is a bracelet that monitors the wearer's sexual arousal level. It helps users to understand and monitor their sexuality and excitement. Another feature includes sending discreet email updates to partners about their excitement levels throughout the day.
Whisper is designed to surprise its user. Its features involve recreating the intimate sensation of touch and whispers. Whisper is one of the erotic wearables that requires adhesive cream.
Touch, as its name implies, emulates being touched or caressed by a partner. Paired with the adhesive cream, it can be applied to various parts of the body including legs, arms, and chest.
"It's a very subtle way to stimulate yourself and explore your body, which you can build up slowly," Wan Ting Tseng told Imperial College London.
Encouraging conversation
Tseng created Wisp to encourage the discussion of female sexual desire in an industry that is often catered to male tastes.
"Society doesn't always encourage women to explore their sexuality. A lot of pornography, for instance, caters to men and also often includes crazy content that isn't close to reality. It doesn't represent real sexual relationships," Tseng said.
Another thing Wisp encourages is the understanding of sexual desire between couples in intimate relationships.
"If you don't understand your own sexual desires, how can you communicate them to others?" Tseng asked. During the prototype stages, Tseng also received positive feedback from men wanting to understand their partner's desires.
Tseng also told Future of Sex she is looking for talented people to join her startup team.
Image source: Wisp