Pictures of the many sex dolls on display at the annual event.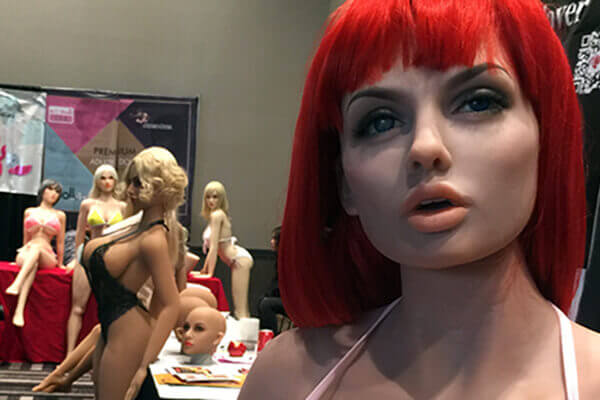 Several sex doll manufacturers showcased their synthetic beauties at the 2018 AVN Adult Entertainment Expo in Las Vegas this month. They included the animatronic and talking Z-onedoll, iDOLL, Dolls Playground, SY Doll, 1amUSA, and UUdoll.
Most of the artificial lovers were in various states of undress, and being a site that's intended to be safe for work, we tried to be creative in snapping photos of them. Alas, we couldn't get each vendor to cover up the love dolls' private areas so some of the pictures below are censored with stars.
If you have any questions about any particular doll or dolls featured, let us know in the comments and we'll do our best to get more information for you. And feel free to share any information you may have for you fellow iDollators!
Here are two videos of the app-controlled silicone Z-onedoll, which comes with a heating system to mimic body temperature, blinks, and speaks Chinese.
You may also want to check out the Twitter page of 7 Veils Media CEO Lauren MacEwan. She shared some not-safe-for-work pics in the following tweets:
Shibari rope bondage on torso [NSFW]
Image sources: Jenna Owsianik/FutureofSex.net
Links in this article or on this site may lead to affiliates from which we may earn revenue.