Sex Tech Is the Key to Comfortable Sex in Space
Playing futurist, I can envision pleasure devices designed explicitly for orbital intimacy.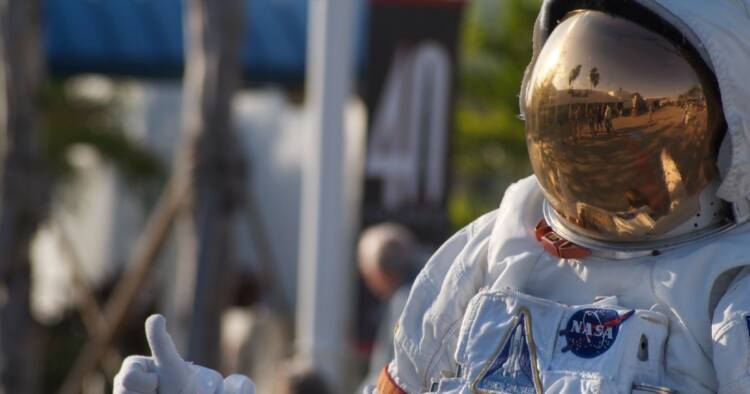 It's a looming possibility that humans will need to learn how to function in space in order to survive.
One key issue is, of course, the ability to copulate in zero gravity.
So what problems do we have to overcome to safely and productively be physically intimate in space? And how might the next generation of sexual technology give us life and love among the stars?
Space is
not
the place
The universe beyond the border of our atmosphere is insanely hostile to human life. And attempts to create offspring? Forget about it.
It's tough to pick which is worse: high levels of radiation, or the effect of zero gravity on the human body. Not to mention monumental levels of stress, isolation, disruptions to our circadian rhythms, and who knows what else we may discover as we spend more and more time exploring space.
A work in progress
Naturally, NASA has been hard at work on the problem of sustaining human life in space.
Radiation, for instance, can be blocked with special shielding. This is fine and dandy for anyone in close proximity to the earth, but once you get away from our little blue marble, the amount and duration of radiation skyrockets.
A popular solution for zero gravity is to employ rotating centrifuges. While providing a good approximation of gravity, it will never be the real thing; it might also cause unforeseen physiological problems due to the so-called Coriolis effect, which has also puzzled NASA.
Even if we engineer ourselves out of these problems, we have emotional factors to deal with, such as stress, isolation, and a general lack of privacy.
Tackling these issues becomes even more difficult when you consider how tricky sexual relations and reproduction can be on Earth, let alone in space or on a different planet.
Sex toys to the rescue
Unfortunately, scientists haven't begun to research the subject despite calls for action.
Ideally, a research study would be implemented that "Not only aims to study sex in space, but also design systems, habitats and training programs that allow intimacy to take place beyond our home planet."
The Japanese sex toy manufacturer TENGA might have led the way to the outer limits of pleasure by planning to blast one of their CUP penis-strokers into near-earth orbit.
Imagine a future where sex tech is designed for space
Playing futurist, I can easily envision a new species of pleasure devices designed explicitly for orbital intimacy, perhaps with Velcro straps so the user and their partner(s) won't accidentally fly apart when reaching "escape velocity."
Sex tech devices designed to increase blood flow or provide enhanced support for penetration might counteract difficulty getting and maintaining an erection.
As liquids in low gravity can be dangerous, these toys might also employ smart-tech to monitor expelled fluids to know when to vacuum up the excess.
The stars are our destination
Imagination games like this are undoubtedly enjoyable, but eventually, we have to face reality,
Unless we somehow heal our planet and change our attitudes toward it, humanity has to bravely step beyond the bars of our little blue cradle to continue to grow and evolve.
Image sources: Paul Hudson, Tom B, sroaj, Christopher Michel, savagecats