'Dildo Sculptor' Lets You Design Your Ideal Sex Toy
Ian of Sex Toy Collective gives tips on how to use his free 3D-printing tool.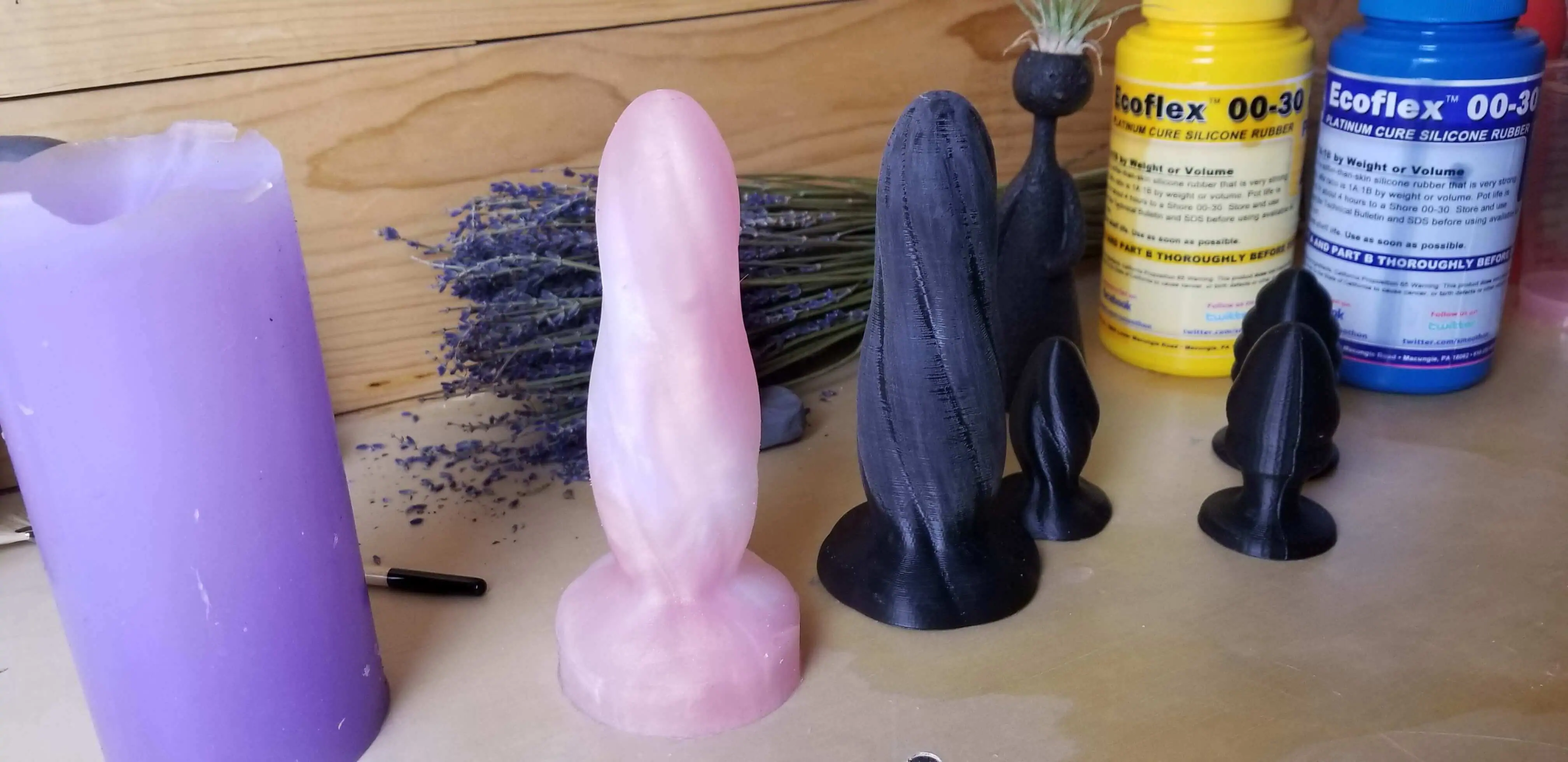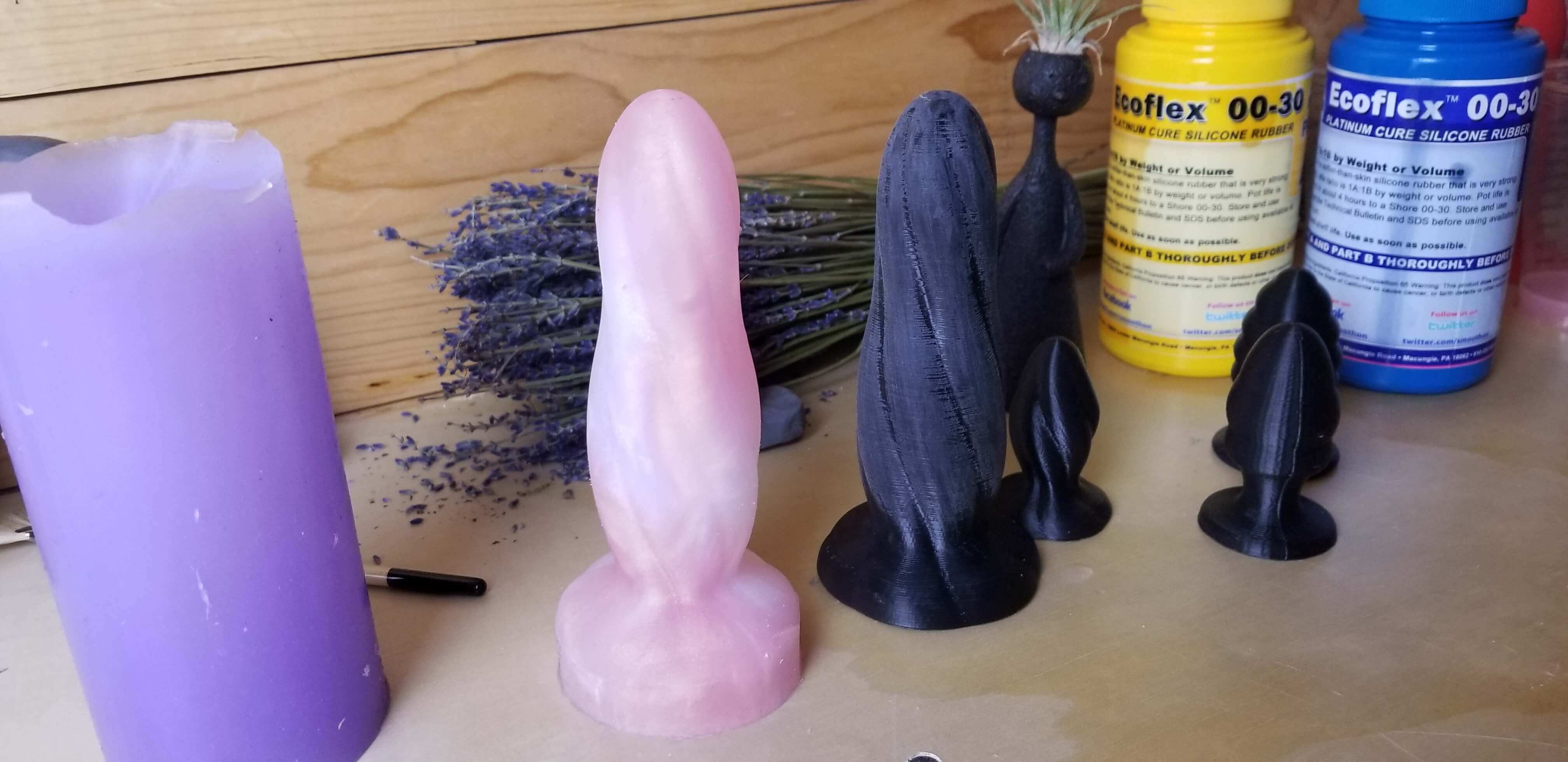 Do you ever look at a dildo and think:

"If only it was a little bit skinnier"
"I wish that had a flared base"
"It'd be nice in a different color"

I used to think this way, too, which inspired me to make a free online tool just for designing dildos. 
The tool is built on the three.js javascript framework and allows you to draw detailed dildo shapes easily, and then generate .STL files of your design for 3D printing your own custom dildos.
And don't worry if you don't have a 3D printer—there are companies you can send the file to for on-demand prints delivered through the mail.
Designing your dildo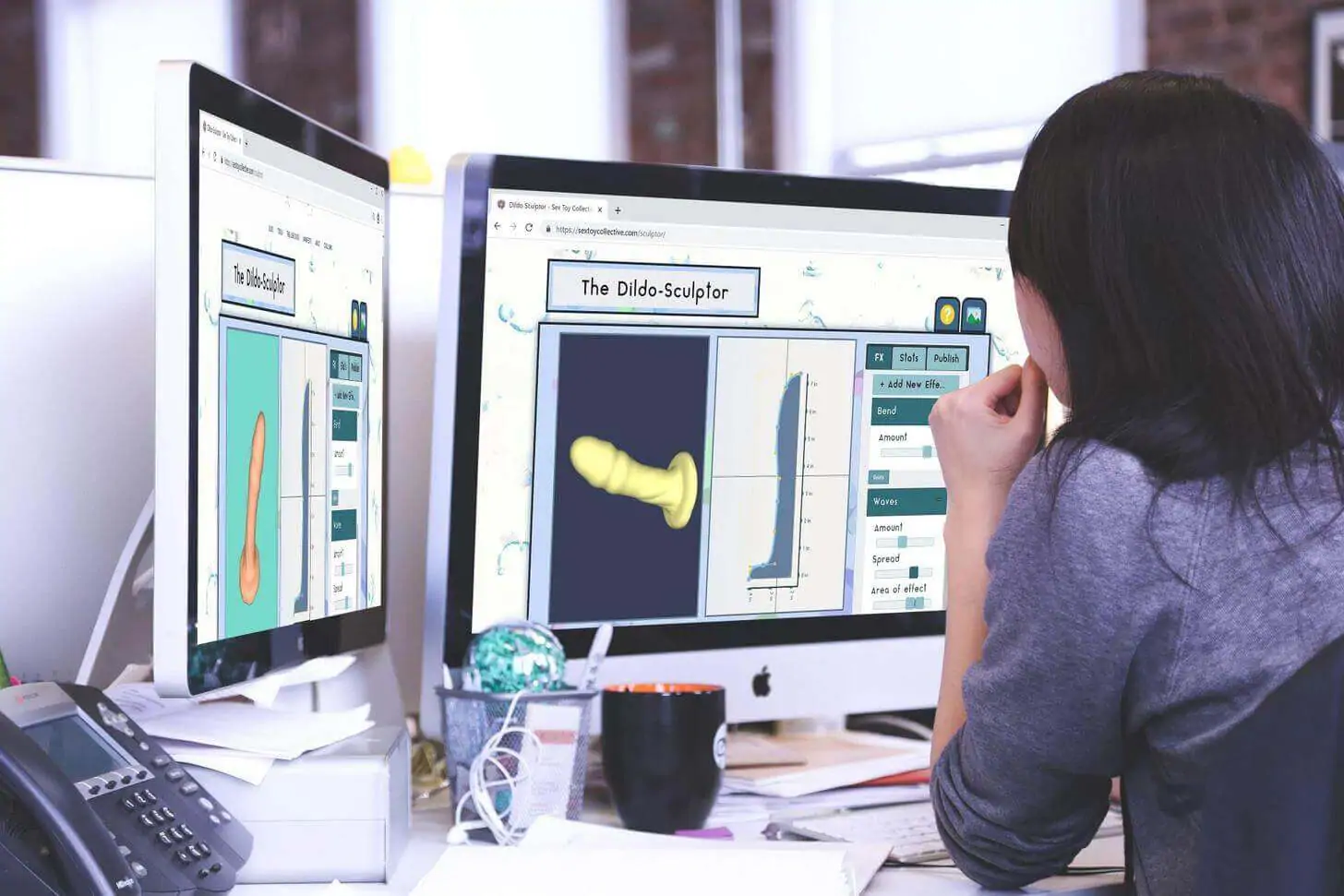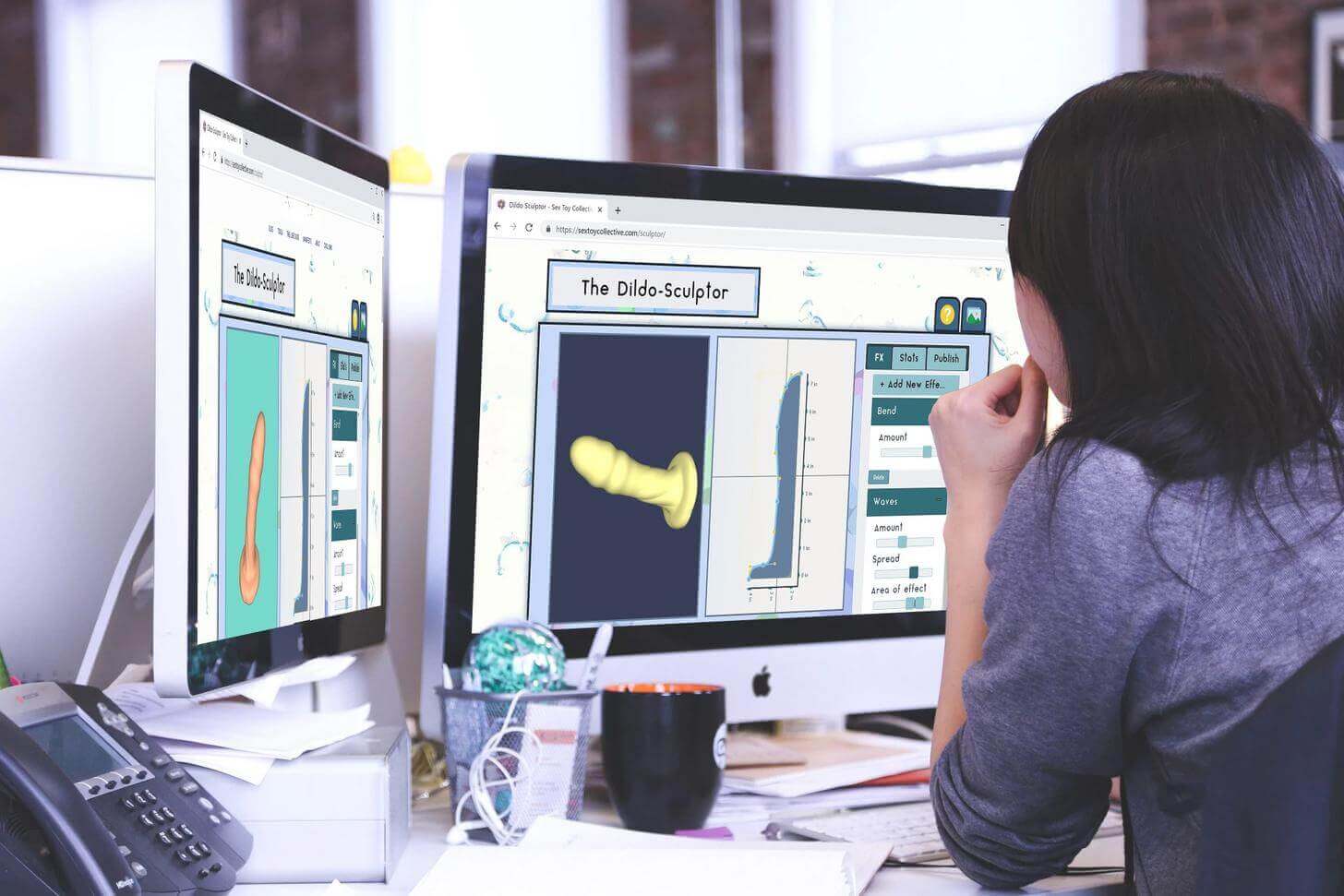 The system is pretty intuitive and easy to use—you don't need to be a graphic designer to make your own dildo. There are several tools to change the color, shape, girth, texture, and overall size of your dildo, whether you're looking for a tiny little buttplug or a huge monster dildo.

Shape
You'll find a "dildo graph" which represents one half of your dildo—the other side is always symmetrical automatically. On this graph, you'll find several points on the axis which you can drag and drop around to create curves, lumps, and bumps that cater to the shape you're after.

For instance, you could create a dildo with a thick base and a tapered end or you could create a long, skinny dildo—it's all down to you. If at any point you get carried away and end up with Frankenstein's monster, there's a handy little "Reset Shape" button that takes you back to a generic penis-esque design.
Also, if you want to see how the shape of your dildo looks from several angles, there is an "Orbit Dildo" button which shows a revolving 360-degree view of your creation from all angles.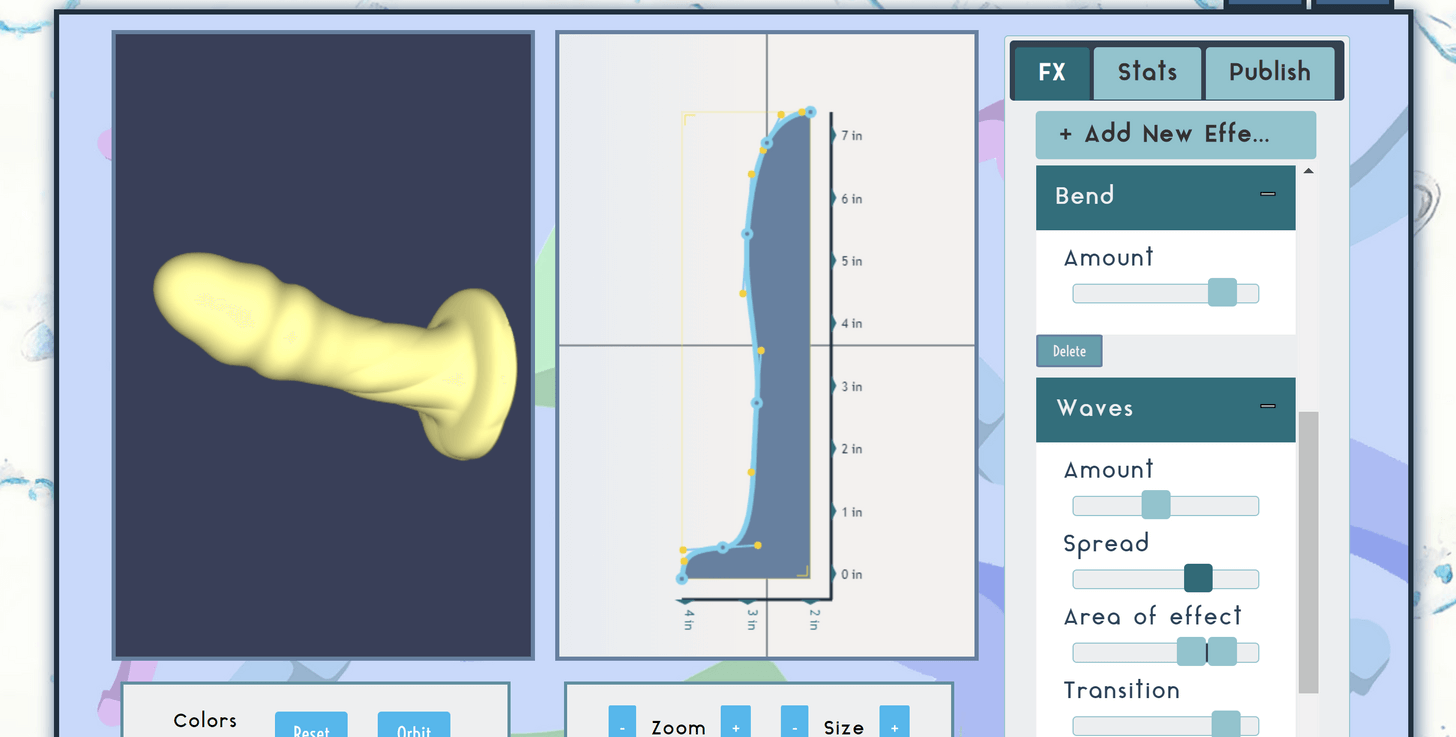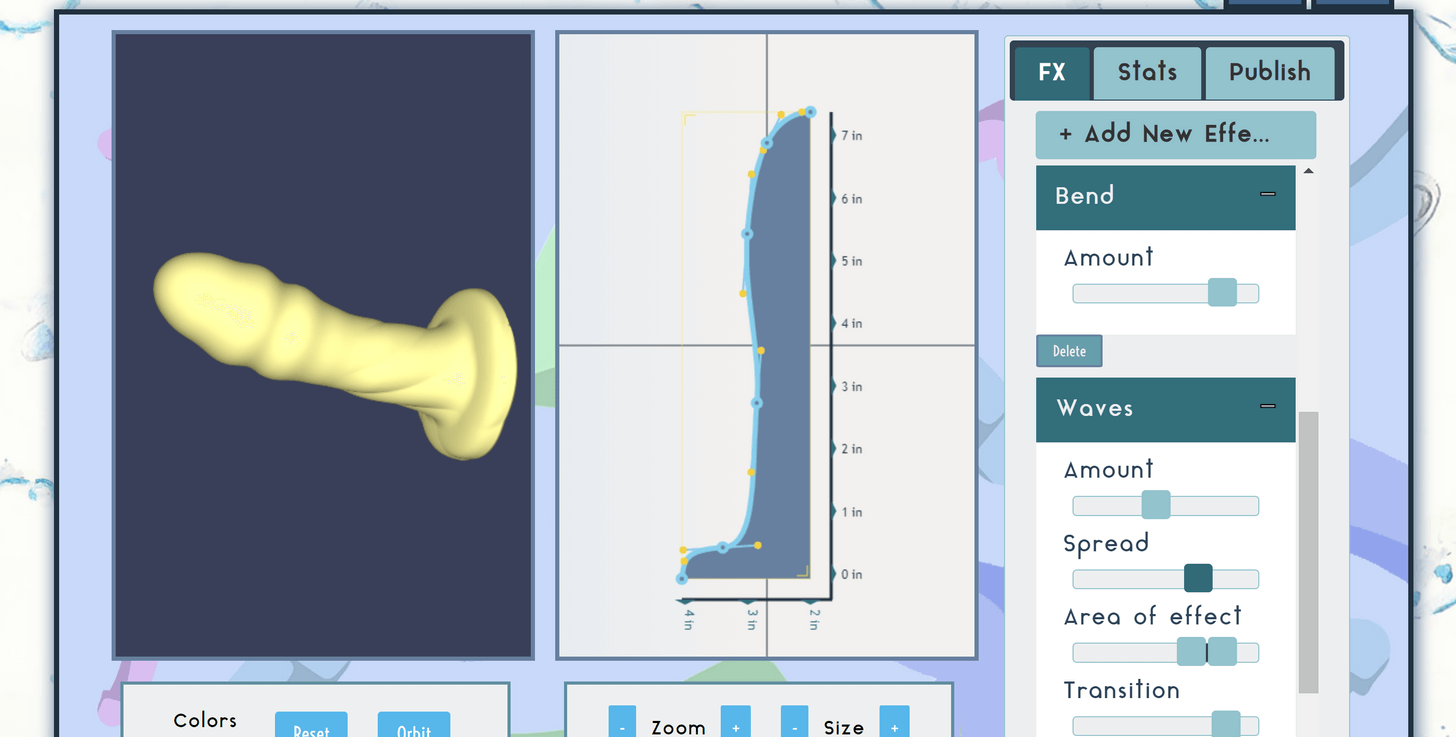 Size
If you want to adjust the overall size of the dildo without screwing with the proportions, the easiest way is to use the little "Size" feature with the pluses and minuses. This feature maintains the overall shape of your dildo creation, but simply scales it up or down.

You can also change the measurement units from inches to centimeters, so if you're from Europe (or you just prefer the metric system) then you can create a dildo in your native measurements too.

The "Stats" section at the right of the page tells you the overall measurements for your dildo in either the imperial or metric system, and it even tells you approximately how much silicone you will need to buy in order to create this dildo in real life.
Color
The color section allows you to select the color of your dildo. It uses a color grid system, so you can get really specific with the shades.

I personally went for millennial pink, that orangey-pink that's so popular with all us millennials nowadays. I want a dildo that would look right at home sitting next to a PSL at Starbucks. I want the dildo that Chanel Oberlin would have.
FX
On the right, you'll find the "FX" tab where you can get really weird with your design. For instance, you can include effects and textures like waves, spirals, bends, and bumps, customizing the dimensions of each effect.

You can even layer these effects on top of one another to create some really interesting designs. If you want a lumpy, wavy dildo that bends at a 90-degree angle, you can make it. I can't guarantee it'll feel nice, but you can make it.
Presets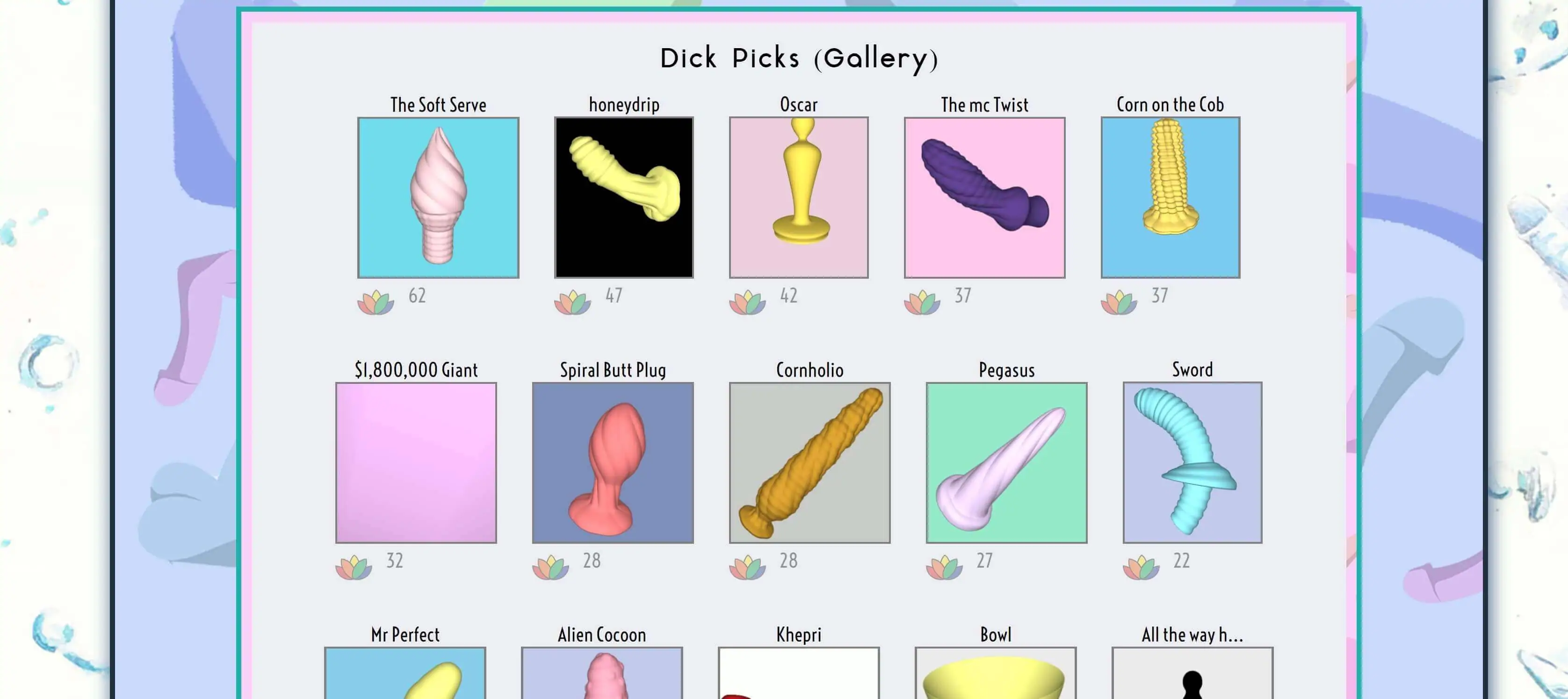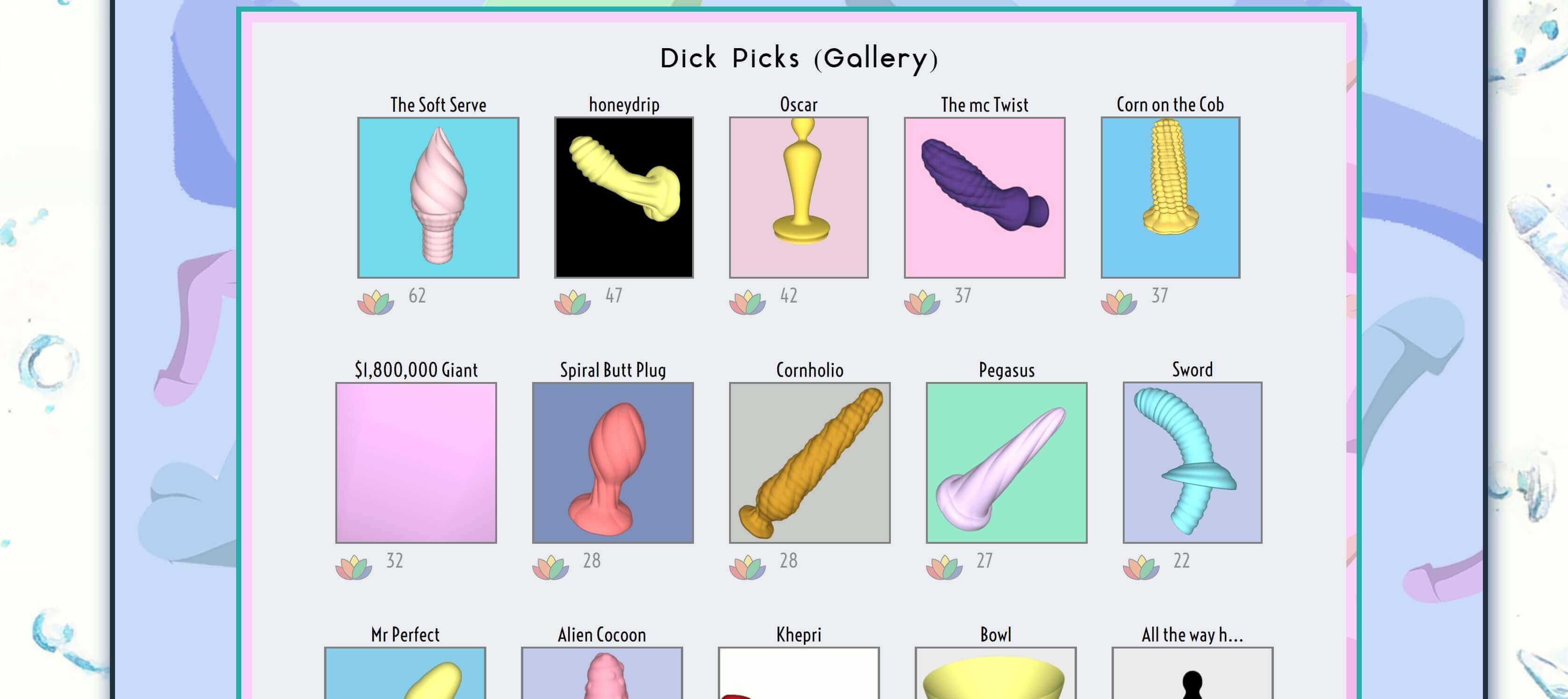 If you're not exactly a graphic design whizz, then there are preset designs that you can choose to start off with and then alter slightly to meet your requirements.

There is also the delightfully-named "Dick Pick Gallery" which has some user-created designs that you can print directly or modify to your needs once again. You'll find everything in there, for corn-shaped dildos to Academy Award-shaped probes.
Printing your own dildo

Once you've tweaked your design to get it just how you want it, head to the "Publish" tab and export the design as a .STL file for 3D printing.

Now, 3D printers don't usually print with body-safe materials, so usually, the idea is to use these 3D prints as models for molds. Using a 3D printing material like ABS plastic, you can create a real-life model of your dildo. If the material it's printed in is rough, be sure to sand it down with medium-grit sandpaper.

After you've got a polished model, use silicone to create a mold using the model. The idea is to create a "negative" of the dildo. Once the mold is ready, pour body-safe silicone (platinum-cured silicone is the safest) into the mold and allow it to solidify for 4 hours or more.
Once the mold is dry, you can gently remove your custom dildo from the mold, give it a wash with warm soapy water, and then get busy using it!

What if I don't have a 3D printer?
Now I'm fully aware that most of us can't afford the latest rabbit vibe, let alone a 3D printer and a bunch of platinum-cured silicone. However, there are specialist companies like 3D Hubs who will print your dildo from your .STL file and send it to you for a more reasonable fee, usually $5-$20 depending on the size.

Do bear in mind that if may be difficult to find 3D printing companies using platinum-cured body-safe silicone for their 3D printing, so you may still need to create a mold yourself.

If you're looking for a simple and inexpensive molding kit, the Clone a Willy kit is easy to use and also allows you to insert a simple vibrator too.

Final thoughts

I know I'm kind of biased, but I think that this tool is really fun to play around with, especially for sex toy enthusiasts who don't have a Ph.D. in Dildo Design. Whether you're using it for fun or tailor-making the ideal dildo sculpted to your proportion.
Article by Ian of Sex Toy Collective
Image source: Sex Toy Collective