Leveling Up: Futuristic Sex in Video Games
Playing tomorrow's sexuality—today!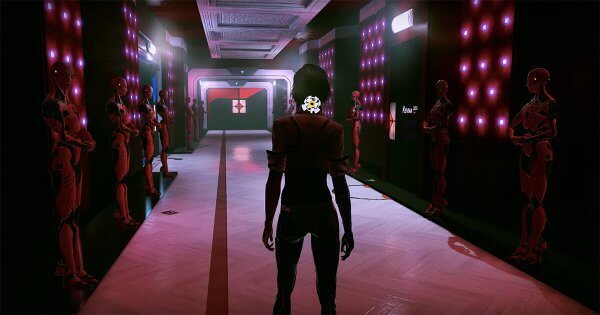 There are many factors that can lead to technological breakthroughs. Conflict is certainly one—just look at the developments that occurred, for better or worse—during World War II, but the other is fun.
Video games, which are very fun for lots of people, have become hotspots for new technology. Virtual reality, facial recognition, augmented reality, increased processing power, cloud computing, these are just a few things that video games are helping innovate.
It's not surprising that during all these advances that some game designers have taken a look at another kind of fun that spurs technology: sex.
So here's a playful look at what a few games have speculated erotic pleasure might be like in the future.
Just be sure use protection—and save often.
Robots, robots, and more robots
Robots have been around almost as long as video games. Creepy electronic-voiced games like Berzerk (1980) set the stage for every mechanized adversary in every gamers' crosshairs.
As technology's improved, robots became more high-res, relatable—and even desirable. It's wasn't long until artificial sex appeared in more than a few games.
Before you get excited, though, always remember the Rule of Games: fountains of pixelated blood, X-ray fatalities of snapping bones, coils of glistening entrails, and the like are fine and dandy—but anything close to nudity, or sex, and it's game over.
Take, for example, the 2013 title Remember Me. Created by the French studio Dontnod Entertainment (published by Capcom), its vivid future-Paris is full of all kinds of technological speculation: memories purchased and sold, autonomous drones—and android sex workers.
The player may not be able to (ahem) interact with these devices but their functions are pretty obvious—especially as they are displayed in what could best be called a robo-bordello.
Artificial sex work also pops up in other games. A personal favorite is a mini-quest in the post-apocalyptic world of Fallout: New Vegas (2010), where the player is tasked to find, and repair, a sexbot. What makes this little mission hysterical is that the bot, named fisto, is anything but arousing—unless you get turned on by clunky, squeaking, old-school robots. But, if you are into that, you have the option of having fisto "service" you. But, sadly, all you get is a fade to black and some auto-repair noises.
In the next installment of the Fallout franchise, Fallout 4 (2015), synthetic sex returns, though with much more alluring design options (sorry, fisto). A major plot point of the new game is the existence of artificial humans that are practically indistinguishable from the flesh-and-blood variety.
Keeping with the mechanic of being able to "romance" characters, if you play your dialog options right you can enjoy the company of many people, including a few of the artificial human variety.
One example is the sultry lounge singer Magnolia. But the arc of Curie is much more engaging—as well as rather thought provoking. With a small bit of a spoiler alert to begin, you first meet Curie as a rather frightening assembly of steel arms—including one tipped with a circular saw—balancing on a small jet engine. Not exactly a form that speaks of sex, or even romance, but if you keep at it and make the right choices, there's an option to have Curie's digital mind placed in a much more human-like synth body.
That you can fall in love with an artificial consciousness is intriguing enough, but with the added element that a synth mind is transferrable from one form to another raises all kinds of questions—and romantic possibilities.
It's particularly applause worthy that Fallout depicts a future where sexual orientation and gender have evolved. While you may not be able to see actual sex in the series, you can romance practically every companion—and even multiple ones, indicating that polyamory is also acceptable.
Sadly, Fallout 4 continues the tradition that, unless you are using mods, all you get to see of anything erotic is a dark screen and some moans and groans.
Loving the alien
Perhaps an even earlier arriving trope than robots, aliens are another staple of video game worlds. Similarly, as their resolutions improved, it wasn't long before they, too, became not just a target to be blasted into wet chunks but something to be desired.
Of all the game franchises that have painted aliens as not just sympathetic but erotic, the most celebrated—or infamous—is BioWare's Mass Effect. Beginning in 2007, each chapter has continued the saga of Commander Shepard as he leads a variable group of aliens in saving the galaxy.
Shepard, male or female—as with Fallout the choice of gender and appearance is up to the player—can either be a stalwart, all business, a totally focused person of action, or a bit of a horny toad.
Again, what Shepard does, and who Shepard does, is up to the player—within limits. Depending on the installment of the game, Shepard can have on-camera sex with humans as well as aliens.
Unlike Fallout, though, we actually get to see something like sex in Shepard's interactions throughout the franchise, though at best a PG version. But, like Fallout, as the series has changed so has Shepard's options for sex, giving the player choices of straight, gay, lesbian—or whatever you might call engaging with an alien to be.
Mass Effect does have a very unique speculation on future sexuality: the continuing existence of sexually transmitted diseases—of a sort.
When playing Shepard in Mass Effect 2 you have the option of having sex with Morinth, a member of the Asari race. Cursed with a rare genetic condition, Morinth basically kills anyone she becomes intimate with Meaning that if you do decide to go for it with her, the results, while pretty, are also pretty final for the player.
Playing the future
While the day after tomorrow is an incredibly popular setting for video games, it's interesting to see how sex, when it does appear, is depicted.
Fortunately, titles like Mass Effect and Fallout, working within the limits set by forces such as the Entertainment Software Rating Board (ESRB), may like to laugh a bit about sex in the future, they do manage to have their own sense of optimism about where it as well.
Technologically, robots are a staple but it's in the unblinking acceptance of being able to express pleasure with anyone, no matter their gender or even species, or to love more than one person at a time, that these games show that the future might be a good place after all.
Image source: Sky Wolf