2022: A Call to Action for Sex Tech Industry Leaders
Entrepreneurs poised to profit from the pandemic have the power to push back against sex-negativity.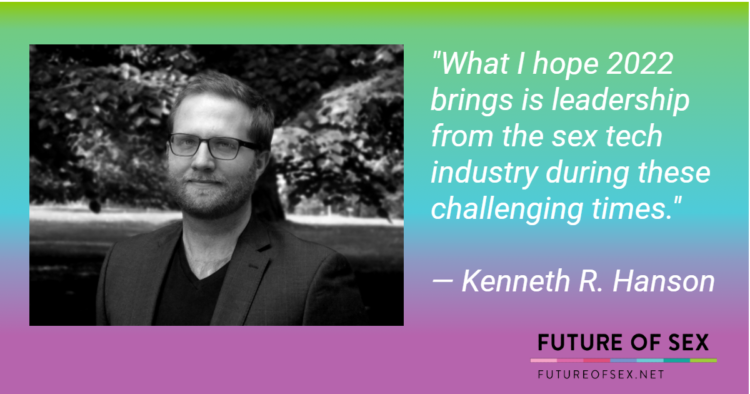 As part of our ongoing Future of Sex Expert series, Kenneth R. Hanson, a sociologist who researches sex tech developments at the University of Oregon, shares what he anticipates is in store for the industry in 2022.
The obvious looming issue affecting us all is the COVID-19 pandemic, and its continued impact on health, the economy, travel, and politics, each of which plays a role in the development of sex tech and continuance of economic inequality.
Research by Balazs Kovacs and colleagues shows that people who entered the pandemic with "fewer than five very close friends" were more likely to report significant increases in loneliness. Obviously, the pandemic will make people more lonely, but this finding has implications for the future of relationships in the 21st century generally speaking.
Online dating and relationships
Perhaps the increased time being alone means people will use shared interest-based websites, be they sexual such as FetLife or even as mundane as Meetup, to find partners. The subsequent rise in membership will affect the bottom dollar of companies who run such websites.
Research on dating apps has revealed the extent of online dating's growth in the past decade, a now multi-billion dollar enterprise in its own right. According to Michael Rosenfeld and colleagues, online dating is now one of the main ways people meet partners, an effect that will only sharpen in COVID-19's continued warpath.
Digital divide in sex work
It's also possible that a digital divide in sex work will cause fissures as some local sex work economies suffer while other sex workers are poised to benefit from the digitization of social life.
Sex tourism will face obstacles from countries imposing travel restrictions in the wake of CVOD-19 variants, in turn affecting sex workers whose livelihood depends on income from tourists. But digital sex work, be it camming, porn, and various forms of virtual escorting, will benefit from a rise in business as people who would otherwise be traveling use their computers to escape.
However, a rise in online sex work will, inevitably, alert the attention of political busybodies. This was already seen with the OnlyFans debacle this summer when the company wanted to ban explicit content. OnlyFans' increasing user base and content directly correlated with the pandemic. With increased attention comes greater scrutiny, a double-edged sword for sex workers who are constantly met with opposition from conservative legal entities who publicly condemn sex workers to rally their base.
Sex tech for reproductive freedom
Indeed, increasingly conservative politics in the United States present another opportunity for sex tech.
With each passing law aimed at overturning Roe v Wade, the landmark case that guarantees women's right to abortion in the U.S. comes an increasing segmentation of pregnancy. The recent Texas law outlaws most abortions after six weeks, well before many women even know if they are pregnant. Laws structured to make abortions illegal closer and closer to the time of conception might inspire some to more accurately track conception.
If such laws are allowed to stand, bio-hacking medical devices that track conception down to the minute could be marketed based on their precision for women whose rights are currently under assault.
Leadership in challenging times
What I hope 2022 brings is leadership from the sex tech industry during these challenging times.
Sex tech entrepreneurs are poised to profit from the pandemic, and need to take a more active role in shaping the cultural narratives and socio-political ramifications of sex-negativity.
If sex tech is going to grow because of the pandemic, like every other technological field has, then it will be the responsibility of industry leaders to represent and fight for those who have been harmed by fluctuating economies, the digital divide in sex work, and increasingly conservative politics that erode women's rights.
More from Kenneth R. Hanson: AI Sex Dolls Are Not Embraced by Everyone in the Love Doll Community