These Australian Companies Help You Recycle Your Used Sex Toys
Sex toy recycling programs make ditching old products a little better for the environment.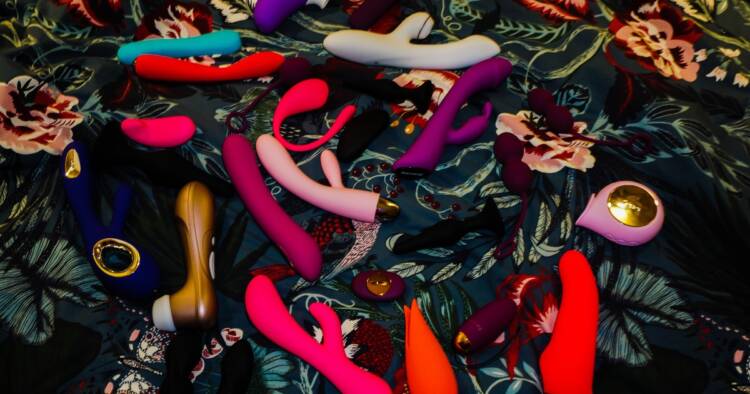 Motor malfunctions, rips in the silicone, the end of a relationship—there are many reasons you may decide to ditch a formerly loved sex toy.
How to properly dispose of those pleasure products, however, is less clear.
"For years, there have been countless sex toys incorrectly disposed of into household bins," says Lauren Clair, founder and director of adult retailer Nikki Darling,
"Either because people are unaware they can recycle them, or because they are embarrassed about taking these products to drop-off centers."
In a bid to divert dildos and rechargeable vibrators from our overflowing landfills, Nikki Darling is one of two Australian companies educating people on how to recycle old sex toys.
Where to recycle sex toys in Australia
NORMAL's sex toy buyback program
True to their foundational belief in the importance of sustainability, Sydney-based sexual wellness brand NORMAL launched the first national sex toy trade-in program earlier this year.
"When we created NORMAL, we wanted to make sure our users' commitment to sustainability is supported across the board—including their sex life," says founder Lucy Wark.
"Because sex toys combine a number of features (contact with human bodies, electronic waste, and silicone), they are a tricky proposition for conventional public recycling programs and often end up going to landfill. So we created our trade-in program."
How it works is that after reaching out to the NORMAL team, they provide you with a postage-paid satchel. You place your retired toys (of any brand) inside and drop it off at a post box. Then, once it's received, you'll get $20 worth of store credit.
Nikki Darling's sex toy e-waste recycling
Based in Victoria, Nikki Darling calls itself Australia's first gender-free sexual health and pleasure store. As part of their Recycling and Safe Disposal policy, they introduced a program to help you recycle unwanted sex toys of any brand.
"As there is a sustainability law… all electronic waste (e-waste) needs to be sent to e-waste recycling facilities for processing, rather than being sent to landfill with general rubbish. And any sex toy that has a plug, battery and/or cord is considered electronic waste. But not everyone is comfortable taking their old vibrator down to the transfer station," explains Clair.
"From conversations with customers and friends, I realized that people's discomfort with sex toys, or their need for privacy, can get in the way of disposing these products in environmentally appropriate ways."
To take off the pressure and simplify the sex toy recycling process, Nikki Darling will do it for you.
All you have to do is send your sex toy e-waste by post and they'll make sure it's disposed of properly.
Unfortunately, at the time of writing, the sex toy recycling program is temporarily closed due to COVID-19 restrictions. You can check the website for updates on its status.
How are sex toys recycled?
Exact sex toy recycling protocols depend on the region—but they all have similar requirements.
"Toys are received and grouped based on their components (e.g. glass, steel, silicone, plastic, e-waste), with different processes for each of these types of toys," explains Wark.
Over in Victoria, Clair spoke with government-run Sustainability Victoria, confirming that e-waste in the state is handled in the same manner.
"Items are disassembled, their recyclable components processed and sorted either locally or internationally," they say. "The aim is twofold—to reduce the amount of unnecessary and harmful waste being sent to landfill, and to recover components that can be recycled and used to create new products."
Creating an industry standard
According to Clair, meaningful change will be difficult to achieve without more initiative from the sex tech industry at large.
"I want to see more initiative from my industry to create closed-loop systems. I would love to see manufacturers and brands create end-of-life product return systems," Clair says.
"We have a corporate responsibility to the planet and its inhabitants to not just endlessly create waste, but to consider where our raw materials are sourced from, distributed, and then how they'll be handled at the end of their life."
Image sources: Dainis Graveris