Sex Tech News: NYC Subways Allow Sex Toy Ads (Sort of), Eco-friendly Pleasure & Crowd Orgasms
Plus Kinkly announces its annual Sex Blogging Superheroes list.
"You can advertise sex toys on the subway, provided you don't show any sex toys or really say what you're advertising, under a lawsuit settlement reached by 'sexual wellness' marketer Dame with the Metropolitan Transit Authority.
"Dame ads began running on subway cars Monday under a deal that ended a federal lawsuit filed in 2019 in U.S. District Court in Manhattan by Dame against the MTA, which along with Outfront, the company that manages New York City transit advertising, rejected an earlier campaign showing actual sex toys.)" (via Jack/NeffAdAge)
"Dame made headlines in 2019 with its federal complaint, which alleged that the Metropolitan Transportation Authority (MTA) was biased in rejecting the ads, which featured photos of sex toys alongside text reading, '91% of men get where they're going while 60% of women…don't,' and, 'Thank you from the bottom of my vulva.'
"The MTA, which serves some 5.5 million people per day, had previously allowed ads from other companies featuring cactuses as metaphors for erect penises, and others bearing the acronym 'DTF,' commonly known as an abbreviation for 'down to fuck.'" (via Emily Shugerman/The Daily Beast)
RELATED READ: 'Approved, Not Approved' Protests Blatant Sexism Against Women's Sex Tech Advertising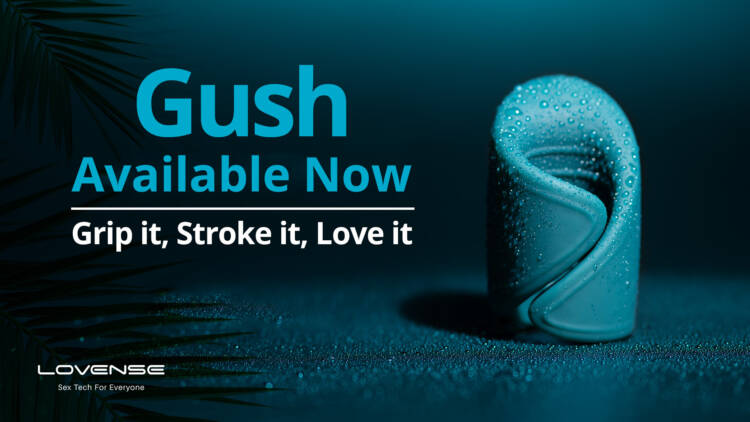 "Called a 'glans massager,' the new stroker is designed to deliver pleasant vibrations to the tip of the penis, also known as the glans. Designed for solo play, close-range, and long-distance control, Lovense Gush also offers an optional band that increases targeted stimulation, intensity, and tightness.
"The Gush penis vibrator is one of two new products the sex tech company recently launched, the is other the Hyphy dual-ended vibrator that went on sale in October. Both Bluetooth sex toys integrate with interactive online sex games 3DXChat [NSFW] and Wild Life Demo from Nutaku [NSFW]. (via Lovense)
"There are a handful of companies working essentially to integrate computers and brains as one, or at least working to allow a computer to transmit emotions, thoughts, knowledge and perhaps even sensation directly to the brain. Per [Future of Sex publisher Ross] Dawson, these include Elon Musk's Neuralink, which Musk claims could 'enable pleasure through the release of brain hormones such as oxytocin and dopamine, that are also associated with orgasms.'
"So, hypothetically, we could all have our brains linked up to computers that are programmed to give us all an orgasm at the exact same time." (via Magdalene Taylor/MEL)
"Putting a finger on what is considered 'eco-friendly' varies in as many ways as there are sex toys. For many consumers and retailers, it can be the images of green plants on a package — which may suggest the product is green when, in reality, it may not be. It may take a while to decipher the symbols on the back of the package to figure out if the product is biodegradable, if the ingredients are water-soluble, or if the package itself is biodegradable.
"Gabriela Rocha, Stuffgoodies CEO, summed it up this way: 'A sex toy can be 'eco-friendly' if it's reusable, made of certain materials … and also guarantees body safety when used.' Besides products that are made from recycled materials, Rocha also endorses the use of various other durable materials, including steel and silicone." (via Ariana Rodriguez and Kim Airs/XBIZ)
"Kinkly has run this list every year since 2013, and it holds a special place in our hearts because we know that sex-positive content doesn't get the accolades it deserves.
"Sex Blogging Superheroes was designed to celebrate sex bloggers and what they bring to the world as well as use our platform to show people that no matter who you are or what you're into, there's probably a resource out there for you.
"Every year, hundreds of thousands of people visit Kinkly.com's Sex Blogger Directory to connect with the best sex blogs on the internet. Our Sex Blogging Superheroes list is our way of highlighting some of the best and most popular blogs in our Directory, as well as ensuring that it remains a high-quality resource for curious readers and industry insiders looking for bloggers to partner with. In the meantime, we at Kinkly just wanted to extend congratulations to everyone on the list. (via Kinkly)