Sex Tech News: Space Orgasms, Interactive Audio Erotica & Hologram Handshakes
Big names collaborate, sex in space report, and Love Abilities festival features disability, sex, and kink.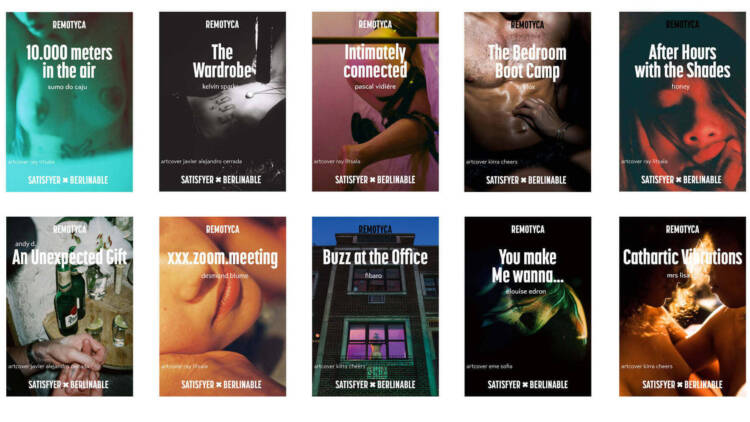 "Remotyca are real stories from real people. They are about long distance lovers, Tinder matches or complete strangers indulging in remote-controlled sex experiences for mutual sexual play and adventure – from soft romance to hardcore fetish. People can enjoy the Remotyca stories for free, either on BERLINABLE.com or directly in the Satisfyer app (here you can also let the audio story directly control your toy).
"BERLINABLE founder Giada Armani sees this as the next advent in sex tech for stimulating the body and the mind. Instead of watching commercial porn, let an authentic erotic story guide your imagination as you experience physical pleasure. With ever increasing censorship in media and society in general, Remotyca rebels against conservative sex politics and puts the power in the users' hands. Literally. Plus, the act of listening to a curated erotic story whilst engaging in sexual pleasure could very well lead to new cultural habits worldwide. And that's exactly Giada's vision as she sees sex and erotica intertwined with society and culture."

"Giada Armani: 'For me, sex and pleasure are political. I believe that erotica can change the world.'" (via BERLINABLE)
"Global pleasure brand We-Vibe and a team of researchers called Erobotics Research Consulting have released the first part of its 'Sex Tech in Space?' report. The paper explores how relevant the topic of sexuality is for space travellers, private companies, and public agencies. Findings show there's still a lot to do if humans want to have a sexual experience in space during their next honeymoon.
"Lack of research and taboo treatment by space agencies are the biggest obstacles to enabling space orgasms, but the We-Vibe paper argues that investing in sex technology is the most effective solution to being sexually fulfilled in orbit. A separate and more updated version of this report containing some of its findings is currently under consideration by scientific journals." (via We-Vibe/Erobotics)
"In the 21st century, holograms are already being used in a variety of ways such as medical systems, education, art, security and defense. Scientists are still developing ways to use lasers, modern digital processors, and motion-sensing technologies to create several different types of holograms which could change the way we interact.
"My colleagues and I working in the University of Glasgow's bendable electronics and sensing technologies research group have now developed a system of holograms of people using 'aerohaptics,' creating feelings of touch with jets of air. Those jets of air deliver a sensation of touch on people's fingers, hands and wrists.
"In time, this could be developed to allow you to meet a virtual avatar of a colleague on the other side of the world and really feel their handshake. It could even be the first steps towards building something like a holodeck." (Via Ravinder Dahiya/The Conversation)