Sex Tech News: Multi-way Cam Shows, Future of Sex Study, Kinky Americans & Mastercard
What's been hot and happening in the industry this past week.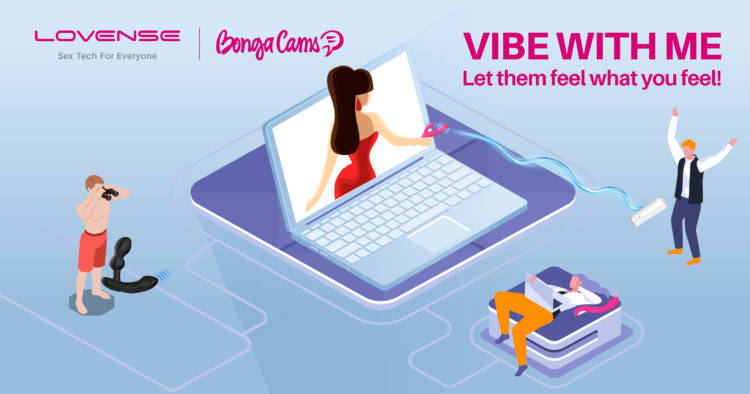 "Having a party with your favorite model and other viewers and triggering many toys at same time is a fun and great way to make the show more exciting," said Dan Liu, Lovense CEO, in a press release.
"This technology allows an unlimited number of viewers of the cam show to synchronize their Lovense sex toys with the performer's toys. With each tip-activated vibration of the performer's toy, all the connected toys of viewers vibrate accordingly…BongaCams models have 3 options for using this feature. They can set a fixed price for viewers to sync their toy, they can set syncing as the goal of the show (when the goal is reached, all viewers are able to pair their toys), or Vibe with Me can also be configured as a free option (as a free option it is also available on other cam sites, integrated with Lovense)." (via Lovense)
"Dubbed TechSex, the large-scale study aims to enhance knowledge and explore important implications of new digital, mechanical and medical technologies that are transforming sexual lives. The project explores the diverse ways in which people have incorporated new technologies into their sexual and intimate lives and reveals how this is changing or expanding people's sexual opportunities and experiences."The Australian Research Centre in Sex, Health and Society, based at La Trobe University, wants to speak with people in Australia who use or are part of the design process of smart sex products." (via TechSex)
"Dr. Lehmiller believes the rise of kink has a logical explanation. 'During periods of heightened stress and anxiety-like what we experienced during the pandemic–it is often harder to become and stay aroused," he says. "One way that people might cope with this is by trying new and immersive sexual activities that allow you to be in the moment and free your mind of distracting thoughts. Trying new things is also a way that people can 'feel alive' during periods of stress and boredom.'" (via Cision PR Newswire)
"As a performer with content that spans decades, I immediately recognized the damage my career would take. The potential of having every scene I've ever filmed wiped from the internet because of unrealistic changes required by Mastercard is shattering. If the concern proves true, and Mastercard begins requiring current identification for all content, we would see the largest purge of adult imagery, including thousands of consensual scenes. For performers like myself, my entire career could be removed. The financial devastation workers would face would be crippling. Performers who have passed would be completely removed from existence, their memory and legacies wiped away," writes Alana Evans for XBIZ.
Image sources: Lovense