Say Hello to the Enigma Wave: Lelo's New Triple-Action Sonic Massager
"Wow" and then some!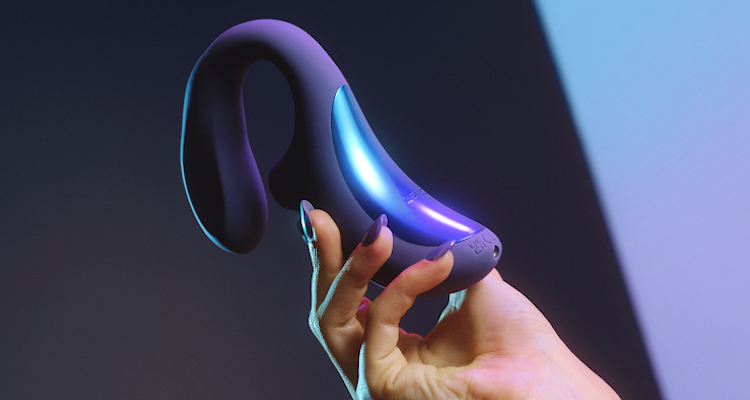 I'm tempted to gush (no pun intended), but it was an absolute pleasure to review Lelo's new triple stimulation massager, the Enigma Wave. 
According to its product page, The Enigma Wave utilizes "Signature WaveMotion technology for mesmerizing G-spot stimulation. This triple vibrator lets you simultaneously enjoy a powerful sonic wave stimulation on the clitoris while the insertable tail vibrates and moves inside you using patented WaveMotion technology for an all-encompassing experience."
It does all that. Yes it does. And it's so quiet, it practically purrs.
Functional and fantastic
This was my first time using any of the Lelo Enigma toys so I found it helpful to consult the website's "how to use" page. And then, I unboxed it.
I found myself handling a stylish, upscale cyber purple device, but it's also available in black. The curved, bulb-shaped handle is a comfortable, ergonomic design and the controls face the user. Its smooth plastic finish, tinted like an iridescent beetle, is also pleasant to touch.
The Enigma Wave has eight settings, produced by a triple-treat combination of wave, vibration, and its gear motor. Each motor delivers a wide range of stimulations catering to clitoral and vaginal erogenous zones.
Its insertable tail vibrates while mimicking a finger-like motion as its sonic waves and gentle pulses excite the user's clitoral area. This groundbreaking combination leads to intense pleasure and satisfying blended orgasms.
The Enigma Wave is made of body safe silicone and ABS plastic. It has three control buttons illuminated by LEDS. I particularly appreciate its safety feature which switches the whole thing off after 20 minutes of inactivity.
It's also fully waterproof and easy to clean. In regards to battery life, it requires a full, two hour charge for an equal amount of playtime.
The Enigma Wave comes with a USB-charging power cord, a satin storage pouch, and a warranty registration card. A detailed instruction manual with tiny print was included in the box. And I appreciated the sample of Lelo Personal Moisturizer.
Can you use it hands free? Not exactly
Lelo's website explains their Enigma Wave as stimulating the glans and inner structure of the clitoris with what they refer to as using what it calls Sensonic Technology: Without making direct contact, ENIGMA Wave sonic waves offer fast yet gentle clitoral stimulation for immense pleasure."
It does this without making direct contact with the clitoral glans. Indeed, if you hold the opening above the glans, you—like myself—will feel all manner of pleasant fluttering sensations that become increasingly delightful and intense. And because the controls face you and are just a tiny thumb-movement away, you can increase and decrease the sensations at will.
The internal fingerlike wavelike motions and G-spot stimulation were pleasant and, for me, felt just right at every speed. In short, The Enigma Wave lulls you into sensuality while also stimulating you sexually. So much so, I found I liked it very much.
The toy is designed and balanced in such a way that it will stay in place hands free. At least one reviewer on the Lelo website reported using the Enigma Wave this way.
I wanted to know what that would be like. In this case, hands-free means the clitoral stimulation opening needs to rest directly on or near your clitoral glans. The feeling is different than having the opening hover above. Though direct stimulation might be a little much for some people. If you want to try this, I would suggest using the lowest setting and go easy.
Downsides? There are a few
I too often found the Enigma Wave's controls confusing. That and I needed to read its manual to understand how to turn the thing on. However, as mentioned earlier, the manual has a tiny print. I accessed a larger print PDF manual at the Lelo website.
This is a problem because not everyone, even in this day and age, has computer access. And not everyone wants to turn on their computer, log in, and read a manual when they really just want to go at it with their newest toy.
Plus, length matters. The recharging cord, like many other sex toys, is only 20 inches (50.8 CM) long. I don't know about you, but in my house, most outlets are near the floor, except for kitchen and bathroom counters. A longer cord would've made it much easier to put this device out of reach of my cats. And if you have canines, a longer cord might prevent your Enigma Wave from being used as a chew toy.
The packaging is stylish, however the gold print on the black box is far too small, making it practically impossible to read, especially if you have vision difficulties. Speaking of packaging, why not give its box a slot for its 20-inch long USB charging cord so you can keep it safe while recharging it?
Orgasmic Revelation? You bet!
This is the first toy in a long time that made me want to take it to bed for a long weekend. I found it to be strangely soothing as well as exciting, and multiple orgasms were easily had.
My recommendation: read the product reviews on the Lelo site and make up your mind. From what I read, very few folks had a less than stellar experience, mostly due to position and how well or not it fits but I think it's safe to say for many people who have a vagina, vulva, and clitoris, this triple-motor toy could easily become their go-to favorite.
If you're intrigued by the thought of powerful sonic waves stimulating your clitoris while an insertable tail delivers a satisfying G-spot massage, reach for the Enigma Wave. You'll be glad you did. 
Image Sources: Lelo