Sex Tech News: Erika Lust's Audio Erotica, Yareel Mobile Alpha, 4anime Shutters & Pandemic Stress Sex
And how to change Instagram's new 'Sensitive Content Control,' but only if you're American 🙁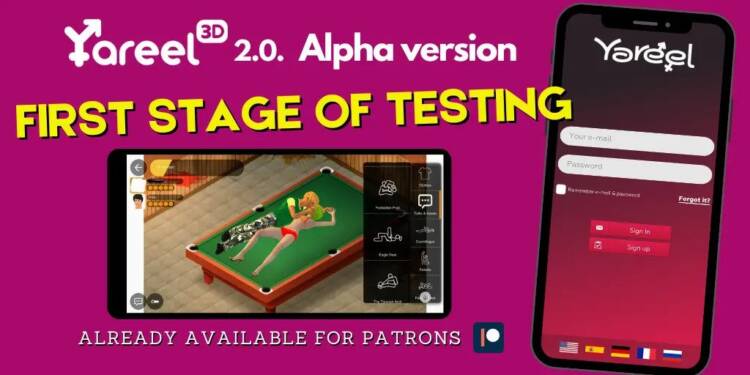 "We are launching the first phase of user testing. A new version is available for our Patrons who support our team. Thank you for that. We need to know that what we are doing is needed by someone else besides us. 🙂 You can find the alpha version of the game in the latest post on Patreon. You need to download the apk and install it on your Android." (via Yareel)
"Else Cinema – the Erika Lust Soft Edition is about to launch its brand new audio erotica content to bring Erika's high standards of audiovisual storytelling to the world of audio sex stories, hand by hand with BLAZE. Else Cinema Audio Erotica is a 360º sound experience of erotic audio which will be available for free for premium subscribers starting from August.
"The Store by Erika Lust recently launched 'Your Pleasure Helps'; each month, 100% of proceeds from an erotic film compilation are donated to a chosen charity. This month (July 15th-Aug 15th), all sales of The Safer Sex Collection will be donated to Stop Sida to support sexual health care for the LGBTQ+ community and sex workers." (via Erika Lust/Else Cinema)

"Popular streaming platform 4anime went offline on Monday after a legal intervention by adult industry attorney Corey Silverstein over copyrighted material, including hentai, that had allegedly been uploaded illegally. The platform — described by file-sharing news source Torrentfreak as "one of the largest pirate streaming sites" — was shut down, according to reports, "after 4anime was targeted in a subpoena issued by a U.S. federal court.
"'Violation of my client's intellectual property is not tolerated under any circumstances and rest assured that you can run, but you cannot hide from being held accountable for blatant violations of the law,' Silverstein told XBIZ. 'Using third-party DNS providers such as Cloudflare to try to hide will not deter someone who wants to fight back against piracy,' the attorney stressed." (via Dave Parkman/XBIZ)
Vivian Wong, Vice President of Women of SexTech, shares how to "allow" so-called sensitive content after Instagram rolled out platform changes on July 20. Sorry global sex tech, folks—apparently only people in the U.S. have the option to "allow" sensitive content. Let's hope this rollout is just America first, for now.
 

 

View this post on Instagram

 
"Dr. Lori Brotto, a professor of obstetrics and gynaecology at UBC and the executive director of the Women's Health Research Institute, led the study. In a news release from UBC, she explained that this correlation between stress and sexual desire is somewhat counterintuitive.
"Generally, sexual desire decreases with stress," Brotto said in the release. "But, at the very start of the pandemic, when lockdown measures were at their strictest, the kind of stress people experienced was immediate. And that acute stress kicked off a fight-or-flight response, which we know can create anxious arousal that can be misinterpreted by the body as sexual arousal.'"(via Ian Holliday/CTV News)