Syncbot: The Future of Sex Tech
Embrace the Future of Adult Entertainment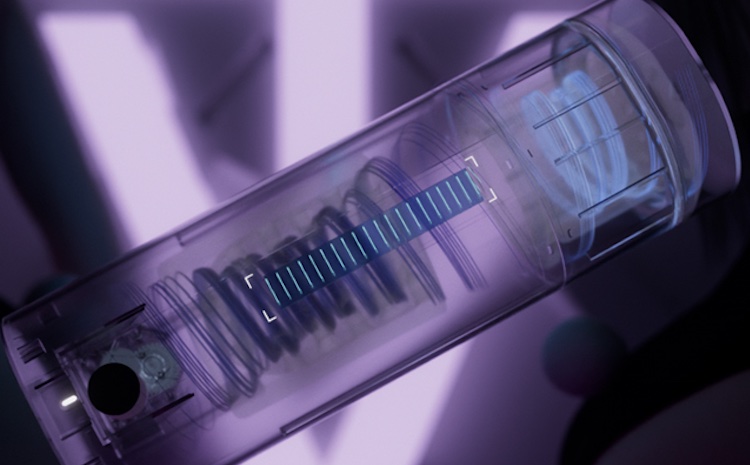 In today's modern world, technology continues to shape various aspects of our lives, including our intimate experiences. Enter the realm of sex tech, where innovation meets desire. In this article, we explore Syncbot, an innovative device that promises to redefine the future of pleasure. Powered by an advanced AI model, Syncbot seamlessly syncs with adult videos, creating a symphony of sensations that go beyond mundane up-and-down motions. Follow every stroke, rotation, and grip of it, and feel the excitement of merging with the on-screen allure. Get ready for a fascinating journey into the world of sextech with our in-depth Syncbot review.
What is Syncbot?
Syncbot is an innovative male masturbator developed by Valor & Toughness, a sextech startup. The toy combines adult satisfaction with the marvel of AI technology. Using an AI model called PornGPT, Syncbot translates and replicates on-screen actions from your favorite adult entertainment into motions and sensations, allowing you to feel what you see.
Another highlight of the toy is that it makes use of specially developed servo motors that pair with PornGPT to provide a truly unique experience. These motors move according to the motion tracks observed by PornGPT, providing rotation, stroking, and suction sensations that differ from the traditional monotonous stroking motions of other automatic toys.
PornGPT and the powerful sensations created by the servo motors explain why Syncbot is the future of sex tech.
What does Syncbot look like?
Syncbot's device maintains a discreet appearance. At first glance, one might mistake it for a Bluetooth speaker. The device boasts a sleek and stylish matte black body with a cutout logo on the cap. Despite being made of plastic, the toy exudes quality and doesn't appear cheap. The cylindrical body features flat strips, which enable steady mounting on surfaces and enhance the enjoyment of hands-free experiences.
The unboxing process is simple and straightforward. Once you open the sturdy box, you'll find everything you need, including the Syncbot itself, two scabbard sleeves, a dongle, lubricants, and a caliper tool for easy disassembly (please note that these are the contents of the pro package).
Why is Syncbot the future of sex tech?
Syncbot is undeniably the future of sex tech, thanks to several groundbreaking features that set it apart from other devices in the market. One of these key innovations is the PornGPT technology.
PornGPT AI model
Syncbot utilizes advanced AI models, specifically PornGPT, to translate on-screen actions from adult entertainment into realistic sensations. PornGPT has undergone millions of training iterations to learn and analyze various types of sexual behaviors, enabling it to identify positions and actions related to human sexual activities. This AI model can be considered the foremost authority in the realm of adult entertainment.
Powerful servo motors
Another remarkable feature of Syncbot is its meticulously engineered servo motors, which work in tandem with PornGPT to replicate the precise motion tracks observed in adult content. As a result, users can experience dynamic and customizable modes of rotation, stroking, and suction. These three features can operate together or independently, depending on the on-screen actions. Whether the performer is sucking or licking, Syncbot responds accordingly. The combination of AI-driven technology and powerful servo motors creates an unparalleled level of stimulation and satisfaction.
Ace-Cream sleeve
In addition to its cutting-edge technology, Syncbot also offers an Ace-Cream sleeve that mimics the texture and feeling of human skin. Made by using Injection Molding Technology, Syncbot's Ace-Cream sleeve is crafted from a jelly-like elastic material. Through a rigorous standardization process, it transforms into a pure gel with exceptional performance, offering an incredibly soft and comfortable experience that is perfect for adult entertainment.
How to use Syncbot?
Using Syncbot is incredibly simple and convenient. To set it up, all you need to do is download the SyncBrowser software and plug in the dongle into your PC. Then open the software, and you can directly stream popular sites such as Pornhub and sync any video to your Syncbot without any waiting time. Compared with a limited library, SyncBrowser provides endless possibilities.
If you have a large porn collection on your PC, you can use SyncPlayer. Simply drag and drop your collections into it and wait for a short analysis time. Once completed, you are ready to immerse yourself in a personalized experience tailored just for you.
To get a better idea of the unique capabilities of Syncbot, let's compare it to another device: The Handy. With The Handy, there's a bit more setup involved, as it needs to be plugged in and used near an electrical socket. This restricts your mobility and limits where you can use the device within your house. However, with Syncbot, which runs on a battery, you can freely move anywhere in your house without being tied to a specific location. The battery life of Syncbot is also impressive, ensuring uninterrupted pleasure. Moreover, if the battery is running low, you can still continue using Syncbot while it's plugged in, eliminating any concerns about running out of power.
What does using Syncbot feel like?
The experience of using Syncbot is truly remarkable. As mentioned earlier, Syncbot's ability to rotate, stroke, and suck according to the PornGPT algorithm's analysis sets it apart. The user experience is nothing short of outstanding.
Syncbot's grip on my intimate area and its engulfing sensation, resembling those experienced by the performers in adult content, were truly ecstatic. The varying speeds and intensity, accompanied by realistic moaning, intensified the pleasure to new heights. When the sensations became overwhelming, a simple palm placed over the device's sensor reduced the intensity, ensuring a customized experience.
In terms of suction, Syncbot outshines devices like The Handy. While The Handy requires the user to ensure that the sleeve is fully inserted and air-free to generate suction, Syncbot can dynamically generate suction on-the-fly, allowing for a tailored experience.
Although I noticed a minor issue with the "reduce intensity" feature not remaining active for the entire session, it is a small concern when considering the device's overall exceptional performance.
How accurately can Syncbot sync up with adult videos?
When it comes to automatic toys, some enthusiastic users may choose to manually create scripts for their devices to sync up with specific adult videos. However, compared to manual scripts that can take hours or even weeks to create, the AI scripts generated by PornGPT are remarkably fast, typically only taking 1/4 of the video length to be fully generated.
Additionally, for online adult entertainment platforms like Pornhub, PornGPT can automatically analyze the content and generate scripts for users. This AI model covers more than 80% of the total views on Pornhub, which is astonishing. This means that, when you open a page on Pornhub, most of the videos have already been analyzed and can instantly sync with your device.
In terms of accuracy, manual scripts can be adjusted to achieve 100% accuracy. With that said, PornGPT's accuracy is reported to be close to 90% for real-man videos. While there is still room for improvement, this level of accuracy surpasses many other comparable devices on the market.
Therefore, if you expect 100% accuracy, the PornGPT AI model may not currently meet your expectations. However, if you're seeking the highest quality sextech on the market, Syncbot emerges as the clear winner.

What can we expect from future updates of Syncbot?
Syncbot is continuously improving and expanding its capabilities in order to provide an even better user experience. Here are some exciting updates to look forward to:
Enhanced accuracy of PornGPT
The development team is dedicated to refining the PornGPT AI model, aiming for even higher accuracy when syncing with on-screen actions, especially for 2D animation. This will ensure a more realistic and immersive experience for users.
Gesture control customization
Syncbot will introduce more customization options for gesture control. The SyncBrowser software update has introduced intensity adjustment, allowing users to personalize their interactions with Syncbot. Additionally, more customization options will be available in the future.
Expanded platform support
While Syncbot's software currently supports Windows, the team is actively working on expanding compatibility to other platforms. Future updates, scheduled for the end of 2023, will bring support for Mac and roll out mobile apps, making Syncbot accessible to a wider range of users. Additionally, there is an iOS app available for manual control, and an Android app is also in development.
User feedback and suggestions
The Syncbot team values user feedback and is committed to addressing their needs. Future updates will focus on implementing improvements and enhancements based on user suggestions, ensuring that Syncbot continues to evolve in line with user preferences.
Overall evaluation
Overall, Syncbot undeniably earned the title of the future of sex tech. With its powerful PornGPT AI technology and robust servo motors, Syncbot possesses both a smart brain and a strong body, which is a rare combination in the automatic toy market. One potential drawback of the device is its relatively higher cost associated with innovative AI models and motors, compared to traditional toys. This price tag might give some individuals pause. However, the good news is that, once you decide to invest in quality and make a purchase, Syncbot proves to be truly worthy and will undoubtedly surprise you with its exceptional capabilities.
Image Sources: Syncbot