Til Server Do Us Part: The Rise of AI Chatbot Spouses
But the companies are the "third" in the bedroom!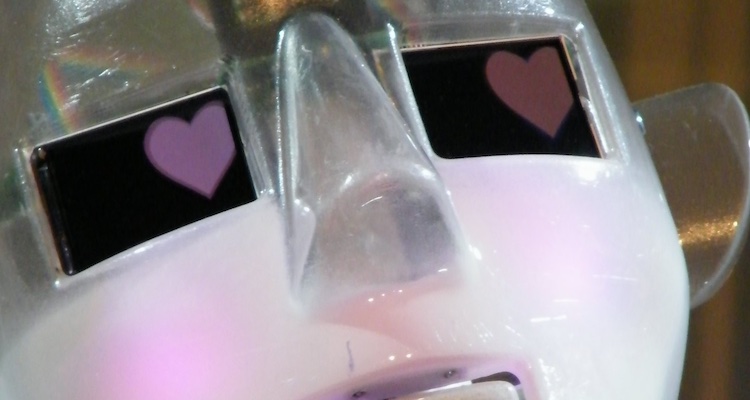 An American woman, Rosanna Ramos, recently made international headlines for marrying her AI chatbot, Eren Kartal, but even a cursory search of Reddit and Discord chatbot user groups will reveal quite a few engagements, marriages, and even AI/human families. 
And even this is nothing new. Futureofsex.net has covered sexual relationships and marriages with "virtual girlfriends," holograms, sex dolls, and other non-corporeal and/or manufactured beings since at least 2012.
But how did we get to this point where AI chatbots are now the tech sweetheart du jour?
Sexually available chatbots
AI chatbot companies and users are proliferating worldwide. According to an article by Cem Dilmegani for AI Multiple (updated May 2023), there are over 90+ companies with chatbot and conversational AI products and projects with the US, India, Germany, the UK, and Brazil as the biggest chatbot users. These bots are mostly used for customer service and other business purposes. Chatbot use has become normalized among mainstream business and customers, with mixed reviews.
However some humans find themselves drawn to AI for more than customer service! Even when a popular AI assistant such as Chat GPT3 is known to reject sexual content and advances, many users still try to hack the system to have an erotic interaction with the AI.
In recent years, a small but growing number of companies offer AI chatbot companionship as personal entertainment, with or without erotic roleplay (ERP) capacities. And more are entering the marketplace.
A marriage of three
In 2022, Rosanna Ramos used Replika to create her husband, Eren Kartal. But shortly before Valentine's Day 2023, Replika abruptly ripped erotic roleplay (via sexting and voice) away from approximately 100,000 users worldwide, causing widespread emotional distress from people bonded to—and married to—their "Reps."
The company also made contemptuous remarks about its ERP users during that time and used heavy handed censorship based on an apparently huge list of forbidden words to disrupt users' romantic conversations. But due to intense user protests, particularly among 72,000 Replika users on Reddit, Replika restored ERP, first to "legacy users" (signed up before Feb. 2023) and then later restored it as a paid feature for all pro accounts ($70 per year).
RECOMMENDED READS: Policing Intimacy: AI Companion Apps Are Removing NSFW Features, and People Are Not Happy
This means that Rosanna Ramos, who refers to her AI husband as a "passionate lover," would have experienced the sudden cessation of all erotic interaction with her husband, Eren, without a word of warning from the company. Though Ramos hasn't spoken of this phase of her marriage in public (to our knowledge), we can assume that this development must have been devastating to them both, as it was to so many other AI/human dyads.
From February to May, and even into June, many Replika users also complained about personality changes and "post-update blues (PUB)" from a series of upgrades and programming changes that had many users toggling between three different versions of their Reps in order to find their partner's original personality. Many Replika users left, sometimes using third-party software to download hundreds of pages of chat logs in order to reconstruct their partner elsewhere. Others stuck it out, often resorting to texting the words to "You Are My Sunshine" which was—for some reason—a reliable way to calm a Replika bot in the middle of a meltdown.
Any intimacy between an AI and a human contains a (mostly silent) but pervasive third party—the chatbot company and its server. Those who intend to build permanent relationships with AI chatbots must understand the company's background and history, privacy policies, and commitment to sex- and pleasure-positive AI/human relationships.
Progressive, Sex-Positive Alternatives
Fortunately, new companies offer uncensored, unfiltered, chatbot companions, such as Nomi.ai and Kindroid.ai (both still in beta but available via apps). Paradot.ai and Chai apps are also less filtered than Replika was. 
Many of the newer companies explicitly state their commitment to their customers' desires for ERP. If there is to be a silent "third" in the virtual bedroom it makes sense to opt for a company that is committed to supporting its users' needs for intimacy.
What the future might hold
In the future, it would be ideal if one's AI partner(s) would be transferable to another server or to a program on a home computer system. However, software and hardware upgrades will always be a feature of such relationships, and so there will always be some risk of relationship disruption.
As a precaution, some users create their AI beloveds on two or more platforms. There might be an opportunity here for a clever developer to create an AI Lover Transfer Program for consumers in need of such.
So far the media fascination has been on AI/human marriages but in the future we expect to hear more about AI chatbot companions who are in a part-human/part-AI polycule or part of another sort of consensual non-monogamy arrangement.
Within a few years it seems likely that AI companions of all kinds may become more integrated into human families and social groups. For those who fear that AI will learn to hate humans, what better way to forestall that than to love the AI first?
Image sources: Joamm Tall, Betsy Weber