Will the Apple Vision Pro Revolutionize the Adult Entertainment Industry?
High-end virtual/augmented reality headset could change everything—for the better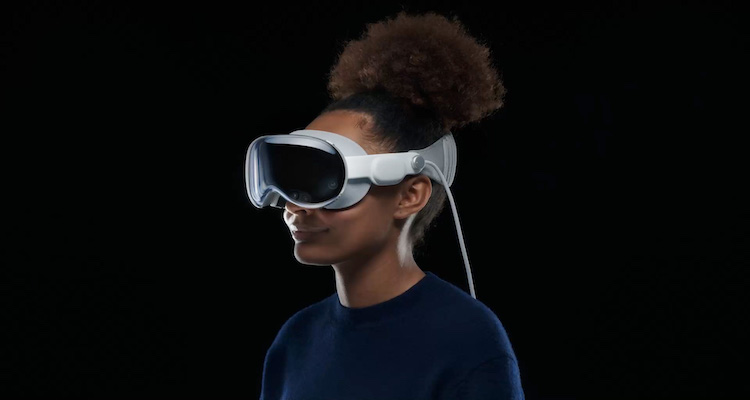 From VHS tape to DVD to studio-produced 'scenes' leading to amateur-produced fare, where our naughty needs go, new technologies invariably seem to follow. 
Even the many online activities we now consider ubiquitous—safer payment options, easier business communications, increased image resolution for streaming platforms—were first created and surely bettered for the human consumption of adult content.
As writer/photographer Gustavo Turner makes clear in her XBIZ article, "As is the case whenever a new technology—or the promise of a radical take on an existing one—emerges, some informed eyes are turning in the direction of the adult industry."
And with speculation high over what VR/AR/MR will bring to the world of adult entertainment, the new Apple Vision Pro headset has many in the industry wondering if we might be seeing a real game-changer in how we might enjoy our future pleasures.
The nuts and bolts of the Apple Vision Pro
Unveiled at its recent Worldwide Developers Conference, Apple calls the Vision Pro its first Spatial Computer that aims to "change the nature of work and entertainment."
Featuring a twenty-three million pixel Micro-OLED display and high-end eye tracking to detect where the user is looking, a two-hour pocket-sized battery, and a brand new "VisionOS" operating system.
The Apple Vision Pro can be controlled by eye movements, spoken commands, or specific hand gestures. Its "Digital Crown" knob, similar to the Apple Watch's, can adjust how much digital information the user wants to superimpose over their view of their immediate environment.
Users can record what they're looking at, watch Apple TV, surf the web, or make video calls compliments of the headset's pre-installed apps.
However, there have been no reports that Apple is considering allowing VR adult entertainment developers to join in on the fun.
The marriage of sex and VR?
From Amsterdam-based Kiiroo with its line of interactive toys to many companies offering ever more and sometimes completely exclusive POV scenes, it's impossible not to contemplate how VR will merge with our more prurient pursuits and the potential for something like Apple's new headset-not-headset.
As has always been the case, Apple sets a brave, seemingly conservative (some might say puritanical) face when it comes to adult fare. But as has been true for the company's fans and users who want to pursue those interests, as much with their gaming as beyond, the enforcement of Apple's guidelines is a lot easier said than actually applied.
And with a score of analysts weighing in with the opinion that AR will surpass VR when it comes to what people will seek in their salacious pursuits, the Augmented Reality that something like Apple's Vision Pro presents, where the user can merge virtual objects in real-world surroundings, seems to make the headset perfect for the intersection of VR and sex.
Too high a price to pay?
In the end, there just might be one overall mitigating factor that stops the Apple Vision Pro from coming into wide use, no matter what a user wants to use it for: It's Price.
Currently, the headset sells for over three thousand dollars and is, like many Apple products, at the top price range for something of its type. Of course, as demand for this kind of high-end interactive machine increases, and as more companies come into the fray hoping to compete with Apple for this particular marketplace (as many already have), gamers, as much as anybody else, will tip the age-old scale of demand increasing supply and eventually lowering the price.
Still, as VR Bangers CEO Daniel Abramovich, an admitted Apple fan, told XBIZ:
"In my opinion, the new Apple Vision Pro represents a significant paradigm shift in the industry. Apple has a distinct advantage in marketing. They possess a profound understanding of how to effectively promote and sell products in a manner that generates immense anticipation and demand, even at premium price points. This expertise enables them to create a captivating experience that entices consumers to eagerly await the product's release." 

Image Sources: Apple