How Sex Tech Designers Can Enhance the Pleasure of Fingering
A look at fingering-specific sex toys and how they might evolve.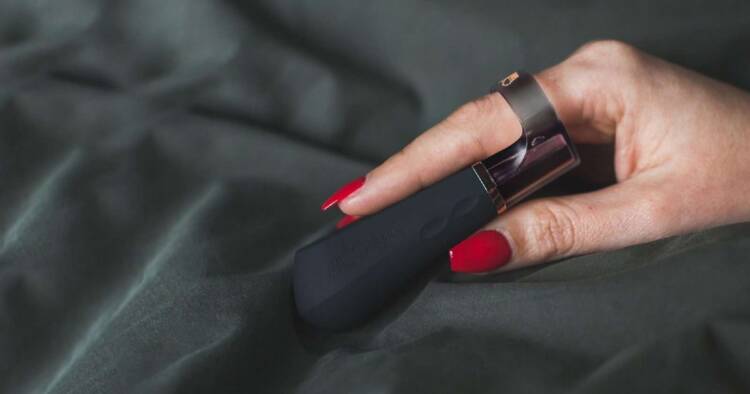 Fingering another person can be difficult.
Not only is every body unique, but everyone has different thresholds for what they find comfortable and pleasurable. What works for one partner often won't directly translate to the next.
Some are satisfied by clitoral or rim stimulation alone. Others prefer penetration (amount of fingers may vary). The rhythm of your movements, the temperature of your hand, or even the language you use to describe your actions can all affect the overall experience.
While much of this can be addressed through effective communication between partners, it can also be aided by toys and technology.
The problem is that the state of the industry when it comes to fingering-focused products is… pretty bleak.
Fingering is a neglected space in the sex tech industry
A majority of fingering-specific products lack any sort of technology, such as textured masturbation gloves or ribbed rings made from synthetic materials like PVC. Queer-owned company WetForHer offers a silicone Finger Extender that adds nearly 12 centimeters of insertable length to your existing digits.
Enhancing fingers with technology
When looking at the available sex tech for fingering, most products are essentially bullet vibrators worn on top of at least one finger.
This is the case for Fin from Dame and DiGiT from Hot Octopuss. Some, like Screaming O's You Turn, latch around the base of your fingers and are designed to stimulate the clitoris while your bare fingers penetrate the vagina. 
Other finger vibrators don't attach to your hand at all. Instead, these are held by pinching together two of your fingers. The Marvelous Teaser and B Swish's BTeased are two examples.
Finally, there are toys created to transform your fingers into a giant vibrating dildo. For instance, Frisky's Double Finger Banger Vibrating G-spot Glove.
RELATED READ: Future of Fingering: Lessons Learned from the Award-Winning Tentilex Project
Replacing fingers entirely
Another existing industry trend that's becoming more prevalent is building technology to replace the need for human fingers.
RELATED READ: MysteryVibe's Poco Is a Bendy Bullet Vibe That Takes Many Forms
MysteryVibe created a bendable bullet vibrator called Poco that mimics the shape of a finger. Lora DiCarlo took that concept one step further when releasing their Osé and Onda. These products are meant to replicate human touch through a "targeted come-hither stroking motion."
How sex tech can improve the experience of fingering
There are a few emerging themes and concepts that could bring new life to fingering.
Preserving skin-to-skin contact
Human hands are capable of much more than we give them credit for. Not only can we penetrate, rub, pinch, poke, graze, stroke, and tickle with our fingers, but we can also get a sense of how our bodies (or partner's body) is reacting to this stimulation.
Most existing products place something between the finger and the body—depersonalizing and desensitizing the experience.
A potential solution for this could be wearable technology that leaves our fingers free. Maybe that's the Tentilex wearable armband or augmented reality glasses inspired by the same technology used for surgical training. It could even be crotchless underwear embedded with ultrasound sensors or haptic technology. We're already seeing a rise in hands-free sex toys and virtual reality technology, so it'd be a continuation of those trends.
Shifting away from gender
Content and products related to fingering are overwhelmingly targeted towards women and vaginal pleasure. But the reality is that almost every relationship composition can engage in some form of fingering. We need a more inclusive approach.
In order for this to happen, though, we must build a better lexicon for how we discuss fingering. The term "fingering" is commonly associated with vulvas, but other synonyms are inappropriate, exclusionary, or just confusing. We should have a common vocabulary to reference specifically what we're intending to do. This should then translate into the products that are built and how they are marketed.
Promoting better body literacy
In this instance, body literacy refers to a deeper knowledge and better understanding of different components of our bodies. We deserve more education on how our bodies function in various conditions, including arousal and sexual activity.
This push for better sex education has been present in the industry for a while. We've seen this through the success of startups like Anatomy of Pleasure, which uses 2D and 3D modelling to teach people how physical anatomy relates to sex and pleasure.
This idea could be extended for fingering specifically. Perhaps using that modelling infrastructure to create a map of the inside of your vagina or anal cavity. Or even placing sensors on your finger joints to track the angles and develop a virtual model.
We'll have to wait and see
Are these actually the future of fingering? Are they just my personal dreams? Who knows, but either way, I'm excited to find out.
Image source: Hot Octopuss, Screaming O, MysteryVibe