Lovense Plus ChatGPT Equals Your Very Own AI-Controlled Pleasure Companion
Lay back and let an artificial intelligence show you a good time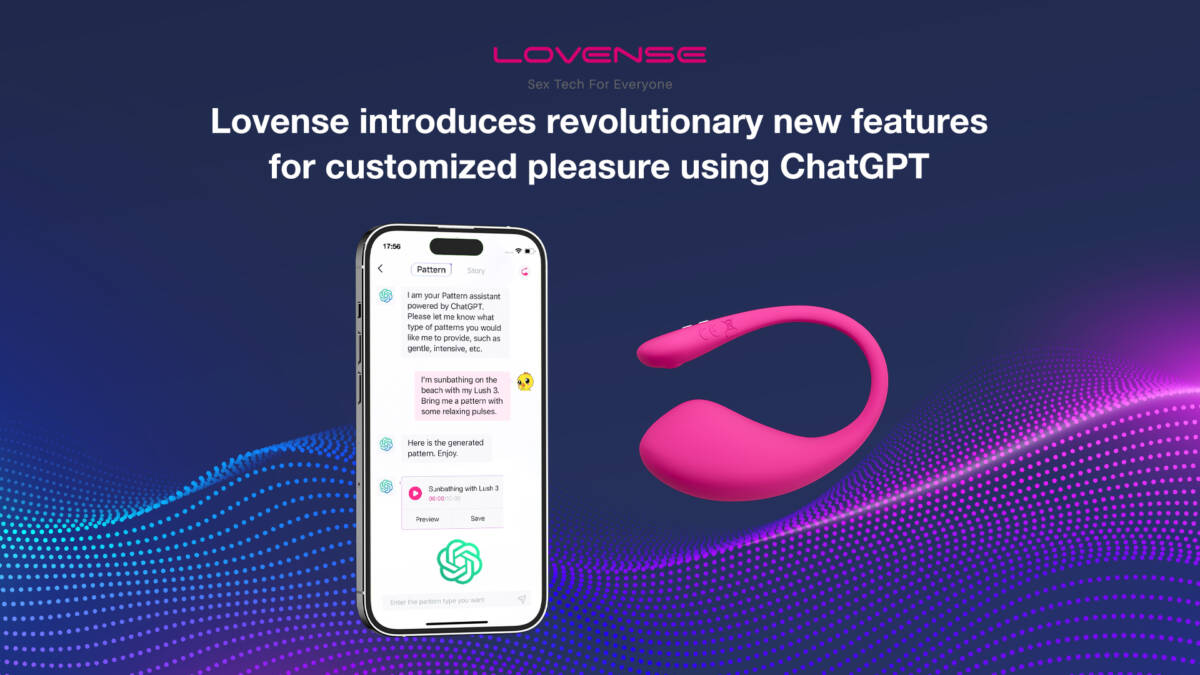 Lovense is a teledildonics leader popular with remote sex enthusiasts and webcam performers. ChatGPT barely needs an introduction: it's still the industry leader in AI language modeling and has stirred equal amounts of fascination and concern.
What happens when the two are combined?
The answer is the Advanced Lovense ChatGPT Pleasure Companion, that's what. Integrated into the Lovense Remote App, it uses ChatGPT to generate personalized sexual experiences.
As Lovense says, "This exciting new feature allows you to create your own erotic stories and spicy episodes in mere seconds. You decide what type of story you want—romantic or sensual, juicy or spicy."
Prompting an AI is much more than just giving it a sentence or two. The Companion will even allow users to dictate pace, setting, and characters for their unique story. This is topped off with text-to-speech integration for story playback, and even a feature to generate personalized vibration patterns on connected Lovense devices.
Changing the chatbot game
This collaboration is a bit surprising because it's a step away from ChatGPT's current restrictions on NSFW content. ChatGPT's safeguards have been continuously updated and there is a historical pattern of keeping sexual content away from AI.
Openly collaborating with a sex toy giant is unexpected, but it makes a lot of sense upon examination. The purpose of AI safeguards is not necessarily to censor, but to prevent unrestricted use of powerful technology.
This collaboration is the opposite of people's fears: restricted and sanctioned. Limiting access to the NSFW ChatGPT to Lovense clients increases the likelihood that only consenting adults use it. Developing the Pleasure Companion with a focus on one line of products also acts as a pilot programme for AI-mediated sexuality that can be carefully controlled and monitored.
RECOMMENDED READS: Pixels and Parameters: Why AI Art Needs Moderation
Despite going against the grain, this collaboration has the potential to be the midpoint between a strict no porn allowed policy, and unrestricted pornographic AI. We can expect interesting developments and lots of information about the developing landscape of AI and sexuality.
A spark for AI-mediated sexuality?
The Lovense ChatGPT Pleasure Companion marks a major turning point in AI-guided self pleasuring. It represents a tentative step into the hotly-demanded, profitable, and risky world of adult entertainment. A successful launch could pave the way for more acceptance of AI-mediated sexuality.
The possibilities that AI has for human sexuality are as limitless as sex itself. We can learn about how AI can augment our sexual experiences: what do people want out of AI-supported sex? Where should we set our boundaries and safeguards? What are the benefits of personalized sexual experiences to the end user? There is excitement and trepidation in equal measure as the Lovense Companion moves toward release.
This technology moves us closer to a personalized AI assistant that whispers sweet nothings into our ears during play. The Companion arrives with text-to-speech, but how long before that technology evolves to encompass different accents and genders? What of the inevitable social media-sharing aspect that comes with all tech? Will I be able to peruse other people's fantasy worlds and play them back like browsing an album of Midjourney creations?
Lovense's promise of personalized masturbation and erotica might sound like something out of a cyberpunk wet dream but, if all goes well, it may be right around the corner. Most of all, I wish I had Lovense's Companion during my previous attempt at AI-mediated pleasure.
Image Sources: Lovense, Trong Khiem Nguyen