E-Girls & E-Boys: Where Tech and Fantasies Combine
How e-performers are challenging stereotypes and embracing gender fluidity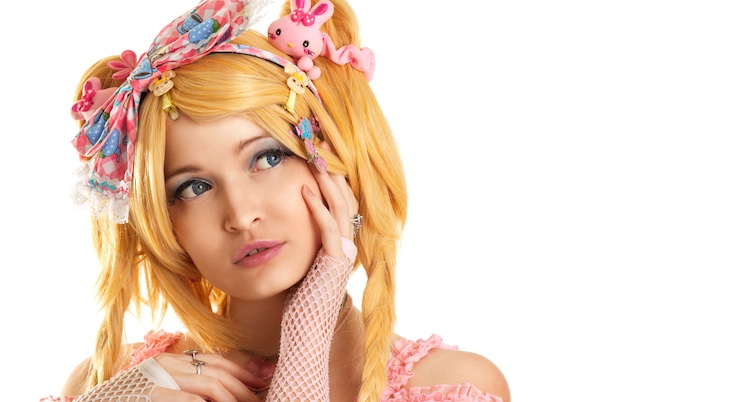 Between ever-increasingly human-like erotic chatbots and the release of revolutionary virtual/augmented reality headsets like Apple's Vision Pro, it's easy to forget how these and far too many other recent breakthroughs to name are pressing down hard on society's fast-forward button.
A combination of outrageously flamboyant cosplay and kinky-as-all-get-out fetish fashion along with a heaping helping of gender-nonconformity, e-girls and boys hitting the TikTok scene like a glittery pink tornado is a perfect example of tech—and our relationship to it—fueling the development of a unique, personally-empowering new subculture.
Not only that, but today's e-people might also provide us a peek at what other technosexual societies could arise in the not-too-distant future.
Very new and very sparkly
Unlike most influencers, who often try to make their sometimes real and sometimes not lives look attractive—as in if you buy this or that product, you can be like me sort of way, e-girls, and boys are all about delivering fantasies.
Sure, sometimes they're carefully constructed and meticulously performed, but fantasies nonetheless. So much so that e-girls and boys' personas frequently only exist when they're in front of their cameras.
Spurred by the wild popularity of Tiktok, over the last couple of years, e-girls and boys have been transforming themselves into manga and anime characters, fetish-inspired divas, sexually provocative, and sometimes simultaneously gender ambiguous, livestreaming superstars, much to the delight of their online audiences.
No rules, no problem
Originally, the term e-girl was a put-down, internet slang for someone who uses sex to gain attention or viewership.
Since reclaimed, both e-girls and boys seem to break all the rules. Mostly because, depending on who you ask, there aren't any.
For example, e-girl or e-boy may not necessarily mean what you may think they do, referring more to a more feminine or masculine style choice than a performer's gender.
If there is something e-people have in common, in addition to their focus on fantasy over reality and a noted prevalence towards sparkly, more fanciful aesthetics, it is their willingness to push boundaries to become what their fans want—and desire.
A real-life tragedy
Unfortunately, the e-performer community continues to receive a significant amount of online hate, harassment, and even outright violence.  
Such as the case of Bianca Devins, an e-girl performer whose murderer shocked the e-girl online community by posting pictures of her corpse online.
"I worry about stuff like that happening all the time." Ashley Eldridge told Vice. "I'm constantly scared that someone is going to recognize me in real life and follow me."
Rusty Fawkes, another e-performer, added, "I've gotten things in the past, like people saying they wish I was dead. The only thing I've had that was scary when someone emailed me saying they'd found out my phone number and were gonna come and find where I live." Fawkes added, "Most of the time, these things are just empty threats."
Be everyone or everything
Despite the harassment many in the e-people community continue to unfortunately face, creating fantasy personas as a form of personal expression, self-empowerment, and to appeal to others isn't going away anytime soon.
We can already see the subculture rising in popularity as more and more people discover how liberating it is, not forgetting how profitable pretending to be someone else can be.
Fantasy identities might become the norm, allowing people to be who they want to be, taking a negative activity like catfishing, where someone pretends to be someone they're not in order to trick people and transform it into a positive: a way for people to be who they want to be in virtual reality or to help them explore new gender expressions, personas, or craft entirely new identities.
The show must—and will—go on
Worried you're not as adept at fashion or makeup as many of today's e-girl or boy superstars?  
Not to worry, as today's AI visual generation systems like DALL-E 2 and Midjourney can take a simple prompt and turn it into a hyper-realistic imagehere's no reason to think we might not eventually be able to do the same to our metaverse identities.
As e-girls and boys have shown us, when it comes to putting on a public or personal performance, there's no limit to what's possible and how, as with anyone who doesn't identify as CIS-gendered is likely well aware, the bravest act anyone can perform is saying this is me.
Image sources: Photodeposit