Teledildonics Timeline: One Patent's Control over the Remote Sex Market [Updated]
You can't be a player in teledildonics without it—at least not in the U.S.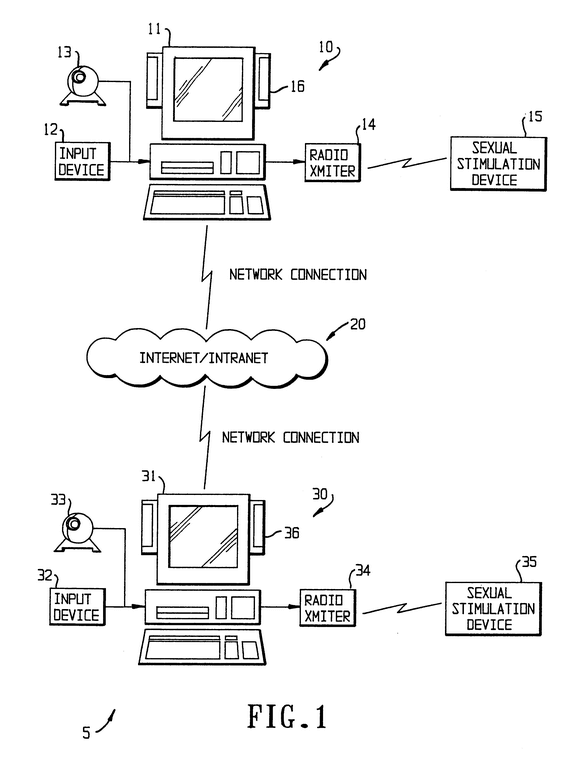 There's a hugely passionate debate brewing in the burgeoning remote sex community. It's over the so-called "teledildonics" patent, which covers the communication of remote sex toys over the Internet. It's at the center of lawsuits filed against six sex tech companies.
As we've written before, the patent has been accused of blocking the development in the interactive sex arena. There are also claims that it's too broad, and in fact not a novel invention—an argument that could potentially void the rights of the current patent holder.
This argument only has a few years left to play out. The patent expires in 2018. At that time, both DIY sex tech engineers and remote sex startups will be free to connect their sex toys online.
Until then, we at Future of Sex plan to provide context to the unfolding legal action and share some history about the patent in question. Be sure to scroll down to view a timeline of  the patent's history, which we will update as new information surfaces.
For more insight, we spoke the Vstroker [NSFW] founder, who goes by the name Troy Peterson. He understands the intellectual property because his company NextGen Interactive held exclusive rights to it for two years.
One patent to rule them all
Its full name is Method and device for interactive virtual control of sexual aids using digital computer networks. But it's been nicknamed the '268, which are the last three digits of its U.S. patent number.
It governs the use of sex toys via web connections, in particular when a device is manipulated over a computer network and then acts upon a person, said Peterson. This can involve prerecorded video or a sex toy equipped with touch sensors that send information.
Timeline of the rights to remote sex
1998 – Warren Sandvick filed for intellectual property rights with the U.S. Patent Office.
2002 – The '268 patent is issued to Sandvick, along with two other inventors, Jim Hughes and David Atkinson.
2007 – Patent ownership is transferred to the company Hassex Inc, which is owned by Sandvick.
2010 – The makers of the remote sex device the RealTouch are sued for patent infringement by Immersion and New Frontier Technologies. According to Peterson, New Frontier Technologies had been paying for exclusive rights to the '268 patent at this time.
2012 – Hustler bought New Frontier Technologies, after the latter had held exclusive '268 patent rights for five or six years, said Peterson. The patent is returned to Hassex Inc., following a clause agreement that this would happen if New Frontier Technologies were ever sold.
Circa 2013 – Peterson's virtual sex company NextGen Interactive obtained exclusive rights to the '268.
"We did that because we didn't want to get sued. We saw what happened to RealTouch," Peterson said.
Partnered with Greg Clayman of adult webcam site Flirt4Free, Peterson planned to start Vstroker interactive—an online forum where adult performers let customers control sex machines with the click of a mouse and with Vstroker [NSFW] devices. It launched in November 2014.
November 2013 – Adult Entertainment Broadcast Network, the maker of the RealTouch remote sex device, announced it would stop selling it as of January 2014. The company couldn't keep up with licensing and manufacturing fees.
2014 – KIIROO, a teledildonics company based in The Netherlands, secured a deal to license the patent in order to sell its devices in the United States.
2015 – Peterson said NextGen Interactive returned full rights to the '268 to Hassex Inc., because he didn't want to deal with enforcing it against others. He still has a deal to license the patent until it expires. Hassex Inc. has since formed a strategic joint venture with TZU Technologies to work on product development and patent enforcement. While TZU Technologies now owns the patent, without having exchanged money, Hassex Inc. has kept the right to license it to others, said Peterson.
June 2015 – Ownership of the '268 is transferred to TZU Technologies from Hassex Inc.
July 2015 –  TZU Technologies sues the makers of theRealTouch (Internet Services, LLC and WMM Holdings, LLC) along with sex tech companies FriXion, Comingle, LovePalz, and Vibease. Their offenses include offering software platforms that control interactive sex devices remotely, as well as selling such devices.
According to the lawsuits, TZU Technologies is seeking payment for treble damages and has summoned the defendants to jury trials. The California-based company has accused the defendants of willfully infringing on its patent rights by deliberately operating without permission.
Dan Cotman, a lawyer representing TZU Technologies, told Future of Sex that the company has plans to use the patented technology, but is not ready to announce anything at this time.
He also commented on what prompted the timing of the lawsuits:
Sandvick is a pioneer in the field of haptics. When he explored bringing the idea to market he found there were a lot of companies violating his patent, which made it difficult if not impossible for him to bring the concept to market. When Sandvick could get no response from certain companies that were infringing his patent, he decided to explore other options to enforce his patent rights. TZU, who is the current owner of the '268 patent, was brought into the picture to advocate for Sandvick's rights as an independent inventor.
October 2015: The makers of the RealTouch (Internet Services, LLC and WMM Holdings, LLC) and sex tech startup Vibease file near-identical counterclaims with the same legal representation.
November 2015: The lawsuit brought against Kickstarter for featuring virtual hand holding device Frebble is dismissed.
December 2015: Comingle files a similar counterclaim as the makers of the RealTouch and Vibease with the same legal representation.
Patent inventor Warren Sandvick dies of a heart attack at age 53.
February 2016: Comingle announces it must cancel production of its open-source vibrator the Mod due to financial and mental strain caused by the patent lawsuit.
June 2016: Winzz, LLC is ordered to pay $56,100 in damages after being found liable of patent infringement and failing to respond or defend itself in the patent lawsuit.
September 2016:  Vibease agrees to an undisclosed settlement with TZU Technologies. The case against the sex tech company is closed and dismissed without prejudice.
Cases against the makers of theRealTouch (Internet Services, LLC and WMM Holdings, LLC) as well as Comingle are dismissed without prejudice.
November 2016: Happy Haptics, which operated as FriXion, is ordered to pay $50,000 in damages after the judge rules in favor of TZU Technologies.
July 2017: TZU Technologies files a patent lawsuit against sex toy company LELO, singling out its remote-controlled couples' vibrator called Ida.
December 11, 2017:  TZU Technologies voluntarily dismisses its patent case against LELO.
December 29, 2017: The companies associated with the interactive male stroker SayberX are sued by TZU Technologies for patent infringement. The first is Hong Kong-based company Interactive Holdings Limited, which markets itself as SayberX. The other is the Nevada-based SayberX global distributor Xplosion Inc.
2018 – The '268 patent will expire, opening up the U.S. teledildonics market to anyone who wants to enter.
Have more information about the '268 patent? Please contact [email protected].
Image source: Google