Lovense Orgy Returns for New Year's Eve Sex Party
Why not celebrate the start of 2022 with a virtual Twitter orgy?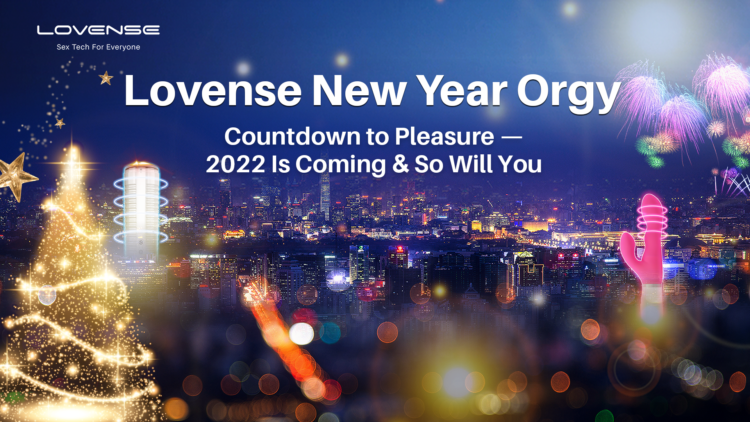 Although long-distance mind-gasms aren't yet possible, you can always count on a Lovense orgy to ring in the new year.
Once again, remote sex toy company Lovense is hosting an online orgy on Twitter as part of a global New Year's Eve celebration.
The Lovense orgy will start on December 31 at 23:30 UTC+14 and will last 26 hours. To get involved in the long-distance group sex event, all you need is a Twitter account and/or a Bluetooth-enabled sex toy sold by Lovense.
"Lovense New Year's Orgy is our gift to all those who feel lonely on New Year's Eve, or want to add some spice to the celebration," said Lovense CEO Dan Liu. "The Lovense Orgy is a wonderful occasion to unite the whole world and festively celebrate the New Year together."
How to join the Lovense orgy
Twitter users can get in on the action—and power on the vibration of thousands of participants' sex toys in simultaneously and real time—by tweeting or retweeting one of the event's official hashtag #LovenseNewYearOrgy.
Lovense sex toy users can connect their Bluetooth sex toys to Twitter via the Lovense Remote app or Lovense Connect app.
This upcoming Lovense Orgy on Twitter will be the fourth online sex party of its kind hosted by the brand. The complete rules can be found on the Lovense Orgy event page.
In May 2021, more than 32,000 participants connected their Lovense toys to the Orgy during the event, which allowed them to sync with one of two vibration patterns. Orgy-goers could hashtag #Lovense for the Firework pattern, and #LovenseOrgy for the Earthquake pattern. At the peak of the event, 4,106 toys were connected to the Lovense Orgygy.
The self-pleasure event was held during Masturbation May. FutureofSex.net participated with a funky pattern to the beat of Mr. Roboto by Styx.
Following positive feedback from virtual orgy party-goers, Lovense continues to throw Internet-connected social sex events.
"We are very grateful to all the participants of the Lovense Orgy. We received a huge number of positive responses and requests to hold the event more often," said Lovense CEO Dan Liu.