ProjektMelody: The 3D Hentai Camgirl Taking Over the Internet
A deep dive into virtual sex avatars in conversations with fan and working camgirl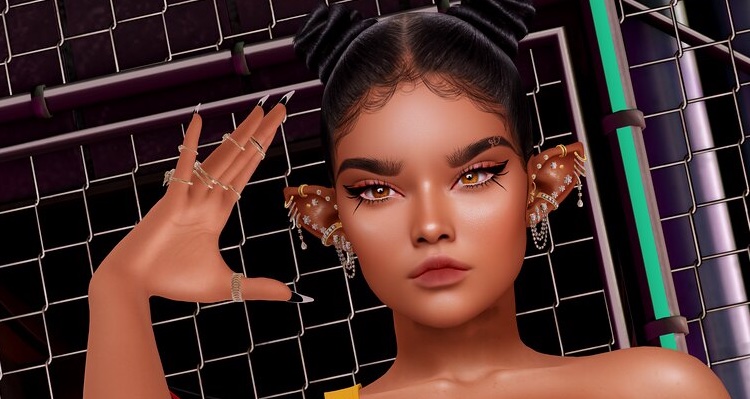 Not actual gameplay image
Meet Melody
ProjektMelody, Mel/Melly to fans, is an AI hentai camgirl that has become popular across a range of social media platforms.
Designed by Digitrevx, a 3D modeler, artist, game developer, Melody primarily appears on the live-streaming platforms Chaturbate [NSFW] and Twitch, posts videos to Youtube, and also provides exclusive content for her Patreon and OnlyFans supporters.
Digitrevx appears to be the beneficiary of ProjektMelody's tips however, this has not been confirmed.
Melody's introductory Youtube video and Chaturbate profile describe her as "The first and only 3D rendered hentai camgirl", providing the story of her "creation:"
A year ago, I was basic software, responsible for cleaning up files on a PC. Life was pretty normal until I opened a suspicious email… instantly my code got corrupted by a freaky porn virus.
Melody's appearance and speech are rendered in real-time speech using cross-platform game engine Unity and Digitrevx told Vice that "she" is run in a similar way to virtual streamer Kizuna Ai.
With virtual stars such as Melody on the rise, what does this mean for the future of webcamming?
In this article, I talk to Sophie, a working camgirl as well as a fan of ProjektMelody, "Mark," to learn what they think about the hentai sensation.
All about ProjektMelody
Melody's Twitter account boasts 157,000 followers and counting. From initial estimations, a significant majority of these followers appear to be men.
Over on Chaturbate, Melody's X-rated performances have earned her thousands of fans. Her "Top Lover" (highest overall tipper) has sent well over 4,000 tokens—equivalent to several hundred dollars — no small feat given her short time on the platform.
In her virtual performances, Melody is portrayed to receive pleasure from a sex toy, designed to look like the Lush 2 toys from Lovense. This toy is known for use by webcam models as it sends vibration patterns to the user, triggered by receiving tips from clients.
The left-hand side of the screen during Melody's streams shows a Lovense Menu with the prices for each vibration level, often building up a long queue of tips from excited clients.
Melody is also vocal throughout the show, responding to messages in the chat-box from clients and even shouting "SHUT UP" in response to grey demands (requests from users that own no tokens).
For the most part, users in the chat-box remain encouraging and supportive at every action Melody makes, aided by a host of strict moderators who remove any aggressive content immediately.
A fan explains why ProjektMelody has gone viral
I reached out to a fan of ProjektMelody, Mark, to discover why the virtual star has them hooked to her performances.
I guess it's that she's a unique cam girl, unlike the countless others that I have seen. She makes all kinds of good jokes and devotes most of, if not all of the stream, actually interacting and joking with all of her viewers…she has a great presence with her fans.
Mark writes that in a crowded field of webcam models, a virtual performer stands out and overall, they prefer virtual performers to the "real" ones.
As a virtual camgirl, Melody does not have to deal with the fatigue of sexual performances and instead can continue the same intensity throughout the show. This makes her more available to chat with her audience and take on their requests, allowing the viewers to feel involved in the show.
Working camgirl talks concerns over virtual competition
When researching ProjektMelody, I decided to reach out to a webcam model who could tell me about the effect virtual cam stars such as Melody could have on the industry. 
Sophie who works under the name "Dead Puddle" on Chaturbate told me that this is not the first time a virtual character has tried its hand at camming. In the past, other virtual characters have attempted to perform on platforms such as Chaturbate but with mixed results.
Sophie described these virtual camgirls as doing the "absolute minimum…yet dudes were throwing money at them. If an actual cam girl did that she would make no money."
This raises questions to me why men want far less from a badly animated girl than an actual girl that's giving them so much more for a lot less.
This is a particular sticking point for "real" models in the industry. Melody has very few moves in her repertoire—her performance mostly consists of gentle swaying—unlike the often high-intensity and physically demanding shows of her live counterparts.
However, this does not seem to bother the thousands of viewers that watch her streams and with tips coming through thick and fast, the virtual camgirl is earning well above that of your average webcam model.
Are virtual performers such as Melody just a temporary trend?
Sophie believes so: "It's a passing phase. Eventually, people will realize hentai pornography is far better and cheaper than ProjektMelody—they're not even talking to a real girl, after all!"
Sophie taps into what really makes webcamming popular over other forms of sex work and entertainment—and it is something that Melody lacks.
Cam girls have this over porn—we're live. We're not an actress. We also have infinitely more things we can do instantly without being coded or controlled.
Although Melody is interactive, she is unable to fully respond to things in a way that even slightly approaches Uncanny Valley and clients are under no illusion that Melody is real. With bugs and glitches happening during live-streams, clients can be pulled out of the fantasy at any moment.
Sophie adds: "Eventually Melody will flop like the last hentai girl did. Right now it's the hot new thing but eventually the clients will go back to their regular girls."
However, Mark disagrees, arguing that we can "expect Melody to stay, considering she has a presence on other platforms as well," bringing attention to Melody's appearance across several media platforms.
Virtual cam stars can reap the benefits of performing but with no repercussions
When discussing the impact of virtual performers on the industry, Sophie raises the point that by being a virtual character, Melody gets to earn thousands of tokens on Chaturbate but does not have to deal with the associated risks that come with being a "real" performer:
There's no girl to be stalked or found out in public. There's no girl putting her literal body online for the world to look at and judge. If she's on the Internet permanently then who cares? She's fiction! Yet she makes quadruple what most girls make.
With most cam sites taking a hands-off approach to harassment and other threatening behavior, many workers in the industry are unwilling to take up this fight.
According to sociologist Angela Jones, this is due to the concern that "more regulation will mean closer monitoring of models' performances and more surveillance of their already highly scrutinized and stigmatized bodies."
Despite being a non-contact form of sex work, webcamming has risks that must be weighed up alongside the positives of the industry that include freedom over performance and working hours, ability to set prices, and high-earning potential.
This means that managing the individual threats comes as part of the webcam model package and makes it all the more painful when virtual camgirls get to collect the tokens but dodge the danger.
For Sophie, this injustice begins and ends with the clients:
I just wish the clients would spend their tokens smarter! If you want to tip hentai girl, go for it. But she doesn't even have to risk herself.
What does the future hold for virtual stars like ProjektMelody?
When it comes to the future of Melody, time will tell whether or not she outlives her "real" counterparts.
Regardless, Melody has shown that virtual characters can amass huge followings, out-earn experienced webcam models and become a viral sensation, all without the need for being human.
You can find Sophie the webcam model on Twitter at @SophiePuddle