Fundraiser for 'Socially Distanced' 3-foot Strap-on Dildo Grabs Headlines, Yet Lacks Backers
Real or not, this might be just what some of us need—even if only for a laugh.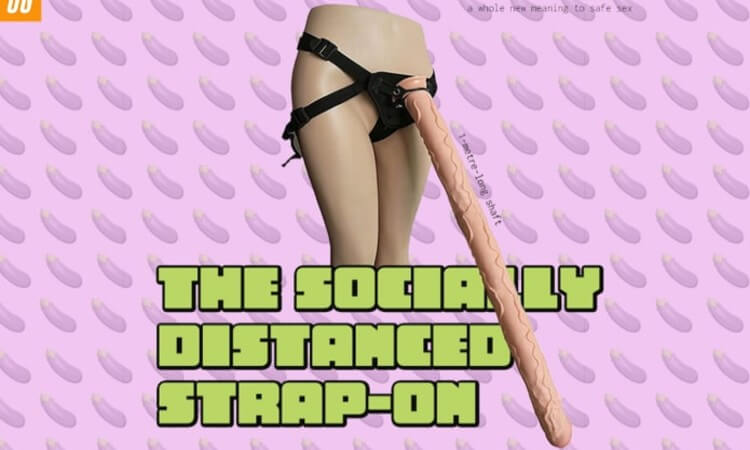 Wear a mask, wash your hands regularly, and maintain six-feet of distance from people you don't live with.
These, plus a few other simple precautions like staying at home, are commonly cited as essential for getting us through the COVID-19 pandemic.
But there's another thing we also need to do.
As for what it is, and why it's so important, we first need to talk about Lee James Allen and his invention: The Socially Distancing Strap-on.
Have you heard the one about?
"I was speaking to some single friends about their dating situations, laughing about how a sexual relationship might work while social distancing–and then the idea hit me, a meter-long strap-on, which could solve all of the world's ills."
That was Lee himself, discussing how he came up with the idea for this unique approach to having safe sex while social distancing in an interview with Metro UK.
While remaining adamant—or perhaps just mischievously so—that his product is no way, no how, not really, in any way shape or form, a prank, when questioned if his prodigious trap-on was to be taken seriously or was just a supposed to be funny, Lee answered: "somewhere in the middle."
Lee also explained that, in regards to true sex tech innovation, his take on this classic is not exactly a new one:
The product will be based on an existing strap-on so we're not having to reinvent the wheel completely, we're merely lengthening it.
Knock-Knock!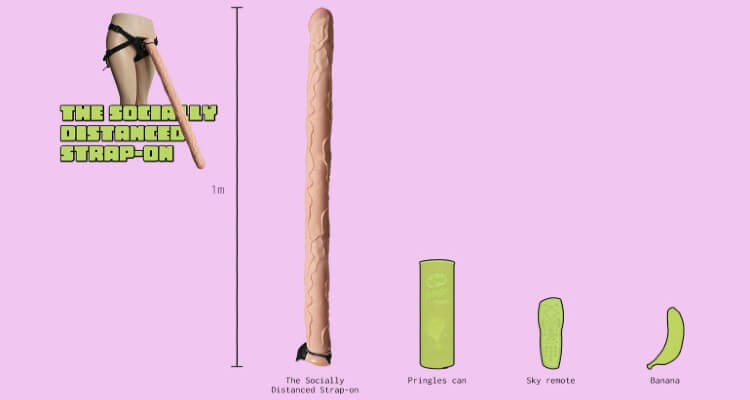 Admittedly an extension of, well, an extension, this hasn't stopped Lee from thinking seriously about its manufacture—and potential uses.
After consulting with sex tech experts, for instance, he made the decision to use only ultra-flexible silicone, noting that this material would keep the strap-on from penetrating, as he noted, "too far too easily."
Even so, he advises that users not get overly enthusiastic, with them respecting the social distancing design and not assuming the entire length should ever be actually sexually used.
Speaking of, Lee has provided a diagram so potential backers can get a good idea of what a meter-long strap-on compares to. In his case, to that of a Pringles can, a Sky Remote, and then that universal measurement of penis size: a banana.
A strap-on walks into a bar
"You no longer have to be close to be intimate. Secure your Socially Distanced Strap-on today, and share our campaign with your friends and family"—from The Socially Distanced Strap-on campaign page.
Currently, Lee's invention is being crowdfunded on Indiegogo with a project goal of $5,000. The money, if he gets it, going to "—a prototype and an initial product run."
Sadly, Lee's enthusiasm for his invention apparently hasn't worn off on others as to date his crowdfunding campaign is a tad on the low side. Despite the appropriateness of it standing at $69 (USD) there's a good chance that with additional publicity Lee's product may yet rise to the occasion (sorry about that).
How many strap-ons does it take to change a lightbulb?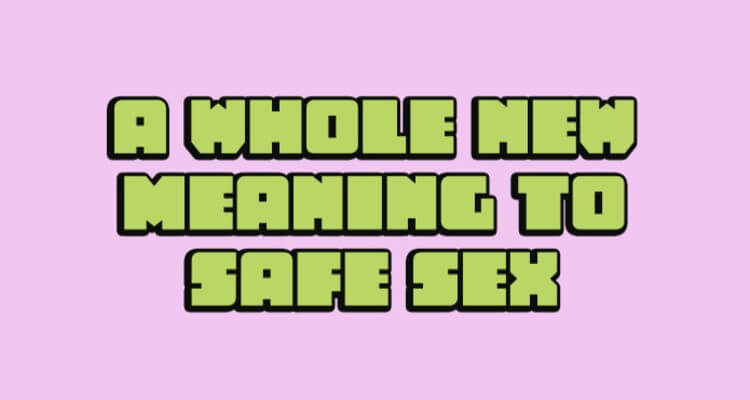 Yep, mask-wearing, hand washing, staying well-informed, remaining indoors, and socially isolating is what's going to get us through this.
But Lee and his silly invention demonstrates another: that though it may be just as tough to maintain as all those other essential precautions, we also need to try and laugh as much and as often as we can.
So protect yourself and those around you, and when you do have to step outside always do so wearing your magnificently ridiculous Socially Distanced Strap-on with beaming pride. Or just wear a funny mask. Your choice, of course.
Because, as Bob Hope put it: "I have seen what a laugh can do. It can transform almost unbearable tears into something bearable, even hopeful."
Image sources: The Socially Distanced Strap-on,