'Cardi-Bot' the Famous Pole-dancing Robot Moonlights As Sexy Cam Model
Head to Camsoda to get a special show from the twerking gynoid.
The robotic darling that is known for her racy performances at popular expos, is expanding her professional repertoire.
The creation of kinetic artist Giles Walker, Cardi-Bot has pole-danced her way into the headlines, enthralling crowds with her sexy circuits and dance moves.
But now she can add another job to her resume: sexbot cam model for adult site Camsoda [NSFW]
An upgraded sexbot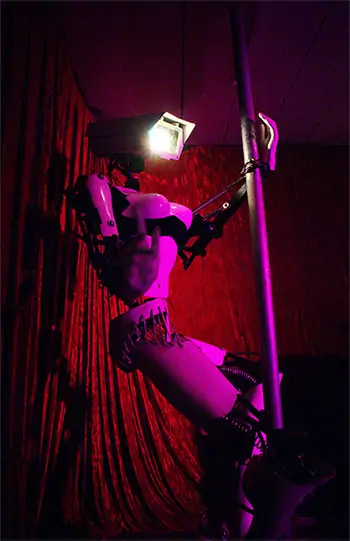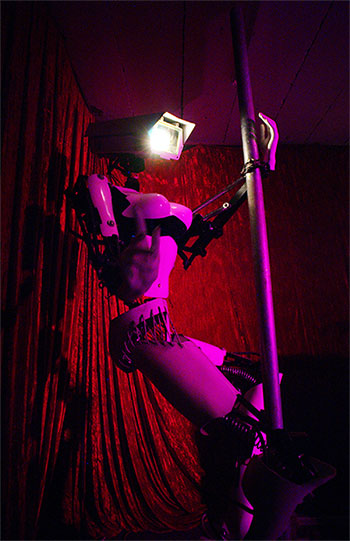 Known for more than a few—to be polite—outlandish publicity stunts, Camsoda says the Cardi-Bot will be available for free public shows once a week. Then users will be able to watch the bot in all her twerking glory.
For those willing to tip, Cardi-Bot will offer private sessions during which she will provide a greater selection of movements and even some "dirty talk."
This latest version of Cardi-Bot has a few more new tricks up her sleeve, including additional motors that expand her range of motion. Eventually, Cardi-bot will reportedly come equipped with interactive sex toy genitals. This support for teledildonics, thanks to a partnership with sex toy company Lovense, will allow long-distance sex over the Internet with the robot.
Maybe not totally silly
Let's face it, recruiting Cardi-Bot as a camgirl is really just another way for Camsoda to keep its name in the public eye.
That being said, it's pretty cool that folks who find animatronic sexbots alluring will have a way to scratch their particular hardware itches. Representation, even when it might be insincere, can sometimes still be a good thing.
Image sources: Camsoda [NSFW], Bill Hunt