Lovense Ferri Review: A Magnetic Panty Vibe You'll Want to Play Games With
Bluetooth vibrator is a welcome addition to popular Internet-connected sex toy line.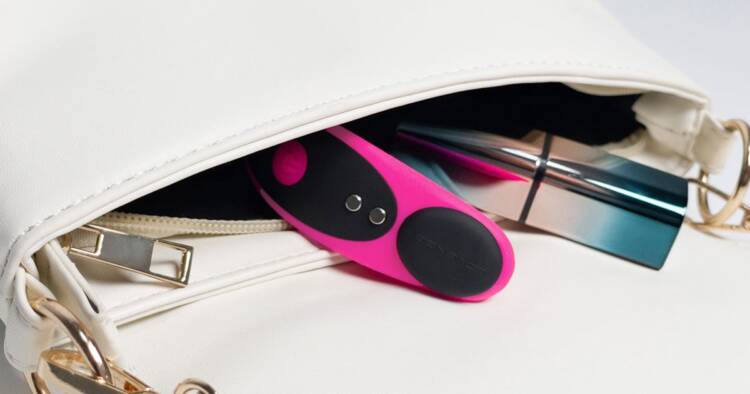 It wasn't until last year that Lovense released its first app-connected panty vibe: the Lovense Ferri.
The remote sex company is well-known for its line of sex toys popular among long-distance couples, cam performers, and sex game enthusiasts. Since launching its first interactive sex toys Max and Nora in 2014, a penis stroker and rabbit-style vibrator respectively, Lovense has expanded its product line greatly.
It now offers 11 Bluetooth sex toys in total, including a wand, butt plug, and the super popular webcam model vibrator the egg-shaped Lush. Oh, and of course, the much-welcome Lovense Ferri panty vibe.
The generous folks at Lovense sent me Ferri in exchange for an honest review. Here I will give a rundown of its top features and suggest who may enjoy using the device the most.
Lovense Ferri's best features
The Lovense Ferri has a similar design to the We-Vibe Moxie panty vibe, which I reviewed for SexForEveryBody.com.
It is a strong external vibrator that rests on the clitoris with the help of a magnetic clip that stays in place while connected to your underwear. Ferri is about a half-inch shorter than Moxie at just under 3 inches long. It's also slightly wider by a quarter-inch at approximately 1 inch.
While the two devices are comparable, certain distinguishing features may sway you. Personally, size here doesn't make a difference and neither do vibration patterns. Both panty vibes are powerful with plenty of customization options offered by their accompanying apps.
For me, it comes down to Lovense Ferri's color design and integration possibilities that make it stand out among other Bluetooth panty vibes. Lastly, at $100, it is a competitively priced sex toy considering its interactive and long-distance capabilities. The We-Vibe Moxie, on the other hand, costs $30 more.
Color contrast
For one, if you have poor or low vision, you might appreciate the contrast between the hot pink and black on the Lovense Ferri. Different colored circles mark where the power button and magnetic clip connect. The We-Vibe Moxie is all one color, in either aqua or black.
Many people use sex toys in the dark or out of sight anyway, so the added value may of contrast is perhaps debatable. However, I appreciated this attention to detail since too often I find power buttons hard to spot or find on sex toys.
Sex game support and interactive group sex
Lovense sex toys offer more integration options than any other remote sex toy brand I am aware of. (If you are looking for open source, then I recommend you check out Buttpluggin' With qDot)
Beyond offering long-distance sex between couples, via sex toys reacting to each other's movement and simulating sex from a distance, the Lovense Remote App allows people to have virtual orgies with up to 100 participants, and control the toys of all participants in real-time.
What I'm most excited about is that the Lovense Ferri, along with all Lovense devices, supports the 3d sex game 3DXChat [NSFW]. Prior to this recent partnership between the game and sex toy companies, only people with penises and access to the Vstroker could *feel* the sexual action as it happened in the sex game.
RELATED READ: Multiplayer Sex Game 3DXChat Now Supports All Lovense Sex Toys
Lovense's focus on expanding its brand across different adult categories, including long-distance couples, camming, sex games, and adult content, has brought with it a more diverse and inclusive range of intimate devices.
If you are someone who likes to explore the world of virtual sex, either through gaming, camming, or long-distance orgies—and you're seeking a panty vibe—I definitely recommend Lovense Ferri. It's a good option for couples, too.
If you are mainly looking for an app-connected panty vibe for use with one partner only, either in the same room or at a distance, Moxie may do the trick. From my experience and feedback from others, Lovense software is easier to use as a medium for connecting with strangers (or lovers you haven't met yet) on adult chat or cam sites.