BaDoinkVR Review: A First-timer's Dive into Virtual Reality Porn
A step-by-step account of entering the world of VR sex.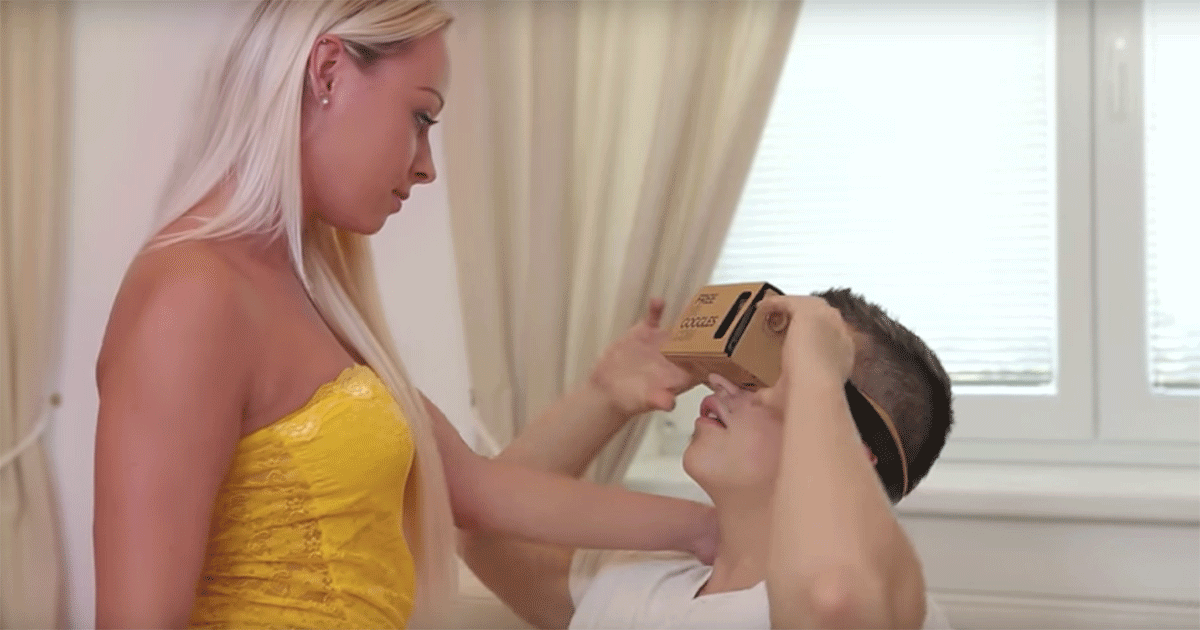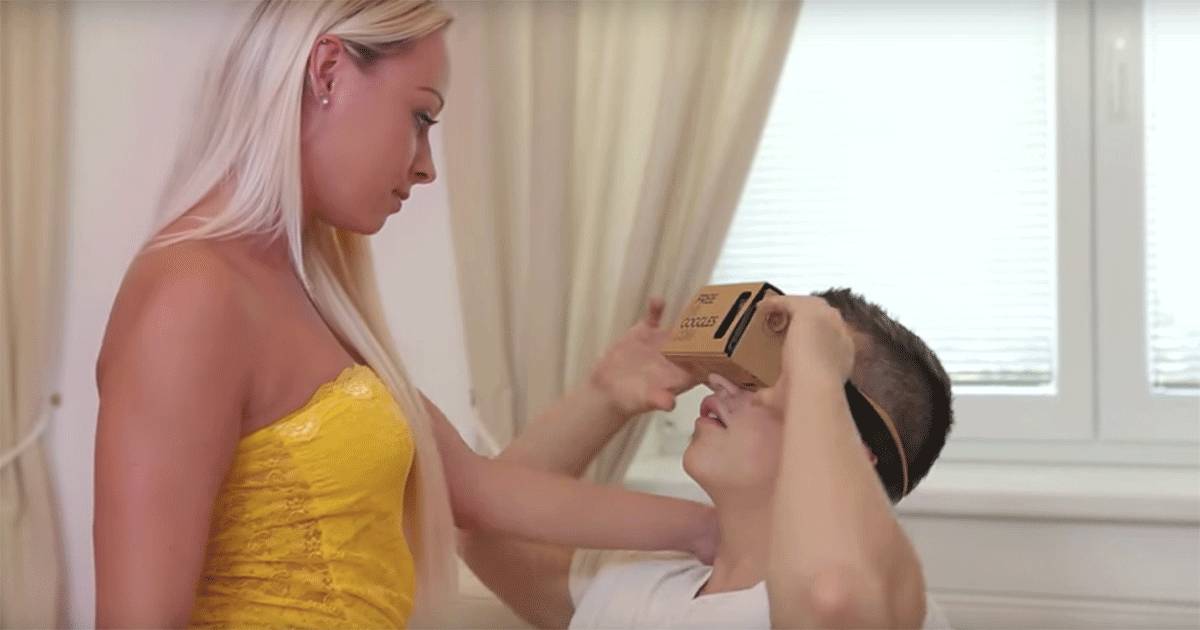 While it's up to history if virtual reality will either completely change entertainment or just be a flashy fad, the fact remains that many adult entertainment companies are pouring a lot of work, and money, into virtual reality (VR).
One of the early—and enthusiastic—adopters is BaDoinkVR [NSFW].
A spin-off of BaDoink VIP, and owned by CM Productions, BaDoinkVR leapt early into the VR game, launching in 2006.
Due in large part to its giveaway of 20,000 Google Cardboard-type VR goggles, as well as its continuing offer of the same to those who sign up, BaDoinkVR has firmly cemented itself as one of the top three VR porn companies.
BaDoinkVR has also been looking forward with even more immersion, giving users a teledildonic experience with their performers via Kiiroo's pearl (for her) and onyx (for him) sex toys.
While slower to virtual reality than the company itself, I recently had an opportunity to try out BaDoinkVR and see what "being there" inside a VR porn flick is actually like—losing my virtual virginity, you could say.
Hardware, software, and cost
Just to give you an idea of the hardware side of things, while BaDoinkVR supports the big leagues of Oculus Rift, HTC Vive, Gear VR, and even the recently released PlayStation VR system, I decided to go low-end—and much more affordable—with a plastic version of Google Cardboard.
The good news is that for anyone else out there who can't drop serious coinage, you can get a nice little rig like mine for about $20. Like its cardboard kin, it works by using a smartphone. Any kind will do, but it's recommended to go with one that's new and has plenty of memory—more on that in a moment. My own is an iPhone 6 with 64GB.
BaDoinkVR is subscription-based, with users having the options of $29.95 for 30 days, $59.95 for 90, and $99.95 for a whole year.
What you see and what you get
The site doesn't have a massive amount of content—though, considering the technological investment that comes with creating good VR—that's hardly a criticism. After all, to make so-called "traditional" adult film just takes a simple camera: even my iPhone 6 would do the job.
Currently, the BaDoinkVR site has about 84 videos, based on my clumsy accounting, and it releases an average of one new video a week. So there's plenty available to keep both the generally curious and the VR fascinated busy for quite some time.
The selection is also pretty mainstream—the target audience is pretty obvious with "Girls" being the primary option at the top of the site. In my perusing, I found a few Asian performers, no African Americans, and only two videos from a female perspective (with a male actor doing the action)—but, in all honesty, I may have simply missed one or more.
Of particular interest to me is the idea of using VR as a guide to sexual education. I found the first one, "Virtual Sexology with August Aimes," that featured the titular performer.
In the video, Aimes goes through a pretty standard adult entertainment litany of oral sex to intercourse. Points go to BaDoinkVR for adding a smooth narration explaining the benefits of breath control to prolong orgasm in men and encouraging the viewer to breathe along with the action.
I can only hope that BaDoinkVR keeps adding more of these to its roster as the immersive power of VR cries out for its use as a very personal guide to improving sex lives.
How to get into it
One of the more unusual aspects of VR porn is in the viewing. Basically—and, again, we are doing this with a smartphone—you have two options: streaming or downloading.
Streaming has the benefit of being immediate: using a phone you just log into the site and select a video. At this point there will be a suggestion to first download a VR Player (they recommend FreeVRPlayer) as BaDoinkVR doesn't have a way of directly playing anything. The good news is that once you have installed FreeVRPlayer, playing a video is as simple as either clicking on one directly or selecting the pretty complex URL from BaDoinkVR and pasting it into FreeVRPlayer.
The only headache with the streaming option is the same one with watching anything online: buffering. I have pretty fast wifi and it took a bit of time before the video began to play.
The second option is to download the video. You can do this via a computer and then transfer it into your smartphone or you can download it directly into your phone from BaDoinkVR's site. The good news is that you won't have buffering issues, though it can sometimes take some time to get the video down and into your phone. The big benefit is that, once it's on your phone, it can be played over and over again—even when you're not connected to the Internet.
Coming back to the aforementioned storage space, the videos are in no way petite: a 30fps (frames per second) video runs about 1.2GB and a 60fps version can run as high as 3GB or more.
Because of these sometimes-massive files, it took as long as an hour and a half to download a single 40+ minute video—both into my laptop and into the phone directly—but your mileage may vary depending on your connection and hardware.
If you have packed your phone will all kinds of things, like mine, you might have some tough calls to make: grandma's birthday video or that almost-hour-long VR sexcapade? Decisions, decisions.
A quick word on computer savviness. Being an Apple fan, getting the downloaded video into my phone from my laptop did take some work. One thing I noticed, which was odd, is that while videos did play well when streamed on my phone and played via FreeVRPlayer, a downloaded video worked much better with Mobile VR Station.
The experience
Without getting completely exposed here, one thing I found odd is that I simply wasn't used to a 40-minute video, having mostly watched five to maybe 20-minute clips in the past.
That's not a big deal but it can be a learning curve because, with VR, to move a video forward or back often involved removing your rig of choice and manually moving or rewinding on the phone.
My VR Box came with a little Bluetooth controller, but was so small that I kept either hitting the wrong button—causing the video to stop or even crash—or losing the controller itself, meaning having to take the rig off to find the silly thing.
Then there's the good and bad of immersion. Yes, you feel like you are there—though there is a lot of black space behind you, if you turn away from the action—but that also means it can be almost distressingly intimate.
By that, I mean, that being right up and personal with someone, even an attractive and enthusiastic young lady, can actually be a bit too much: I found myself actually backing up now and again for fear we were going to smack foreheads. Similarly, I had an odd sense of phantom limb syndrome of trying to raise the actor's hands—or other body parts—and not have the image match.
But once you get around that odd sense of intimacy, the videos can be entertaining. If I have any serious criticism it's that the performers have a kind of dull sameness to them, the same kind of plastic attractiveness. But this is more an adult industry thing and not so much against BaDoinkVR itself.
The being there feeling of VR brings with it yet another adult film adaptation: a real need for privacy. Like other forms of sexy web viewings, you will absolutely need headphones. VR porn videos make shutting—and locking—your door even more crucial.
Normally you can just slap that laptop shut or even blip off a monitor, but with VR you will have no clue if someone else is in the room with you—until you take the rig off and see them standing there. Kind of kills the mood that does.
In the end
BaDoinkVR is quite the experience: fun and even educational. Price-wise it's not as bad as some sites, and while the selection isn't huge or wildly diverse, it's more than worth the price of admission if just for the thrill of playing with the erotic potential of VR.
Just make sure, if you don't have a high-end VR rig, that you can handle the hardware side of things. And even if you do have a smart-enough smartphone, give yourself a bit of time to bang your head against the hardware until you get the hang of things.
That and be sure to keep your tissues, lube, and such, within arm's reach—and lock your door. Seriously.
*The writer was provided access to BaDoinkVR's videos in exchange for an honest review. This review includes an affiliate link.
Image source: BaDoinkVR [NSFW]