The Seven Days of Swiping, Day 4: OkCupid and How Time Dulls a Love God's Arrows
OkCupid was one of the first dating sites to ever exist. But what caused it to fall from grace?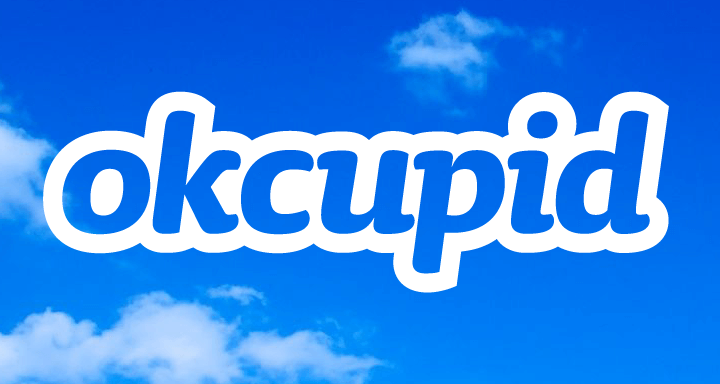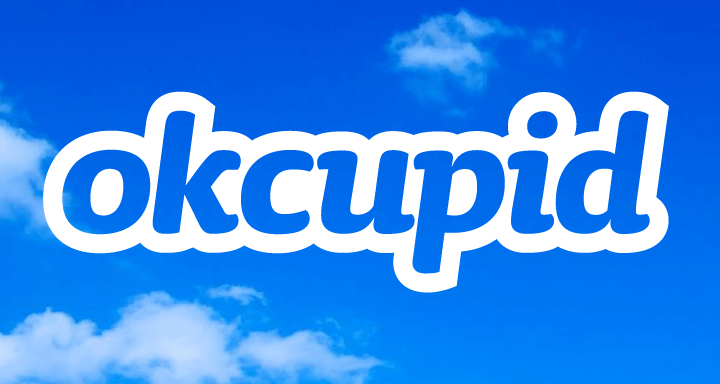 OkCupid has been a dating app for almost twice as long as Tinder, which preceded both Bumble and Hinge.
OkCupid began as an alternative to Match.com in 2004, and in 2007 was listed as one of Time's top-10 dating sites of the time.
In 2009, OkCupid became the first dating app that users could access for free, and could pay for additional features if they wanted to. Then, in 2011, the site was acquired by Match Group Inc., which still owns it today.
Before swiping culture reached a fever-pitch in Tinder's rise to stardom, OkCupid was riding high as both a popular and well-made dating app. However, like Match.com, OkCupid began to fall into obscurity as changes were made to resemble the other popular apps of the time.
OkCupid's story is that of a fallen titan, where time has turned the app into a blend of popular features of other dating apps, and what remains is a good concept with poor execution. And in an era where new dating apps are made every other month, OkCupid's staying power is fading rapidly.
What is OkCupid?
OkCupid's system is much different than the apps we have covered so far. Unlike Tinder, Bumble and Hinge, OkCupid has a stack feature, but it is not the main focus of the app.
Instead, users can see everyone in their age and location ranges all at once, and they can message anyone and everyone as they see fit. Users can also sort potential partners by location, recent activity, similarity, or completely randomly based on their preferences.
Once you send someone a message, that person will disappear from your match screen, and will not show back up unless they message you back. OkCupid also has an option to swipe through people, but this is much less efficient compared to the screen where you can message everyone at once.
The main selling feature of OkCupid is the question-and-answer section of the app. Based on how much time you want to spend using this part of the app, you can answer potentially thousands of questions, including everything from whether you can date someone messy, someone into BDSM, someone who is your same religion, or someone who talks during movies.
Anyone who has answered the same questions as you can see your answers. OkCupid will calculate a percentage of how much you overlap you have with others and attach it to their profiles, and this can help you people similar to you. Match.com also offers a similarity test, but the difference between Match.com and OkCupid is that OkCupid is free.
Why should you use OkCupid?
Of all the free dating apps that exist, OkCupid will take the most time to customize. You can spend hours on the questions that OkCupid's engineers have integrated into the app, and still feel your profile is incomplete.
It is important to remember that the time spent on the app is not always equal to success, but it does help people learn more about you when looking at your profile.
But while OkCupid maximizes customization, OkCupid leaves a lot to be desired. It is similarly as shallow as Tinder, but because it has so many features, it is not the size of a lake with the depth of a swimming pool, but rather the size of an ocean with the depth of a puddle.
Below, we discuss the positives and negatives you should consider when deciding if OkCupid might be the right dating app for you.
The positives
1. The free experience is the best of all of Match Group Inc.'s apps
OkCupid is the only free app from Match Group Inc. that gives users an experience rather than giving another time-killer. Between messaging people directly, swiping through people, answering questions, reading profiles, and seeing how others answer questions, OkCupid is the closest app to simulating dating in real life.
Paying for A-list―OkCupid's premium option―will give users some advantage, such as seeing if someone read your message and who has visited your profile. But because users are given so many things for free, the premium service is unnecessary.
Using OkCupid feels like jumping back in time to before dating apps had premium options, and this makes OkCupid a competitive choice for people who prioritize dating apps that have no subscription service.
2. The app is a combination of Match Group's best ideas
While OkCupid does blend many ideas from other apps, it at least has better execution than other apps that have tried the same approach.
While many apps have a recognizable brand, like Tinder with swiping and Bumble with holding the door for women, OkCupid's brand is taking the best ideas from other apps.
You can swipe, message anyone once, pick parts of people's profiles to like, and make your profile unique, and it's not intellectual property theft because they are all owned by the same company.
And although OkCupid spreads itself thin, it has at least moved in the right direction over the years. For comparison, another app known as MeetMe tried to copy the OkCupid formula. However, it became the dating app equivalent of trying to juggle and then instead vomiting on stage during a talent show.
Despite what can be said about OkCupid's execution, the people engineering the app are clearly masters of their craft.

3. Shooting your shot with a machine gun
In other dating apps, the order in which you view people is controlled by the algorithm in the form of the stack. But because you can avoid using OkCupid's stack, you can send messages to everyone in order of who you are most interested in.
You can even see the app's algorithm through the similarity calculation. Thus, you don't need to worry about whether you will find your soulmate at the bottom of a nebulous stack because you can see everyone right away.
You still write messages to people based on their profile, but now you can treat messaging others like a checklist of swiping through people until you get a match.
It is like Hinge that you get one message to try to woo attractive people―which is Hinge's best feature―but without the stack, you can do a better calculation of who to message, when you should message them, and how much work you want to put into each message.
But what does it mean for the app's users if they can be messaged by anyone at any time?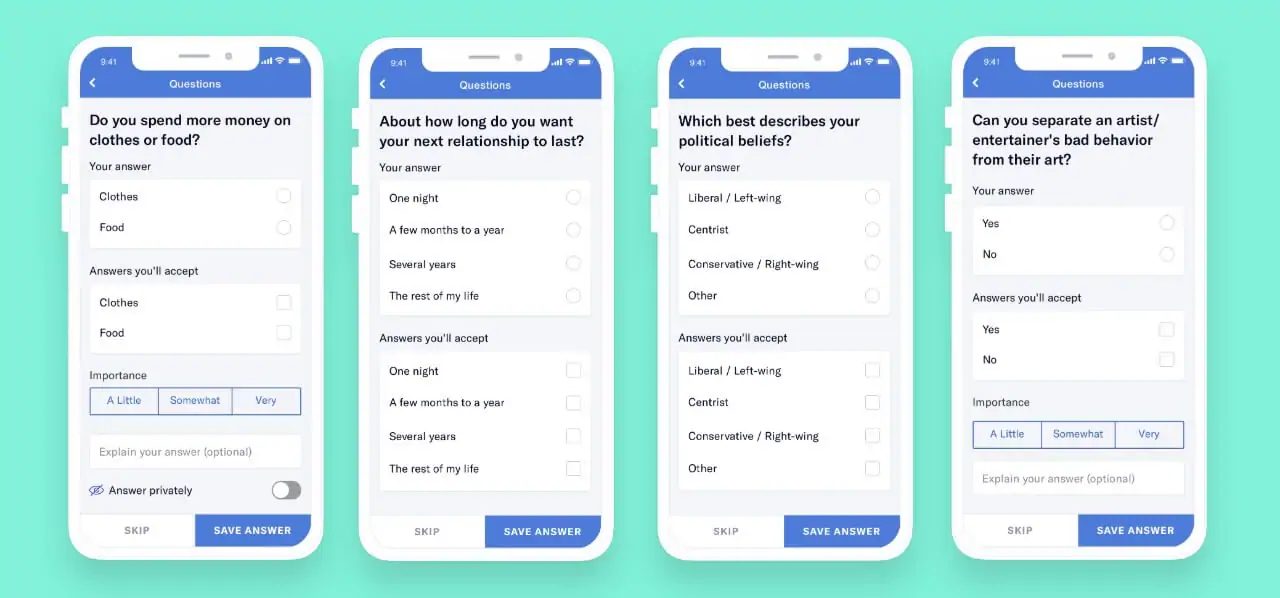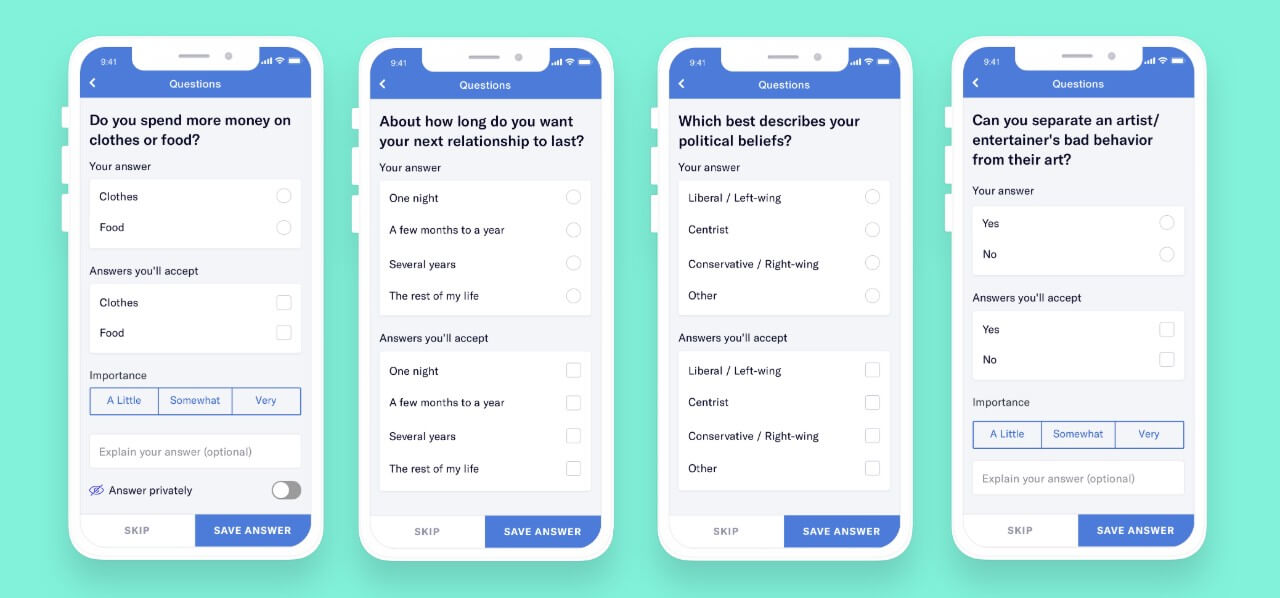 The negatives
1. The worst rat-race in modern dating
Giving everyone equal opportunity to message someone at the exact same time might the worst thing for a dating app to have.
Here's an example: imagine you are very attractive, and you have just created a dating app profile. You have just finished reading our excellent article about the pros and cons of dating apps and you decided to give online dating a try.
You live in a city of 500,000 people, but you have trouble meeting people because you're busy or socially anxious, so you decide to try OkCupid.
Immediately, everyone sees you and a lot of them decide to send you a message―because, remember―you're super attractive and have a great personality. How many messages will you read before you decide who to message back? 20? 50? 100? 1,000? Or would you just give up?
The failure of messaging whoever whenever can best be exemplified by OkCupid telling you that the person who you are messaging has a full inbox.
If people are receiving so many messages that they can never respond to all of them, then maybe your app about receiving and responding to messages needs a core redesign.
While people may receive plenty of messages on other dating apps too, at least messaging on other dating apps can be slowed by the individual if they decide to stop swiping. OkCupid gives no option to stop incoming messages.
As a brief aside, data OkCupid released suggests that women receive many more messages than men do. Having a messaging system like this would be a really good way to scare women into downloading Bumble, which is a bad idea for Match Group because Bumble is managed by a rival company.
2. Data theft? In MY dating app? It's more likely than you think!
OkCupid's data collection and research methods are infamous when people argue for better data privacy. Because users agree to let the website use their data in the terms of service, the company has used this data to do research, and OkCupid has published the results of their research on their website.
For relationship researchers such as myself and many others at the Future of Sex, this data has been a net good―it is challenging for university labs to study this data, so we have to look to industry for assistance.
The fact the data is published publicly means we can use these results to inform the research we want to do. For everyone else, this presents some pretty big issues.
In the article focusing on attractiveness and messaging response success―which is archived because the original was taken down following backlash from OkCupid users―OkCupid measured the attractiveness of the users compared to how often people message or respond to a first message.
As expected, more attractive users receive more messages and responses to messages. But what else does the blogpost say?
We can turn the findings from OkCupid's research around to examine the meaning for less-attractive users. These results that if people are not responding to your messages, you are ugly. And worse, OkCupid is also stealing your data while telling you how ugly you are.
While this is one thing to receive from a cold, heartless university professor, it is another situation to receive this information from the app you spent hours making a profile on or paying for.
OkCupid has also published research on racial preferences in dating, but be careful searching for more info about this outside of Google Scholar because this data has been co-opted by white nationalists pushing for an ethnostate. Whoops!
3. Location, location, location
This is a minor gripe in comparison to our previous point, but the fact OkCupid has not improved this is embarrassing. As part of the location filters on OkCupid, your options for distance are much more simplified compared to the other dating apps.
On OkCupid, your options when choosing how far away you want to search for people are 1 mile, 5 miles, 10 miles, 25 miles, 50 miles or 100 miles.
Why is there no middle-ground between 10 and 25, or 25 and 50? If you don't have reliable transportation, the difference between 10 and 25 miles can be akin to different countries, and 15 miles is much more sensible if two people can meet in the middle.
It just feels like an arbitrary issue that could have been patched out ages ago.
4. A facade for behavior research?
On top of all these other issues, there is only one conclusion that can from OkCupid's mismanagement of user-friendliness, features, and data: OkCupid is being used to gather data from dating app users so it can develop better techniques for their more popular apps.
Although this is mainly speculation, here is some evidence to support this conclusion.
First, OkCupid has no identity of its own and is instead made up of features from other Match Group apps. It has some swiping, some first messaging and some similarity calculation, each of which are the main features in Match Group's other apps, and all of these are available for free.
By combining these methods from different apps for free, Match Group can work out the bugs on a limited system before putting them into practice on their other apps. And instead of splitting up data collection across different apps, where people's individual profiles may differ wildly, Match Group can keep all the research under one umbrella.
Second, by not having stacks, OkCupid can measure what traits people find more attractive to maximize dating success and use this data to improve algorithms in the other apps.
As one example, it is challenging to measure attractiveness and message response on a swiping app because whether or not people match gets in the way of sending a message.
Of all of Match Group's apps, OkCupid is the only one where it won't hurt their profits to face backlash because it's not a premium service to use. You could do the same attraction research on Match, but you would lose significant profits if people cancel their subscriptions out of anger of being studied.
The smoking gun for this argument is that we can actively check what studies OkCupid has conducted, and see that these studies are only possible in OkCupid's framework.
Unfortunately, the outcry from its users has caused the company to take down its results and make them harder to find. This argument is not meant to put dating app users on the offensive, because, at the end of the day, it is still a better app than most of what else is out there.
OkCupid can still be used to create and maintain meaningful relationships with others, and if you are okay with your data being used, you can benefit from the array of features OkCupid offers.
We at Future of Sex just hope that OkCupid updates their data practices in the future so people understand what they are signing up for when using the app.
Stuff you should know
There are a lot of users, but they are spread out
By sheer force of will and by genius marketing, OkCupid is present in as many markets as Tinder, but it has not maintained a similar userbase.
The amount of people who use Tinder is currently equal to the total amount of users OkCupid has ever had, so while many places will have some users, only a few places will have many users.
If you are outside of North America and Tinder is not working for your style of dating, OkCupid offers a worthy alternative, as long as you are within driving distance of a medium-sized city.
With that said, it might also be worth investigating an app specific to your location if you can speak the language. But if you speak a different language from the country you are in, at least OkCupid is available in the language you speak.
So, should you use OkCupid?
OkCupid is a really good dating app in theory because it offers multiple features for free so they can presumably be tested and used for Match Group's other apps.
But using user data for research creates a tenable relationship between OkCupid and its users, and you would not be faulted for avoiding it for this reason alone.
We might have given OkCupid the Future of Sex recommendation if more people used it, but the low user population makes the profile setup and data issues more trouble than it is worth.
OkCupid is a breath of fresh air because it has so many points for engagement, but while the other apps are one-note, they play those notes well. Unfortunately, OkCupid never rises to the level of polish the other apps do, and your time would be better spent using one or a combination of Tinder, Bumble, and Hinge.
With that said, the OkCupid's strides in relationship research are second-to-none, and we would sing its praises if they allowed people to opt-out of giving their data after signing up, or if it allowed people to opt-in in exchange for A-list status.
Unless that happens, however, there will continue to be many better dating options than OkCupid.
What are your thoughts on OkCupid? Have you read any of OkCupid's studies? Did you meet your partner on OkCupid? How many messages did you receive when you made your account? Let us know in the comments below!
Image sources: OkCupid