Sex Tech Buzzwords and Shifting Sexual Wellness Trends in 2022
Industry advisor gives context to changing and popular terminolgy.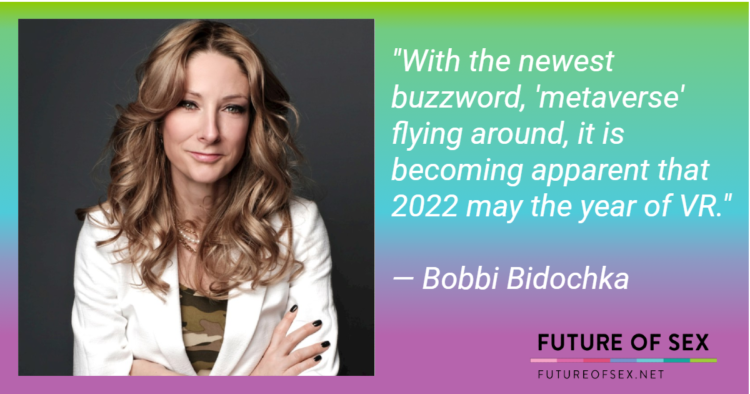 As part of our ongoing Future of Sex Expert series, Bobbi Bidochka, the Co-chair of the Academic Congress on Love and Sex with Robots, shares what to expect from the industry in 2022.
It has been well established that the COVID-19 pandemic was instrumental in highlighting the importance of sexual health and wellness, as sex toys and sex-related products sales soared in 2020 and 2021.
According to Forbes, "the sector is widely predicted to be worth $122 billion by 2024, and a 13 percent CAGR, investors agree there are huge business opportunities to be found in sex tech and sexual wellness." This trend will indeed continue.
Popular and changing industry terms
With the newest buzzword, "metaverse" flying around, it is becoming apparent that 2022 may the year of VR. Virtual Reality technology has had slow growth because the headsets have limitations and there was a dearth of content.
Holodexx is one company that has been heads down on creating ultra-realistic content and with the world now very much acclimated to virtual settings, I think it's safe to predict that VR Porn will make great advances in 2022.
RELATED READ: What Role Will Sexuality Play in the Future of the Metaverse?
There is a reason why the industry has shifted terminology towards sex education and sexual health and wellness.
This is because, like it or not, academia and medicine have legitimizing and normalizing powers. A good number of sexual wellness products (aka sex toys), obtain FDA approval and can now be prescribed by a doctor. We can expect to see more trends like this in 2022.
Sex research in academia
At the same time, there has been a proliferation in sex research within academia, with researchers that are studying all aspects of sex that include sexual health, sex robots, pornography, sex education, hook-up culture, sex work, space sexology and so much more!
At the Academic Congress on Love and Sex with Robots, we are seeing huge advances, bravery in covering sexually related topics, and more granting agencies taking the topic seriously.
The excellence and innovation in sex research around the world are consistently increasing and with the recent focus on sextech, we can expect the outcomes from academia to be pervasive in 2022 and beyond.