U Feel TV Review: Sexy Interactive Videos You Can Feel and Control
Grab your strokers! This new site takes adult film and immersive tech to new heights.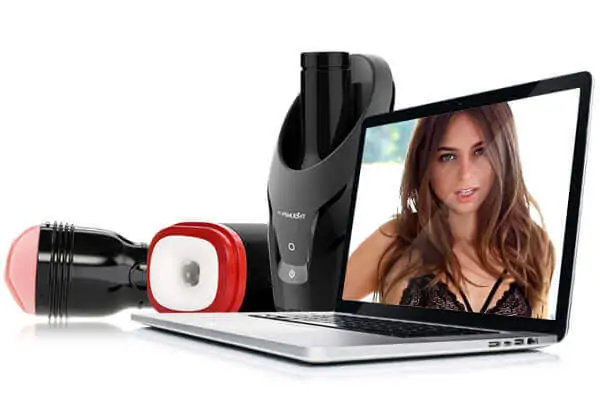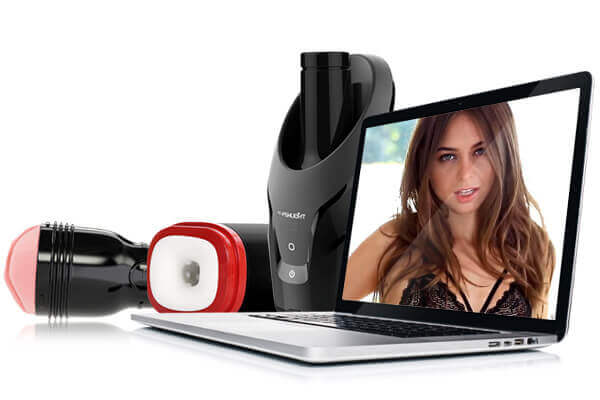 Adult films have always had a mystique about them. As a viewer, you can have a wonderful time reveling in sights and sounds. But that is the end of the sensory experience, one that rouses just two of our five senses.
Some ambitious studios have attempted to create immersive scent and taste, but those senses aren't as high on many people's list of priorities. And, well, recreating scent and taste might produce rather odd results that nobody is quite ready for yet.
That leaves one sense: touch. The possibility of experiencing the touch of your favorite performer surely fuels many digital dreams. The rise of the point-of-view subgenre, wherein performers break the 4th wall and they pleasure and speak to another performer whose body, but not head, is shown, has definitely heightened interest in interacting with those on screen.
They feel so close…and ufeel.tv [NSFW] has just made those sexy folk so much closer with a significant advance in immersive adult entertainment.
Great tech coupling
Adult production companies and device creators have been flirting with each other for years. Advancing communication technology has finally allowed that spark to become a full-blown romance. ufeel.tv is a major step forward in the pairing of sex toys to sex films that provides viewers with a significant immersive experience. After you visit their site and pick your choice of sexytime content, every stroke you see on the screen is what you will feel through an interactive device.
Once the film is chosen, you pick which stroker device you want to pair with it. You can choose between the VStroker [NSFW], Kiiroo Onyx, and Fleshlight Launch [NSFW].
Your toy preference will determine your desired interaction. The Onyx and Fleshlight receive actions from the film and perform accordingly. If you use the Vstroker, you will be controlling the motions (speed and depth of stroke) that are seen on screen. The VStroker connects to the video through its own USB dongle while the Launch and Kiiroo connect through the Feel Connect app.
From a technical standpoint, ufeel.tv offerings work seamlessly. Once the package is downloaded, connecting your toy is easy and intuitive. Each video prompts the viewer to choose their preferred device and syncs accordingly. And that is when the true magic happens.
[WARNING: This video may be considered NSFW for some viewers.]
When trying immersive and connected tech in the recent past, it has lacked a feeling of true, in-the-moment reaction. There always seemed to be a lag between device and content or some motions that were just too fast to be recognized.
Ultimately, a little bit of herky-jerky action isn't too bad, but the dream has been to sit back and feel exactly what is happening. ufeel.tv films actually achieve this. Of the three toys listed, I enjoyed the Fleshlight Launch the most with ufeel.tv content. It was most able to capture the movements of the performers. Kiiroo's Onyx was also enjoyable. The VStroker will be best enjoyed by all those Dominants out there who like to control the action.
Unmatched immersion
It is quite a marvel to experience sex toys react in the same manner as performers on screen.
Both the Launch and Onyx match the depth and speed of sex acts with remarkable accuracy. Even if a performer takes a short pause in continued stroking, oral sex, or intercourse, the video has been meticulously coded to capture that slight movement and send that signal to the devices.
The player is also easy to navigate and offers the viewer the ability to jump to specific moments based on preview panes. And with a touch of the spacebar, you can be transported directly to the happy ending.
Currently, the content offerings are your standard adult film fare. ufeel.tv currently provides high quality, POV films featuring many prominent adult performers such as Maddy O'Reilly, Kayden Kross, Dillion Harper, and many others—including animated content. At this point, the offerings are all heterosexual and most of the performers have the same general body type. Given the stability of the interface and outstanding immersive effects, I anticipate a greater variety of content in the near future. ufeel.tv is compatible with both PC and Mac platforms.
Streaming stimulation
There is one more component to ufeel.tv that will excite some consumers. The company has established a partnership with Pornhub to also broadcast less interactive versions of its content on the streaming site.
The clips are just as interactive and connect in the same way, but they are not quite as controllable. Viewers do not have the ability to skip as readily to scenes or the final shot. Also, downloading the content over streaming will provide better results.
For those who have invested in quality, high-end stimulation products, ufeel.tv is a natural fit. With its cutting edge technology and intuitive interface, interactive adult films definitely excite another sense beyond touch: good sense.
Image sources: ufeel.tv [NSFW]