Beyond the Usual Bullet Vibe: Hot Octopuss AMO Review
AMO impresses with its thoughtful design that focuses on slow-building pleasure.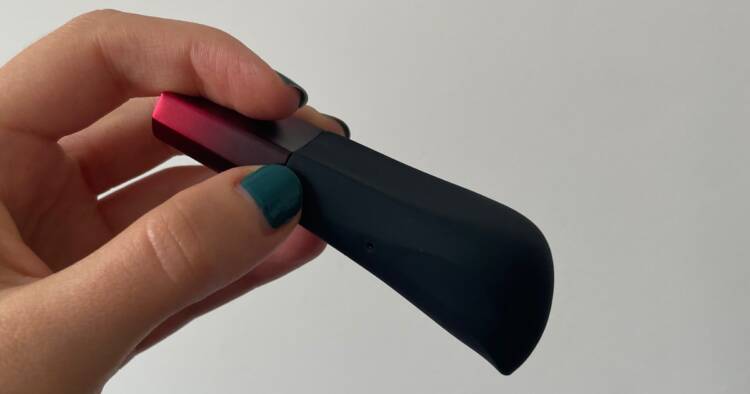 I never realized it until recently, but I have a bias against bullet vibrators.
Don't get me wrong, bullets are reliable—tried and true and a staple of many sex toy collections. I always wrote them off for myself though. I thought of them as either a nostalgic throwback (my first sex toy ever was a holographic blue single-speed bullet vibe) or a supplement to another toy (like a strap-on dildo).
So when Hot Octopuss offered to send the AMO bullet vibrator in exchange for an honest review, to say I wasn't expecting much is an understatement. The small, stylish vibe, however, managed to surprise me by being a queer-friendly toy focused on rumbling sensations.
The bullet's basics
AMO is made from premium-grade silicone with a smooth ABS plastic base bent for grip. The silicone is shaped into curves—one side more bulbous to offer broad vibrations and the other more pointed to target pleasure.
The vibrator is less than 10 centimeters long and weighs only 43 grams, about the weight of a lime. It has a rechargeable battery, which takes 2 to 3 hours to charge for up to 40 minutes of use. It's also completely waterproof, so it can be used in the shower or bath.
Rumbly pleasure as a focal point, not a one-off setting
I must admit, I love a rumbly motor and I was so glad to see it centered in the AMO experience.
Many bullet vibrators I've used left me feeling over-stimulated. Most settings were fast-paced, buzzing and honestly a bit intimidating. Maybe one or two of those offered anything slower or with feelings resembling rumbly.
All five of AMO's vibration patterns offer deep, rolling sensations. There are also buttons on the side of the device to turn the intensity up or down.
A queer-friendly toy
On the Hot Octopuss website, AMO is listed under the "LGBTQ+ Toys" section. While there's nothing distinctly queer about this bullet vibrator, I understand why it's listed there. The vibe is marketed towards people with vulvas, but it can really be used anywhere.
When I tried it with my girlfriend, we enjoyed being able to stimulate various parts of our bodies. It felt nice to have the larger curved side rubbed down my neck and around my nipples. Then it would flip and the pointed side would trace along the contours of my torso. We had fun passing it back and forth, seeing what new areas of sensitivity we could discover.
The dark color of the silicone also worked well when I was on my period. This is especially beneficial if, like me, you find the sight of blood all over a light toy a bit gory.
But a slight disconnection
Whether I'm giving or receiving, I want to feel like my body is part of the experience.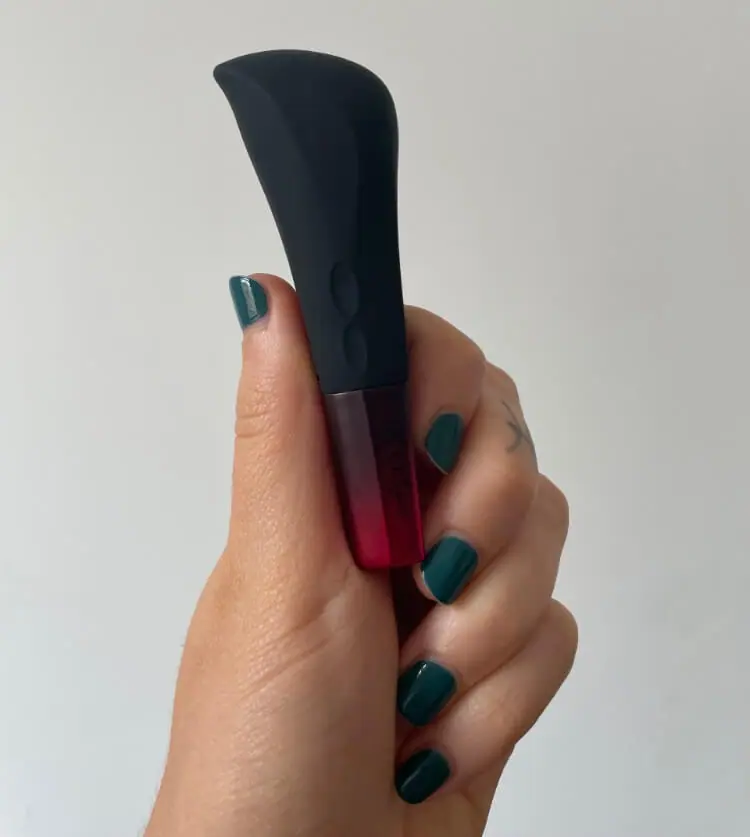 No matter how well-designed, a toy like AMO will always create a separation between my hands and a partner's body. Instead of my fingers drawing aimlessly around hip bones and over lightly trembling skin—there was a chunk of silicone.
This was the same experience for trying to use it during penetrative sex. Instead of resting easily between my legs, it needed to be held in place, preoccupying one hand entirely.
To be fair though, there are very few toys that provide simultaneous pleasure during sapphic sex. Some people also enjoy the disconnect—that's part of why leg harnesses for strap-ons exist, for instance.
Overall: New twist on a reliable favorite
Despite underestimating the bullet vibrator at first, AMO impressed me with its thoughtful design and focus on slower, all-encompassing pleasure.
According to the Hot Octopuss website, the price is set at $49.95 USD (or EUR or GBP, depending on your location and currency of choice).
Would I pay almost $50 for AMO? Yes, but I don't think everyone should.
There's not much else available if you enjoy the feeling of a rumbly motor combined with the familiarity of a bullet. But if that's not your thing, then you may be better off finding a less expensive bullet that fits your preferences.