This 'Testicle Bath' Birth Control Device Is Up for a Dyson Design Award
COSO temporarily halts sperm production using ultrasound waves.
Hormone-free and reversible contraception for penis owners may be one step closer, thanks to the COSO device developed by Rebecca Weiss.
The invention, which uses ultrasonic waves to temporarily suspend sperm production, has garnered the German inventor a nomination for the prestigious James Dyson Award for international design.
A bath in ultrasonic waves
Unlike other birth control methods currently under development, the COSO doesn't require a medical procedure or the use of injected or oral medications, and it won't affect the user's long-term fertility.
There is some red tape, however. In order to use the ergonomically sculpted device, the user must consult a doctor to determine the optimal amount of water to use.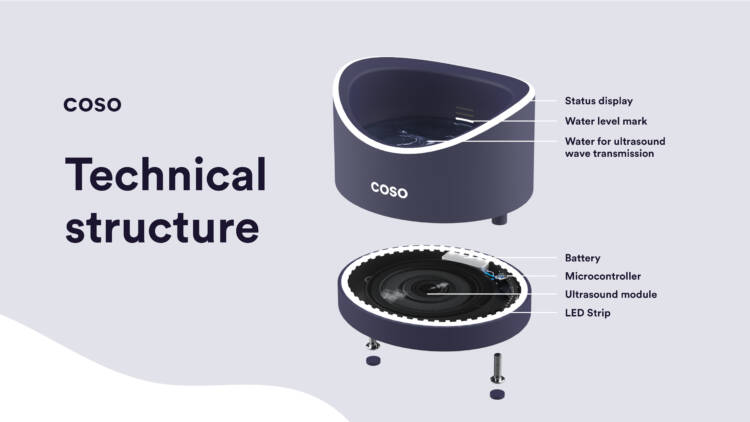 To use the COSO, the user fully immerses their testicles in the water. The treatment then uses ultrasound technology for several minutes to cause a temporary pause in the production of sperm. A companion app measures the exact amount of time required for the desired effect.
Although promising, the project is still in the early stages. Based on the website, it is unclear how long the COSO's effects last. It is possible that this information isn't yet available, as ultrasound birth control treatments have only been tested on animals.
Overcoming birth control's biggest hurdle
If you're wondering if ultrasound birth control is necessary, consider the persistent problems that existing forms of birth control create.
A 2020 Nature article explained the problem with traditional birth control perfectly. "The oral contraceptive pill is one of the most popular forms of birth control but, like many other methods, it has one important flaw: it only works if people take it as directed."
The same problem applies to condoms. Despite the proliferation of new materials, designs, and range of sizes available, few understand how to select or use them correctly.
Surgical methods are effective, but the difficulty in reversing them coupled with the idea of going under a knife remains unpopular.
Meanwhile, injectables require regularly scheduled doctor visits, and topicals or daily use medications have the same; people need to remember to take them. There's also the possibility some may experience adverse reactions or a lack of effectiveness.
Good vibrations?
It'd be naive of me to suggest the COSO will magically solve all of these issues. My hope is that enough folks will find Weiss's approach comfortable to put it to good use.
More than anything, we should enthusiastically support projects like the COSO as when it comes to sex, humanity's track record of thinking before leaping isn't great, so even potentially unpopular technologies remain worthy of at least trying.
Image sources: The James Dyson Foundation