3DXChat Review: A Multiplayer 3D Sex Game with Incredible Graphics [UPDATED]
Motion-capture animations make for stunningly realistic virtual sex.
Multiplayer sex game 3DXChat [NSFW] is one of the most popular 3D sex worlds for straight, trans, and gay sex that has a large community size.
After first entering it back in 2017, it wasn't hard to see why. 3DXChat is a place where you can easily meet new people for racy sex chats and enjoy lifelike 3D sex. Want to bring your erotic fantasies to life? Want to live out your wildest dreams in beautiful and sex-charged locales?
In our 3DXChat review, we share some of our experiences playing the sex simulation game to help you figure out if joining is right for you. We share an overview of what is 3DXChat, its integrations with virtual reality and interactive sex toys, along with its winning customization and sex features.
What is 3DXChat?
Created by SexGameDevil [NSFW], 3DXChat is a PC-platform interactive experience where users can create a fully anatomically correct avatar—basically their sexual dream self—and then enter and interact with an ultra-realistic 3D environment.
Players can indulge in various activities, including live DJ parties, a stroll on a virtual beach, chilling on a luxury yacht, creating and furnishing a personal apartment, and—most of all—hooking up with other avatars to enjoy realistic sexual activities. The game is designed for Windows PC only. It is possible to play 3DXChat on a Mac if you download a program like PlayOnMac to run Windows games. However, the staff at 3DXChat don't offer support for this.
A lot has changed in the five years since writing the first 3DXChat review for FutureofSex.net.
This includes its integration with virtual reality headsets, interactive sex toys and strokers, and the powerful World Editor. Another fantastic development is the new 3DXChat 2.0 and the many great visual upgrades and effects that came with it.
What is 3DxChat 2.0?
The 3D sex game now features film-like quality effects and highly optimized next-gen physical-based graphic rendered visuals, resulting in incredible realism and beauty.  There's also an improvement to the game's colors: a new option to really crank up the intensity and vibrancy.
Along the way, its developers enticed many fans of the genre with increasingly realistic updates and erotic play options. It's even earned itself a spot on our own Review of the Most Realistic Sex Games You Can Play. Our latest 3DXChat review is certainly favorable toward the game's commitment to graphics and ongoing improvement.
The 3DXChat updates also added a more immersive feel to its environments, such as more realistic water effects, and giving users the opportunity to change the time of day for themselves without affecting other players' experiences—a real benefit for those who think cloudy days are sexy.
The game's GUI (Graphical User Interface) gives the option to move to any location as well as change the graphics settings on the fly—and remove a character's clothing with one mouse click. 
3DXChat Review: Create your avatar
RELATED READ: Review of the Best Massively Multiplayer Online Sex Games
But looks aren't the only thing that 3DXChat has going for it.
Once you register and create your avatar from an impressively long list of options—including body type, hair, and eye color—the real pleasures can begin. You even have the choice to select your identity with options including male, female, or trans.
This is a lot of fun and you can choose from an assortment of sexy clothing and accessories.
As it says on the tin, 3DXChat is a multiplayer sex game, and it has a large, and growing larger, user base and community size. It's just about a sure bet that you'll hook up with another player in no time.
Doing so then allowing both of you to get into all kinds of erotic activities in one of the game's many environments. One of which is your very own apartment/love nest.
Unfortunately, Apple users will have to wait as that platform, as yet, isn't supported.  But if virtual reality is one of your turn-ons then 3DXChat [NSFW] might be what you've been waiting for as the game runs very well on the Oculus Rift.
Membership options sell for one-month, six-month, and one-year periods, and include one free avatar. You can create additional avatars, but this costs 10,000 XGold each. XGold is the in-game currency that you can accumulate by logging into 3DXChat on consecutive days or by buying it yourself with credit cards, Bitcoin, or PaySafeCard. If you want to create more than one character, we suggest you go ahead and buy XGold to speed up the process. You can buy different XGold packs, and as you spend more the cost of XGold drops per unit. A pack of 20,000 XGold costs $24.98.
3DXChat Review: Pick a location
Now that you've created your sexy online avatar, it's time to pick the virtual space you want to hang out in. 3DXChat [NSFW] offers you two private apartments you can customize to your liking with furniture and props. You can also name and make your apartments public to attract or invite other players into with similar sexual interests.
There are also seven general locations—including nightclubs, a beach, and a yacht—where you can party, take a dip in a hot tub, and of course have public sex. For some reason, it seems like finding a virtual sex partner or partners on the yacht is really easy…
User-generated locations are also a ton of fun and great places to enter for specific erotic preferences. Some are meant for only women, men, or trans avatars. Others are open to players with particular fetishes and fantasies. Changing location is fairly simple since you just need to open a list and click on the virtual space you want to enter.
Then you are taken there. Moving around inside a virtual space, on the other hand, may take some time to get used to. To be fair, navigation is not difficult but walking around the online sex game Red Light Center [NSFW] is slightly easier and more intuitive to pick up.
3DXChat Review: World Editor
In honor of its five-year anniversary in 2017, the wildly popular 3d sex world gifted players with a powerful World Editor. Its new features let players "build structures and worlds of any complexity and style" with scalable primitive shapes such as cubes, spheres, and cylinders. Thanks to this much-anticipated update, players with 3D design skills have created several new locations.
The World Editor is probably the best of the best features mentioned in our 3DXChat review. It truly opens up an infinite number of possibilities for creating your dream spots and fulfilling detailed fantasies in specific settings. 
Using the World Editor, 3D sex game community members are always creating new locations such as clubs, villas, islands, towns, and more. Many visitors will enjoy higher frame rates in new locations built with the World Editor. The 3DXChat World Editor also offers new tools, new applications for materials as building blocks, special fire and smoke effects, and backward compatibility with old user rooms.  
3DXChat Review: Getting into virtual sex
What's great about 3DXChat [NSFW] is that the sex game's popularity makes it so that even during slower hours, there have been at least 100 other players online. Crowds pick up more on weekends and attract English speakers in a variety of time zones. When you see a player you find attractive, you can click their name to view their profile to see if their interests jibe with yours. Finding players to chat with is simple. You'll see many avatars around you in your chosen location. You will also see discussions going on in two chat rooms: the general 3DXChat chat room where all players can chat and a location-specific chat room for others in your virtual space.
After spotting a hottie, you can decide whether to send them a private message or even buy them a virtual gift with XGold. It's a good idea to fill out your profile as fully as possible because that way you are more likely to gain interest from other players and not have to always make the first move. Some people also share their dislikes in profiles, so it's a good idea to read them beforehand so you don't offend or turn a potential lover off. If small talk of any kind bores you, you can simply send someone a request to add them as a sexual partner.
However, not everyone in the game appreciates jumping right into sex acts before striking up a text chat. If this is you, that's fine. You simply click to decline the request. You can also block users so you don't receive messages from them and you won't see each other online. OK, let's get to the sex poses and acts! (That's why you are reading this 3DXChat review, right?) We won't describe them all, you know, because we aim to be as safe for work as possible.
But chances are if you've seen something more than a few times in mainstream adult videos, you will find these racy acts and positions are ones you can play out in 3DXChat [NSFW]. These virtual sex acts are brought to life thanks to incredible and photo-realistic moving graphics. They are created from motion-capture animations of real adult performers having sex. The 3D sex game features several realistic poses for solo play, couples, threesomes, oral sex, anal sex, and vaginal sex. Some are quite raunchy if that's your thing! We'd share more images of more diverse sexual possibilities, but it's hard as most that we have access to are quite explicit. You can see more yourself by clicking this NSFW link.
Also, whether you are straight, gay, bisexual, trans—or anywhere on the sexual orientation/identity spectrum—there are several sexual play options to choose from. If you have a foot fetish, there is a sex pose to help satisfy that desire. For people into bondage or BDSM, there is also one where you can tie an avatar over a stool. However, we wish there were more fetish and BDSM poses on offer since the online realm is a perfect place to experiment with new types of sex. Moving between sex acts or speeding them up and slowing them down is straightforward and simple.
3DXChat Review: Sex Toys and Virtual Reality
Lovense sex toys now integrate with 3DXChat.
What might be the best part of our 3DXChat review is listing the sex game's interactive features!
First off, the sex game supports interactive sex toys, including Lovense's interactive sex toys and the Vstroker Fleshlight. This means if you have one of these devices handy you can add a degree of physical enjoyment to your play along with the high-end graphics.
Prior to the sex toy brand releasing its support of "the entire Lovense toy portfolio" this year, the VStroker was the only device officially supported on the 3DXChat website. The Vstroker is a Bluetooth-enabled attachment that makes the popular penis sex toy the Fleshlight interactive.
Thanks to the wide line of= Bluetooth sex toys sold by Lovense, people of all genders and sexual interests have more options when it comes to 3D sexual gameplay.
"Lovense toys can be used for long-distance sex, reacting to each other's movement, simulating sex from a distance," Dan Liu, Lovense CEO, told FutureofSexnet.  "Our latest development is the integration of toys with the online 3D game 3DXChat."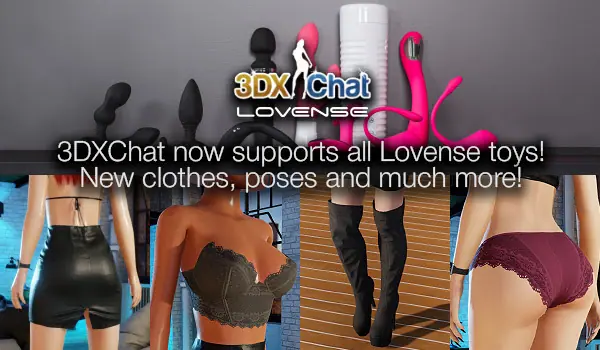 "We have implemented a fantastic project, which can definitely be considered a significant milestone in the development of sex tech. Combining the experience of virtual life and VR technology with smart sex toys is an incredible, indescribable feeling," said Lovense CEO Dan Liu in a press release.
"The digitalization of our world has significantly accelerated recently, and the merging of virtual experience with sensory experience will allow millions of people to feel real pleasure and sensations from the safety of their homes with those they love or have just met in the digital universe," stated a 3DXChat spokesperson.
What makes 3DXChat [NSFW] stand out, even more, is that it supports Oculus Rift, so you can enjoy playing the online sex game in virtual reality.
3DXChat Review: Community Size
3DXChat game membership also includes access to Sex Game Devil's older games: Juliet Sex Session, Venus Hostage, Nemo's Whores, Night Party, and Anal Masters. While support is no longer offered for these games, their erotic storylines and racy prizes will certainly keep many online gamers entertained for a good while. 3DXChat also updates its content on a semi-regular basis and the 3DXChat forum has more than 6,800 registered members and 100,000 posts. It's definitely a place where you can find some community and online relationships if that's what you are after. Or you can keep your online sex life as private and anonymous as you'd like.
It's an adult virtual world where you can explore your secret sexual desires; where you can be and do just about anything that you want.
What do you think of our 3DXChat review? Share your thoughts on the multiplayer 3D sex game in the comments section below.
Image sources: 3DXChat